Two people were killed and several more were injured in a shooting at a home in Pittsburgh's East Allegheny neighborhood early Sunday in what the mayor called a "senseless loss of life."
Up to 200 people — many of them underage — were attending a large party at an Airbnb rental property near the intersection of Suismon Street and Madison Avenue on the North Side when dozens of shots rang out around 12:30 a.m., officials said.
Two juvenile males were killed, and eight other people were wounded by the gunfire. Police Chief Scott Schubert said five other people suffered non-gunshot-related injuries while fleeing the scene.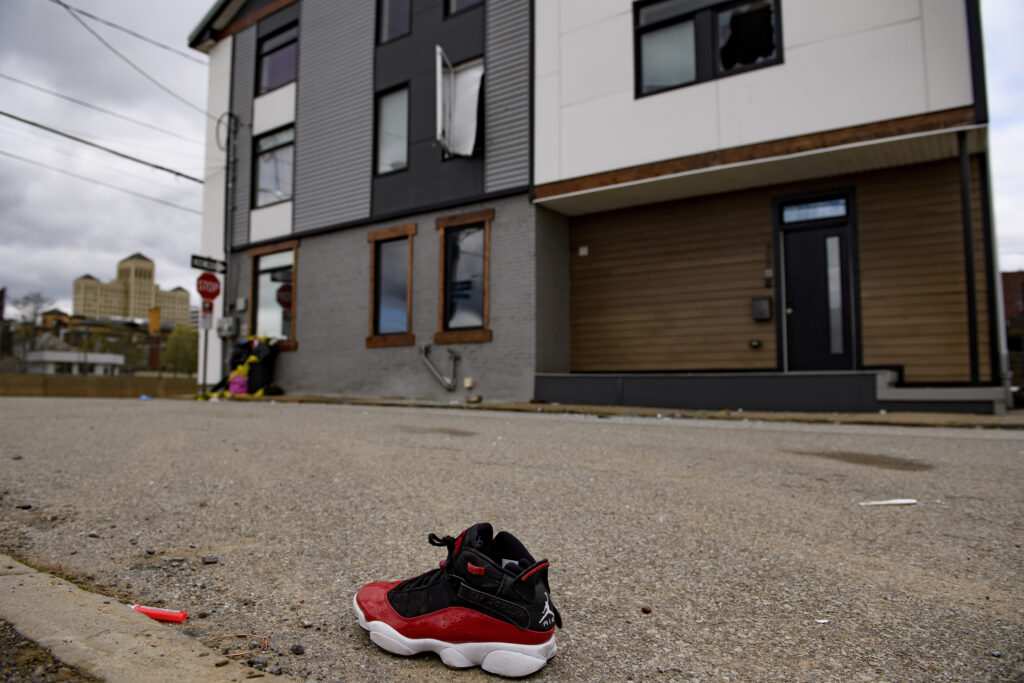 Officials said no one had been detained, and there were no suspects as of Sunday afternoon. The motive behind the shooting also was not clear.
Police believe there were multiple shooters, Schubert said at a news conference Sunday afternoon.
"We're not going to sleep until we get who did this," Schubert said. "This shouldn't have happened. We're sick about it. We're going to do everything we can to get those responsible for it."
Schubert said the ShotSpotter monitoring system registered more than 90 rounds fired. Public safety officials had initially said more than 50 shots were fired. Shell casings from around the area indicated there were multiple firearms used during the melee.
Pittsburgh Public Safety spokeswoman Cara Cruz said earlier Sunday that some of the victims suffered broken bones and cuts as they jumped out of windows of the home while fleeing the gunfire.
Some gunshot victims were transported to hospitals by Pittsburgh EMS and police, and others arrived at hospitals within and outside city limits via private transportation, Cruz said.
Stephanie Waite, a spokeswoman for Allegheny Health Network, said the system treated seven patients from the incident at Allegheny General Hospital on the North Side and one at Jefferson Hospital in Jefferson Hills. The patients were treated for gunshot wounds and other injuries, but Waite said the hospital wouldn't provide more details — such as ages, exact injuries or the condition of the patients — citing privacy laws and the ongoing police investigation.
A UPMC spokeswoman said two patients from the incident were being treated at the health care system's hospitals but wouldn't say where they were treated or what kind of injuries they had.
In a statement Sunday afternoon, Mayor Ed Gainey said the city is "using all available resources" to investigate the shooting.
He said some community members have come forward with information for police and urged anyone else who knows anything about it to contact the Major Crimes office at 412-323-7161.
"At least 10 gunshot victims, two lives lost, and hundreds of lives forever changed, because we have yet to pass meaningful legislation to lessen the amount of guns in our streets or provide the much-needed resources to communities desperately need," the mayor said. "The time is now for us to move with a sense of urgency to bring justice to the victims and peace to our city."
Gainey noted Sunday's mass shooting comes on the heels of a series of shootings across the city in recent weeks.
"We have been working on our approach to address gun violence in our city over the past several weeks," he added. "Now we will be calling a meeting with public safety and key community leaders to introduce our All In Citywide approach to public safety to get their feedback so we can build a path forward together.
"It is critical that we come together now to help reduce the violence currently happening while we begin to do the long-term work of ending the culture of violence that is enabling the senseless loss of life we are experiencing today. We must say no more and never again."
City Councilman Bobby Wilson, who represents the area where the incident occurred, said in a statement that he is working with the mayor's office and police to investigate the incident.
"The mass shooting that occurred last night at an Airbnb party in East Deutschtown does not reflect that neighborhood at all. … For now, my thoughts go out to the loved ones of all the victims of this shooting," Wilson said.
In a tweet Sunday morning, U.S. Sen. Pat Toomey, R-Pa., called the shooting "just awful."
At the scene Sunday morning, a broken window on the second story of the home was visible, with shards of broken glass covering the street below. From the eastern side of the building, where a small parking lot meets Turtle Way, another broken window could be seen — with more glass below on the concrete.
Around 9 a.m., a police crime scene unit returned to the scene and scanned the property.
A neighbor who lives nearby on Suismon Street described the gathering as "chaos," with cars flooding the street around 11 p.m. and partygoers forming a line outside the apartment as they waited to get in.
"It was like a club," said Mitchell Wilston, 30. "There was a line of people to get in (stretching) to the corner here."
Wilston said police were at the scene prior to the shooting, but the party continued, despite their presence.
"It was so clearly underage kids," he said. "These kids looked like they were 14."
He said he had seen the apartment rented for smaller, more intimate parties before, but he said that was normally fine.
After speaking to reporters Sunday morning, Wilston took his car to be washed after he saw blood on the white sedan, presumably left by a victim running from the scene.
A video circulating on social media appeared to show a party attendee shouting, "He's got a gun!" and urging others to head for the doors.
What sounded like a number of rapid gunshots could be heard shortly after as attendees — packed shoulder to shoulder, many screaming — rushed to exit the home.
Allegheny County real estate records show the property at 900-902 Madison Avenue is owned by 900 North Group LLC, which purchased it in January 2018.
Sunday's shooting was the fourth in less than 30 hours within city limits and the worst mass shooting in Pittsburgh since the 2018 Tree of Life synagogue massacre in Squirrel Hill.
A man was killed in a shooting around 2 a.m. Saturday in Marshall-Shadeland, another North Side neighborhood. In a separate shooting Saturday afternoon, three people were shot in the city's East Hills neighborhood; two were transported to a hospital in critical condition.
On Friday night, a man was injured in a shooting in the Hill District. Earlier in the week, three men were injured when at least 26 rounds were fired in the Hill District.
In an interview this past week to mark his 100th day in office, Gainey said putting a stop to violence remains his administration's top priority.
The mayor has pitched a holistic approach, pledging to address the underlying systemic inequities that he says lead to violence — including poverty, lack of opportunity, drug use and disparities in education.
"We are facing a pandemic of gun violence in our city, and we need a public health response," Gainey said in late March.
Schubert, in a statement to the Post-Gazette this week, said he and the mayor, as lifelong residents of the city, are both "deeply concerned" about what they're seeing. He said the police will continue working with the mayor and all stakeholders, listen to one another and "tackle this together as a unified city."
———
©2022 PG Publishing Co.
Distributed by Tribune Content Agency, LLC.