The Ukrainian military claimed on Thursday that Ukrainian forces killed a Russian tank commander who was once personally recognized by Russian President Vladimir Putin.
Ukraine's defense intelligence office shared video on Thursday of a column of Russian tanks that was targeted by Ukrainian artillery units. In a translated statement, the office said, "The commander of the occupier's regiment, Colonel [Andrei] Zakharov, was liquidated."
"During the fighting in the Brovary district of Kyiv region, the battalion tactical group (BTGr) of the 6th Panzer Regiment (Chebarkul) of the 90th Panzer Division of the Central Command suffered significant losses in personnel and equipment," the Ukrainian statement added.
Col. Zakharov was one of several Russian military officers honored by Putin during a May 17, 2016 ceremony at the Kremlin's Hall of the Order of St. George. Zakharov was awarded the Order of Courage for his distinguished actions during Russian military operations in Syria.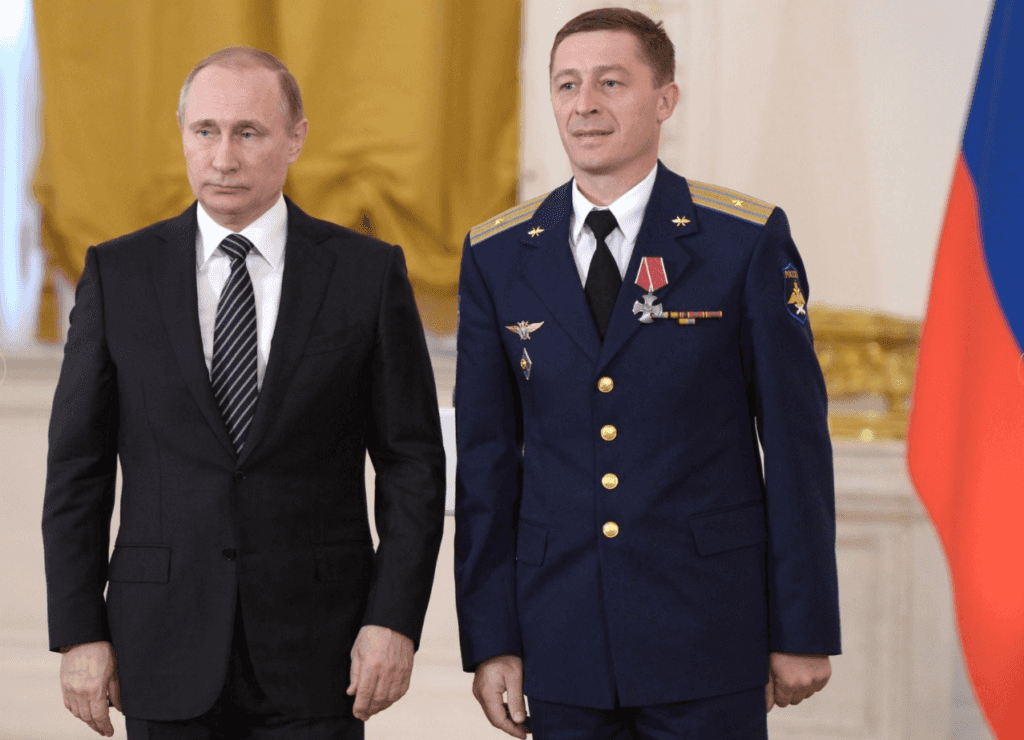 In the Ukrainian military video, which was apparently taken by multiple drones, dozens of Russian tanks could be seen in a traffic jam along a highway in the Brovary district of Kyiv. Artillery strikes could be seen landing near the tanks as they rushed to leave the area. It was not immediately clear how many Russian troops and armored vehicles were destroyed in the artillery strikes.
If the Ukrainian military's reporting about the death of Zakharov is accurate, he would be one of several high-profile Russian military leaders who have been killed in the fighting so far in Ukraine.
Last week, Ukrainian forces reportedly killed Russian Major General Andrei Sukhovetsky after a Russian social media post by a Russian military officer group member. Sukhovetsky was the head of the 7th Guards Mountain Air Assault Division, a unit of the Russian military's highly regarded paratroop forces.
Ukraine's Defense Intelligence Directorate said late Monday night that Ukrainian forces killed Russian Maj. Gen. Vitaliy Gerasimova, along with several other senior Russian army officers, in fighting near the Ukrainian city of Kharkiv. Gerasimova was the chief of staff and first deputy commander of the Russian military's 41st Combined Arms Army.
As of Thursday, Ukraine's land forces claimed to have killed or wounded more than 12,000 Russian troops in the two weeks of fighting so far in Ukraine. The Ukrainian military said it has also damaged or destroyed 335 tanks, 1,105 armored vehicles and 123 artillery systems.
Ukrainian forces have relied on a variety of means to repel Russia's armored forces, including its own tanks and artillery, as well as an assortment of anti-tank rockets and missiles. North Atlantic Treaty Organization members have also donated thousands of anti-tank missiles, including U.S.-developed Javelin anti-tank guided missiles (ATGMs), and British-Swedish-developed Next Generation Light Anti-tank Weapons (NLAWs). Ukrainian forces have also relied on the Turkish-developed TB2 Bayraktar unmanned combat aerial vehicles (UCAVs) to deliver strikes against Russian ground forces.
Despite Ukraine's reported destruction of hundreds of Russian armored vehicles, the Russian side is believed to still possess many more. During a Wednesday background briefing with the press, a U.S. defense official said "we still assess that [Russia has] greater than 90 percent of their available combat power ready for use."