On Wednesday, a Russian-born banker and entrepreneur posted on the social networking website LinkedIn offering a $1 million bounty to arrest Russian President Vladimir Putin for war crimes.
In a post that's no longer viewable on LinkedIn, Alexander Konanykhin said, "I promise to pay $1,000,000 to the officer(s) who, complying with their constitutional duty, arrest(s) Putin as a war criminal under Russian and international laws."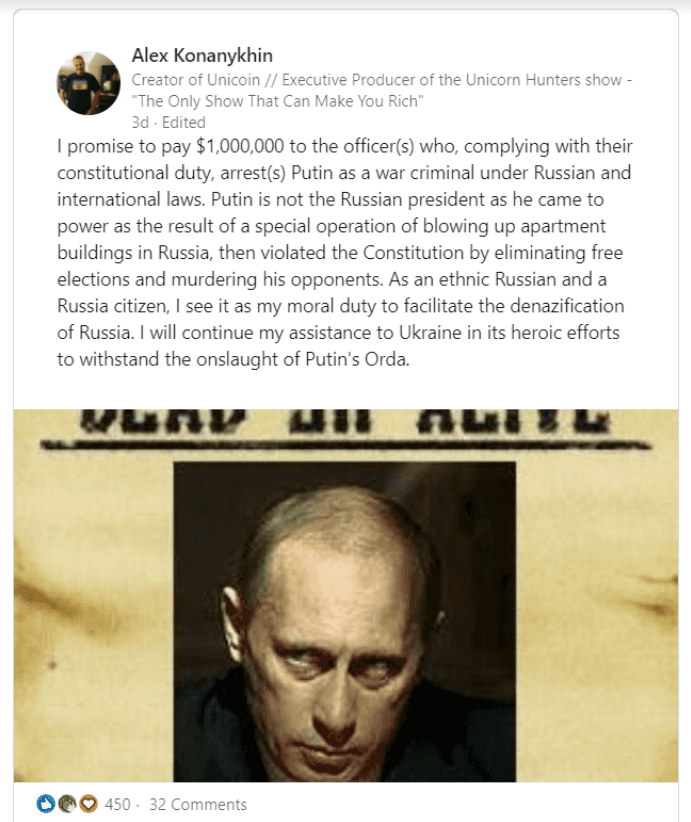 "Putin is not the Russian president as he came to power as the result of a special operation of blowing up apartment buildings in Russia, then violated the Constitution by eliminating free elections and murdering his opponents," Konanykhin added in his post. "As an ethnic Russian and a Russia citizen, I see it as my moral duty to facilitate the denazification of Russia. I will continue my assistance to Ukraine in its heroic efforts to withstand the onslaught of Putin's Orda."
Konanykhin's bounty offer comes as Russia has entered the seventh day of its full-scale military invasion of Ukraine, which has resulted in heavy losses for both sides, as well as civilian casualties and war crimes allegations against the Russian side. On Sunday, International Criminal Court (ICC) prosecutor Karim Khan announced he intends to open an investigation into potential Russian war crimes committed during its invasion of Ukraine.
It was not immediately clear why Konanykhin's bounty post was no longer viewable on LinkedIn. As of Wednesday, Konanykhin still had other posts up on the website referring to his bounty offer.
In one post, Konanykhin said, "My offer is getting noticed. If a thousand people chip in a million each, it'd add up to a billion."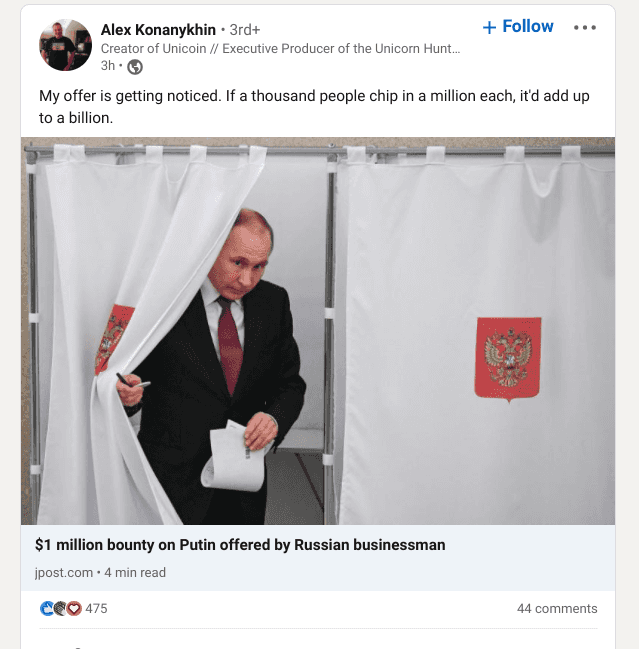 In another post, Konanykhin said, "[Bild] a major German publication, published my 'bounty for Putin' offer. Now people from Germany are asking how they can chip in."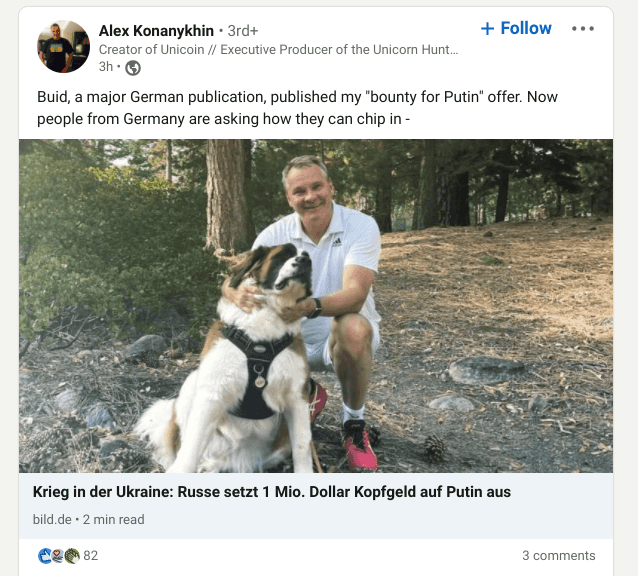 Konanykhin has made several other posts in the days since Russia invaded Ukraine, expressing support for the Ukrainian side and condemnation of the Russian side.
In a post last week, Konanykhin said, "The country I was born in is now a fascist state, pushing the world towards nuclear annihilation. As a Russian, I have no choice but to continue supporting Ukraine and other nations seeking to defeat Russia," along with a cartoon of a hand peeling back the flag of the Russian Federation to reveal a Nazi swastika flag.
In another LinkedIn post, Konanykhin shared images celebrating Vitali and Wladimir Klitschko, a pair of retired professional boxers who have joined other Ukrainian civilians in the defense against the Russian attacks.
In yet another post, Konanykhin shared a petition to label Russia as a "sponsor of terrorism."