In a groundbreaking PTSD clinic at the University of Central Florida, trauma survivors are now able to confront the memories that haunt them in a virtual reality world so sophisticated it can even re-create the smell of an experience.
Researchers hope the system, developed in part through a $3 million grant from the U.S. Department of Defense, could dramatically improve patients' ability to work through the triggers that leave them panic-stricken, sleep-deprived, angry, depressed and anxious.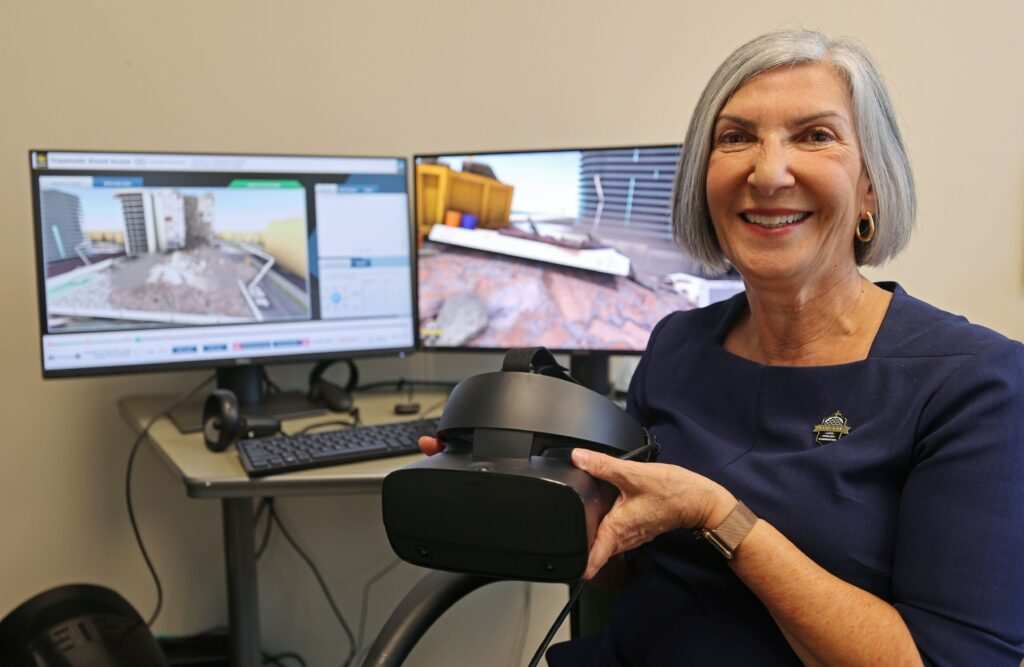 "By guiding our patients to face very specific elements of their traumatic memory — including sights, smells and sounds — we are able to help individuals face their trauma head-on in a safe, controlled environment," said psychologist Deborah Beidel, executive director of UCF RESTORES, a clinical research center that treats people with post-traumatic stress disorder.
The center recently launched a pilot study to measure the virtual-reality system's effectiveness in treating people with a range of adult traumas, including military veterans, law enforcement officers and survivors of sexual assault, domestic violence and mass shootings.
Beidel is recruiting 90 people, age 18 and up, who meet the diagnostic criteria for PTSD for an intense two-week treatment program and periodic follow-up.
"They just have to think that maybe they might be suffering from PTSD and they would like to try our treatment. We will do the diagnostic interview," Beidel said. "The treatment itself is not experimental. It's the same treatment that we've been using since 2016 with hundreds of patients. What's experimental is the use of our new virtual reality system."
Although other virtual reality tools have been developed to address trauma, Beidel said their flexibility is limited. Unless mental health providers have a deep knowledge of computer coding, or have a technician in the therapy session with them, they are typically restricted to a dozen pre-programmed scenes, most involving combat.
At UCF RESTORES, researchers have developed a "Traumatic Event Scene Creation System" to allow clinicians to customize each scenario to fit the memories of a survivor — adjusting colors, landscapes, skin tones and other details and adding odors. Because the sense of smell has a stronger link to memory and emotion than hearing or vision, Beidel said, it can be critical in unlocking experiences the mind has tried to bury.
In a modern version of Smell-O-Vision, scent dispensers operated by computer emit wafts of everything from roses and pizza to diesel, burned rubber and body odor.
"We can pretty much do anything that you want," Beidel said. "There are companies who actually make scents for things like this. As an example, if you go into a leather furniture store and you think you're smelling the leather from the furniture, guess what? Nope, they've got a scent machine in the back that's blowing the smell of leather."
Since opening in 2011, the center has treated over 600 first responders. Following therapy, 66% of participants with combat-related PTSD and 76% of first responders no longer meet the diagnostic criteria for PTSD, Beidel said.
Sgt. Doug MacKenzie of the Indian River County Sheriff's Office, a 33-year law-enforcement veteran who underwent treatment at the UCF clinic in December, encourages fellow officers to take advantage of the free program.
"If you keep that stuff bottled up, it's just going to eat you alive," he said. "We tend to be alphas who try to kind of lock it all away in a secret vault in our heads. But that vault is only so big."
After dealing with a particularly gruesome accident scene and a severe medical problem with his 11-year-old son, MacKenzie said he became irritable and restless. He could barely sleep, and when he did, he suffered nightmares.
When he was awake, he couldn't focus.
"I had some other guys that I work with who said they went to [the clinic] and recommended them," he said. "It sort of gave me permission to look at my own issues. It took a lot of work, but finally I'm not living in that [traumatic] moment anymore. It's not shutting down everything else."
Although MacKenzie's therapy took place before the launch of the virtual reality program, it followed the same protocol — revisiting the events leading up to the trauma to diffuse their impact.
Similarly, Beidel has helped first responders from the Pulse nightclub shooting disconnect the sound of an iPhone ringtone from the memory of witnessing murdered club-goers whose loved ones were desperately trying to reach them.
"We're actually rewiring your brain from that association," Beidel said. "You come to understand, 'OK, I'm listening to that iPhone ring, and no one is dead and there's no shooter."
The virtual reality system not only makes that process more immediate for the patient, she said, it also allows the clinician to witness what's going on. And it monitors the patient's heart rate and skin conductance — whether your skin becomes clammy or sweaty — so the clinician can detect distress.
"We understand why some clinicians shy away from exposure therapy due to their own worries of not being able to anticipate a patient's response," Beidel said. "Their concern is that their patients may lose control, or that they themselves will not know when to stop the treatment session. Allowing them to observe the physiological responses in real time is a game-changer."
Once the virtual reality system is fine-tuned, UCF RESTORES plans to make it available to mental-health clinicians at minimal or no charge.
"We don't want cost to be a barrier to people getting the treatment that they deserve," Beidel said.
If you're interested in enrolling in the pilot study, call 407-823-3910 for a confidential interview. There's no charge for participants, and hotel accommodations will be provided for those who need them.
___
© 2022 Orlando Sentinel
Distributed by Tribune Content Agency, LLC