One of World War II's most iconic events was captured by photo 77 years ago today on Feb. 23, 1945.
Six U.S. Marines hoisted a pole bearing the American flag at Mount Suribachi during World War II's Battle of Iwo Jima. It was the second flag of two flags erected on the mountain that day, marking the first Japanese territory taken over by U.S. forces.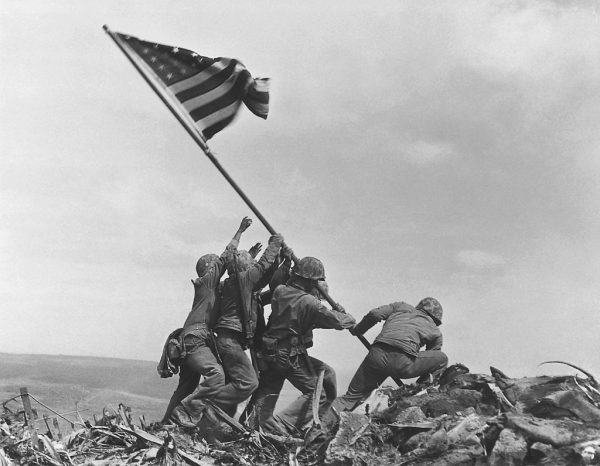 The moment was captured by photographer Joe Rosenthal of Associated Press in a photo titled "Raising the Flag on Iwo Jima," and was widely distributed in newspapers days after it was taken. Later that year, Rosenthal won the Pulitzer Prize for the photo, becoming the only prize awarded in the same year the photo was captured.
The flag raising came just days after Marines stormed the island of Iwo Jima on Feb. 19.
The U.S. Marines suffered significant losses upon breaching the heavily fortified island. They focused on first overtaking Mount Suribachi, the highest peak on the island which provided a strategic overlook position.
The Battle for Iwo Jima stands as one of the most deadliest battles in both the history of the Marine Corps, and of World War II. Nearly 7,000 Marines lost their lives on the island, and another 20,000 were wounded, according to the National World War II Museum.
Marines with the 3rd Platoon, E Company, 2nd Battalion, 28th Regiment of the 5th Division first raised a flag with photographer Louis Lowery on Feb. 23. Hours later, additional Marines arrived with a larger flag, which was then captured by Rosenthal.
Short video footage was also captured, quelling the arguments that the scene was fake or staged.
Three of the six Marines pictured were later killed the following month in the continuing Battle of Iwo Jima, which didn't conclude until late March after 36 days of battle.
The photo remains one of the most reproduced photos in history, and is among the most recognizable war photos in history.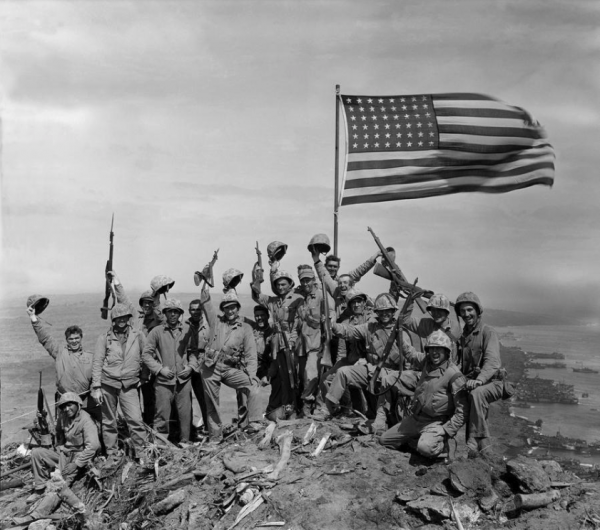 The historic moment is commemorated each year with ceremonies and flag-raising reenactments throughout the nation.
Claiming Iwo Jima proved to be a vital part in the United States' effort in the war. The island became a landing site for B-29 bombers, and is attributed to saving the lives of 24,000 airmen. It also paved the way for the final and largest Pacific region battle, the invasion of Okinawa.