The U.S. Marine Corps welcomed its newest mascot, an English bulldog named Chesty XVI, on Thursday.
"Marine Barracks Washington, @MBWDC, welcomes the new official Marine Corps mascot, Recruit Chesty XVI, who will relieve Lance Cpl. Chesty XV," the Marine Corps tweeted Friday. "The English Bulldog became the official mascot of the #Marines after they were referred to as 'devil dogs' during World War I."
Chesty XVI is the 16th iteration of the Marine Corp's bulldog mascot.
The name Chesty is an homage to Marine Lt. Gen. Lewis Burwell "Chesty" Puller. During his years of service from 1918 to 1955, Puller became the most decorated Marine in U.S. history, earning five Navy Crosses and an Army Distinguished Service Cross. The Crosses are considered the second-highest U.S. military decorations, after the Medal of Honor.
Puller's service spanned a series of U.S. military actions in Central America, known as the Banana Wars, World War II and the Korean War. The exact origin of Puller's nickname is unclear, though it may have described his barrel-chested stature.
The Marine Corps adopted the bulldog as a mascot during the First World War. According to a 1st Battalion, 6th Marines account of the WWI Battle of Belleau Wood, reports from German troops referred to Marines charging uphill against their fortified positions as "Teufel Hunden," which translates in English to Devil Dogs. The Marines in that battle, wearing gas masks to protect against mustard gas, reportedly began to sweat profusely, foam at the mouth and become bloodshot in their eyes. At points during the Marines' uphill charge, the hill became so steep they had to advance on all fours towards the enemy line.
The Marine Barracks in Washington D.C. introduced Chesty XVI in a Thursday press release.
According to the press release, Chesty XVI recently began training to replace the retiring mascot, Lance Cpl. Chesty WV.
"Chesty XVI will remain a 'recruit' until he completes his training and earns the rank of private," Gunnery Sgt. John Walker, the drill master at Marine Barracks Washington, said.
The completion of Chesty XVI's training and the exact date of Chesty XV's retirement date have yet to be determined.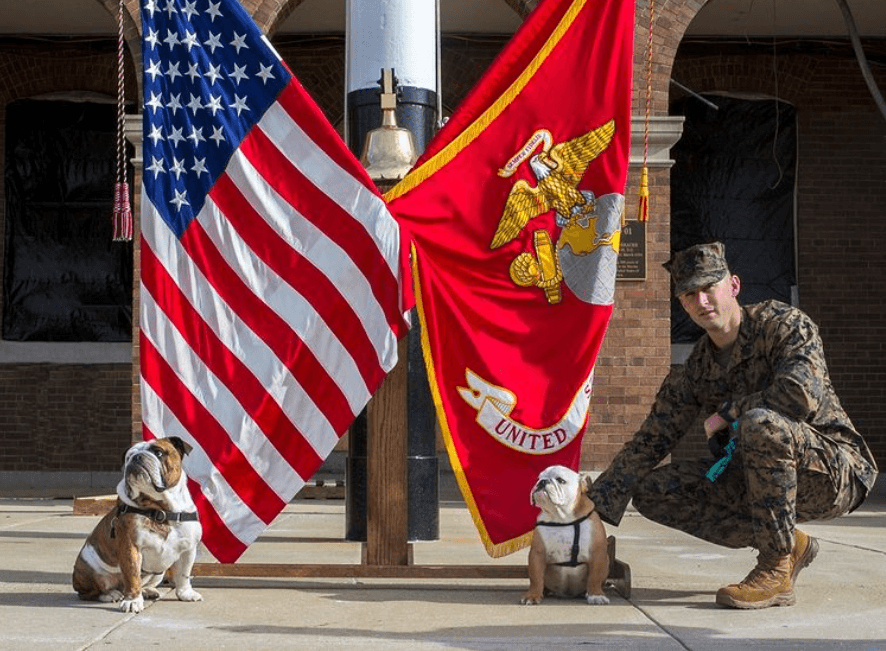 "In the meantime, Chesty XV will mentor the young English bulldog and show him the ropes," the release states.
The various iterations of the Chesty mascot have participated in the Marine Corps' evening parades since their inception on July 5, 1957.