A U.S. Army paratrooper was killed last month after a mobile kitchen collapsed during a tire change and tipped over on her, the Army first revealed last week.
20-year-old Spc. Karolina Ferrer-Padilla, who was assigned to the 6th Brigade Engineer Battalion, 4th Infantry Brigade Combat Team (Airborne), 25th Infantry Division at Joint Base Elmendorf-Richardson was killed on Jan. 24.
Army officials initially described Ferrer-Padilla as having died in an unspecified on-duty accident on base. In a preliminary loss report published last week, the Army disclosed the specifics of the incident. According to the report, a mobile kitchen unit, known as a Containerized
Kitchen (CK), was being lowered after it had been placed on jack stands during a tire replacement.
A CK is an 8-by-8-by 20-foot container, weighing about 14,000 pounds (seven tons). The containers are so large they require ground transportation either by rail or a five-ton truck and air transportation on a C-130 Hercules or larger, or a CH-47D Chinook.
The Army said a soldier matching Ferrer-Padilla's description was removing one of the jack stands when the CK tipped over approximately 90 degrees on top of her.
"Due to reduced traction from an icy surface, the Soldier was unable to get clear of the equipment and was killed instantly," the report assessed. "Department of Emergency Services pronounced the Soldier dead at the scene."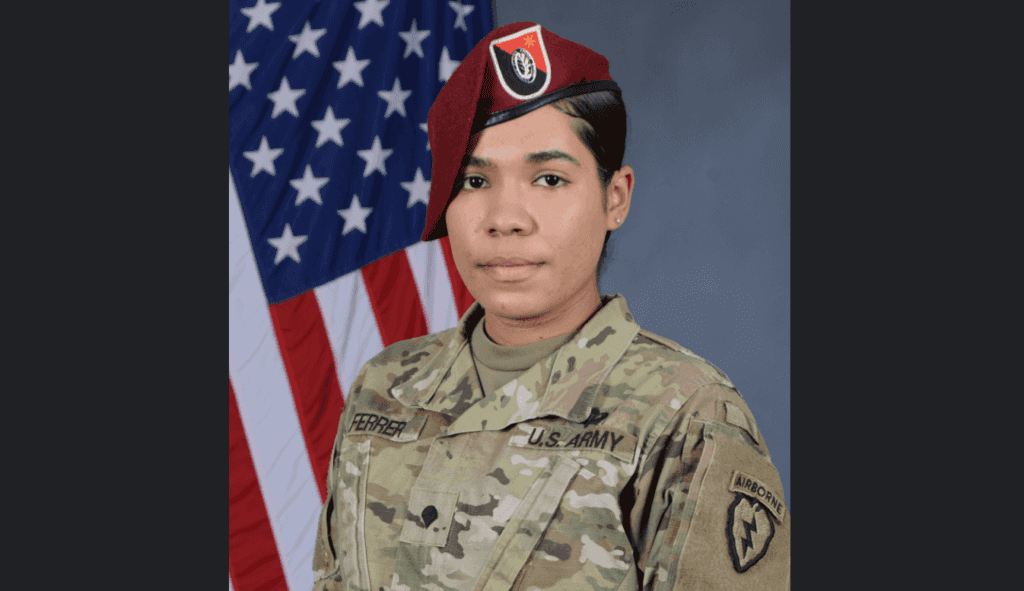 The U.S. Army Combat Readiness Center is continuing to lead a safety investigation into the incident. According to the preliminary loss report, since 2017 the Army has lost an average of one soldier per year due to industrial and occupational safety mishaps. This January incident is the first such industrial safety mishap of the 2022 fiscal year, which began in October.
A native of Santa Isabel, Puerto Rico, Ferrer-Padilla joined the Army in September 2019 and trained at Fort Jackson, S.C., and Fort Lee, Va., before completing the Basic Airborne Course at Fort Benning, Ga. She reported for duty in Alaska in August 2020.
Her awards and decorations included an Army Achievement Medal, a National Defense Service Medal, an Army Service Ribbon, and a Parachutist Badge.
"Spc. Ferrer-Padilla was a dedicated professional, loving wife, and faithful friend," Lt. Col. Justin Pritchard, 6th BEB commander, said following her death. "An aspiring leader, she brought joy and inspiration to all her fellow paratroopers. The Oak Battalion and Spartan Brigade grieve alongside her family and friends, and offer our sincere condolences."