Billionaire Elon Musk, founder of Tesla and SpaceX, posted a now-deleted tweet comparing Canadian Prime Minister Justin Trudeau to Adolf Hitler.
Musk's tweet was a meme photo of Hitler, with the words "Stop comparing me to Justin Trudeau. I had a budget" written on it.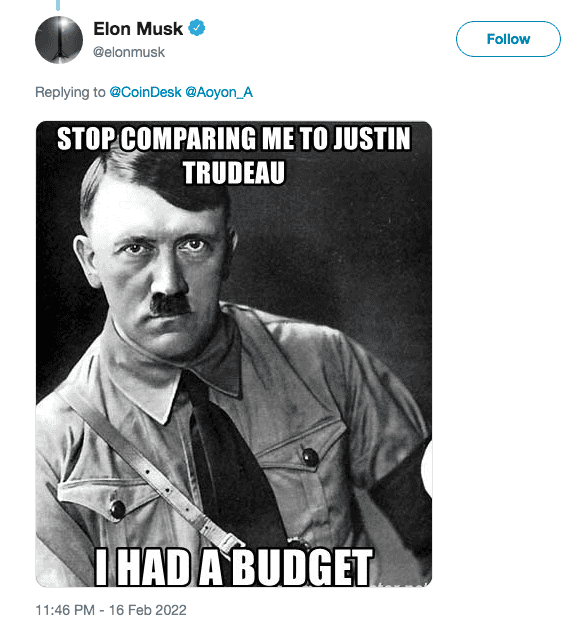 The tweet was posted as a response to another tweet written by CoinDesk, which said, "Canadian authorities have ordered financial institutions not to interact with 34 different crypto addresses tied to the country's ongoing trucker protests."
Before removing the tweet, Musk faced intense backlash for the comparison, but the meme also garnered more than 35,000 likes and over 9,000 retweets, as well as many positive comments, including one Twitter user to wrote, "Best meme so far."
The controversial tweet comes days after Trudeau invoked the never-before-used Emergencies Act in response to the Freedom Convoy protesters, who have been peacefully protesting Canada's COVID-19 vaccine mandate and restrictions for weeks.
Canada's Emergencies Act defines a national emergency as a temporary "urgent and critical situation" that "seriously endangers the lives, health or safety of Canadians and is of such proportions or nature as to exceed the capacity or authority of a province to deal with it."
The act allows the cabinet to "take special temporary measures that may not be appropriate in normal times."
While the government is blocked from taking control of local police, Jack Lindsay – an associate professor in the applied disaster and emergency studies department at Brandon University in Manitoba – explained the act would allow government to order any individual to provide services with pay, which could theoretically be used to force tow truck drivers to move the trucks being used in the demonstration.
"They do have the grounds to regulate and prohibit public assembly and travel and then regulate or prohibit the use of specific properties," he said. "I suppose they could put out regulations about where semi-trailers are allowed to park overnight, for example. They can designate protected places, like the Ambassador Bridge or something."
Musk has been an outspoken supporter of the Freedom Convoy, tweeting last month, "Canadian truckers rule." In a follow-up tweet, Musk wrote, "CB radios are free from govt/media control."
This isn't the first time the Musk has targeted politicians on Twitter. In December, the tech billionaire called Sen. Elizabeth Warren "Senator Karen" after she tweeted that Tesla and Musk should "actually pay taxes and stop freeloading." "Karen" is a slang term for an obnoxious, angry, and entitled middle-aged woman.