Boston Celtics player Enes Kanter Freedom accused the International Olympics Committee for being "complicit" in the Chinese Communist Party's (CCP) "brutal dictatorship" just weeks before the 2022 Winter Olympics in Beijing.
"The Chinese Communist Party does not represent the Olympic core values of excellence, of respect, of friendship, and they are a brutal dictatorship," Freedom posted over an image on Instagram.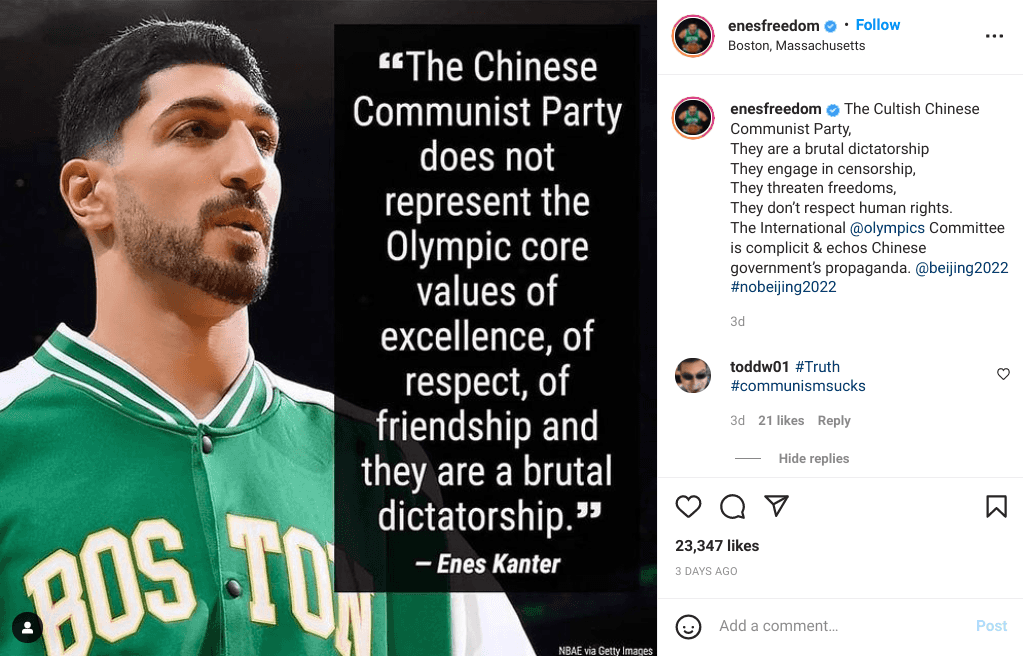 The basketball player and outspoken human rights advocate also wrote that the "Cultish Chinese Communist Party" is a "brutal dictatorship" that engages in censorship, threatens freedoms and doesn't respect human rights.
"The International [Olympics] Committee is complicit & [echoes] Chinese government's propaganda. @beijing2022 #nobeijing2022," Freedom added.
While the CCP has repeatedly denied committing any human rights violations against the Uyghurs, exiles from the region described the atrocities being committed against them by the Chinese government, including forced abortions, killings, torture, rape, enslavement, forced separation of children from their parents, forced sterilization, labor, enforced disappearances, destruction of cultural and religious heritage, persecution, forced marriages, and the imposition of Han Chinese men into Uyghur households.
Earlier this month, Freedom slammed Tesla billionaire Elon Musk for opening a showroom in China's Xinjiang region – as reported by the BBC – where the Chinese Communist Party is accused of committing egregious human rights violations against the Uyghurs, including genocide and forced labor.
"Shame on [Elon Musk] for supporting the Genocide," Freedom tweeted. "Shortly after the U.S passes the Uyghur Forced Labor Prevention Act aimed at stopping slave labor Elon Musk turns a blind eye to the Cultish Chinese Communist Party's abuses & has opened a [Tesla] showroom in #Xinjiang. What a parasite."
In December, Freedom debuted a new pair of shoes depicting Chinese Communist Party leader Xi Jinping as a surveillance-obsessed Winnie-the-Pooh character holding a pair of binoculars and using ranks of CCTV cameras to watch over his citizens.
At the time, Freedom tweeted, "Xi Jinping is a control freak! The Chinese government's surveillance tech is creating a database about everyone, monitoring everyday life demanding loyalty to the party silencing anything & anyone they consider a threat. This digital authoritarianism is a threat to democracies."
In October, Freedom also called out Nike's friendly relationship with the Chinese communist government. The basketball player demanded that Nike end the "modern day slavery."
"Dear Nike, your company says that it is making a positive impact in our communities. And that is true. Yes, you are. Here in the United States, Nike stands with Black Lives Matter. Nike stands with Stop Asian Hate. Nike stands with the Latino community. And Nike stands with the LGBTQ community. And Nike remains vocal about injustice here in America. But when it comes to China, Nike remains silent," Kanter said in a video posted to Twitter.