Seven-time Super Bowl champion and quarterback for the Tampa Bay Buccaneers Tom Brady launched a custom pair of cleats in support of the Navy SEAL Foundation, The Players Coalition, and his own TB12 Foundation last week.
The custom shoes are blue with white details and feature two Navy SEALs holding American flags. The cleats also have a red, white and blue swoop on the side of the arch, the toes of the shoes are emblazoned with "Players Coalition," "Navy SEAL Foundation," and "TB12 Foundation;" and the top is inscribed with Brady's last name.  
The one-of-a-kind shoes are being auctioned off as part of the NFL's My Cause My Cleats campaign, which is described in a press release as a "league-wide initiative that offers teams the opportunity to promote charitable causes that are important to them through creative cleat designs."
As of Wednesday afternoon, 34 bids on Brady's cleats have reached $11,100. The auction is set to close on January 3.
Brady shared a photo of the cleats on his Instagram, referring to them as "maybe my favorite ones yet."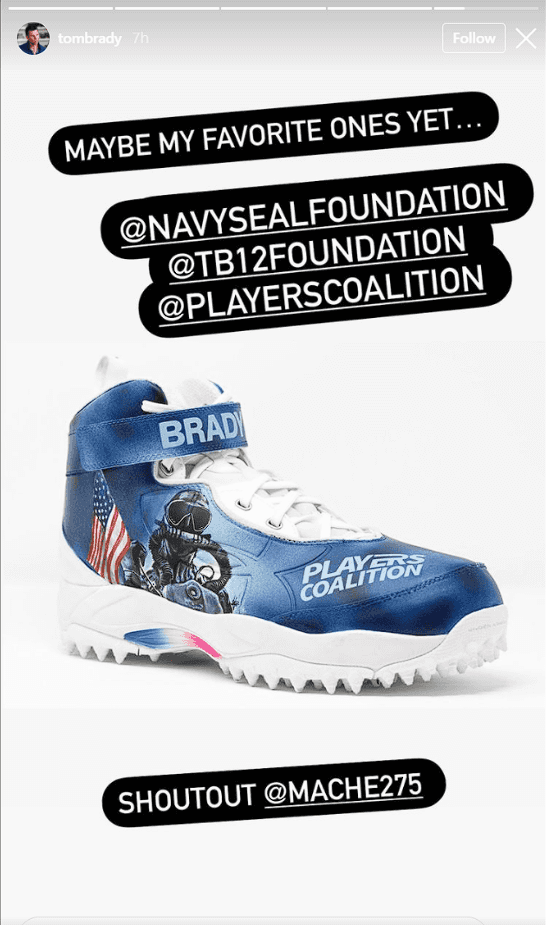 More than 50 players and staff from the Tampa Bay Buccaneers are participating in the charitable effort, showcasing a wide variety of colors and designs in support of almost 50 different charities.
Among those taking part in the campaign is tackle Tristan Wirfs, who worked with a single-parent family at Metropolitan Ministries to design his custom cleats.
"The non-profit organization offers comprehensive services for at-risk and homeless families in underserved and impoverished communities, inspiring hope in Tampa Bay," the Buccaneers press release explained.
Linebacker Lavonte David is using the opportunity to promote youth mentorship by supporting Big Brothers Big Sisters, a charitable organization for which David serves as a national ambassador.
Wide receiver Chris Godwin is supporting the Team Godwin Foundation, which he and his wife founded to advocate for animal welfare and rescue.
Cornerback Carlton Davis joined the effort to promote Safe & Sound Hillsborough, which encourages "community work that develops strong families, safe schools and healthy neighborhoods."
Defensive tackle Vita Vea is raising awareness of the Moffitt Cancer Center and the fight against breast cancer, which the team said has directly impacted his family.
Center Ryan Jensen is supporting Southeastern Guide Dogs, which provides service dogs to military veterans. Jensen is also the Buccaneers' nominee for the NFL Salute to Service Award presented by USAA.
This is the sixth season in a row that NFL players "are raising awareness for non-profit organizations and causes on the field through the campaign, with more than 1,000 players throughout the league annually participating."