The U.S. Navy tested a laser weapon at sea on Tuesday that destroyed a target floating in the Gulf of Aden, near Yemen. The weapon is one that could be used to defend from attack boat threats from Iran and Iran-backed militias.
The U.S. Navy's Bahrain-based 5th Fleet disclosed the laser weapon test in a press release on Wednesday. The laser, known as the Solid State Laser – Technology Maturation Laser Weapons System Demonstrator (LWSD) Mark 2 MOD 0, was deployed aboard the San Antonio-class amphibious transport dock ship USS Portland (LPD-27).
The Navy said the LWSD "successfully engaged a static surface training target."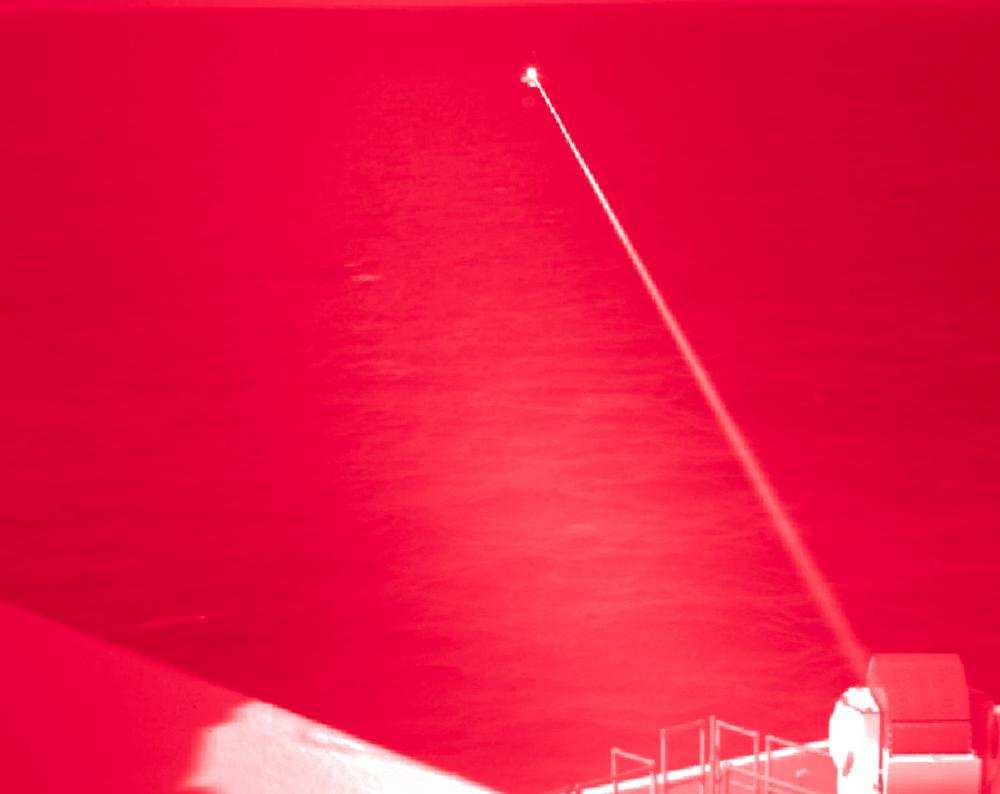 The Office of Naval Research chose the USS Portland to host the laser weapon demonstrator in 2018. The USS Portland has conducted a previous test of the LWSD in the Pacific Ocean in 2020, and it successfully disabled a small unmanned aerial system flying overhead.
The LWSD is a successor to the earlier Laser Weapon System (LaWS), which the Navy first installed for testing on the USS Ponce (LPD-15) in 2014.
The Gulf of Aden holds particular significance for the laser weapon test, as it is situated along the southern coast of Yemen. Since 2014, Yemen has been in a state of civil war between the Saudi Arabian-backed Yemeni government and the Iranian-backed Houthi rebels.
The now seven-year civil war in Yemen has seen an estimated 110,000 people killed, according to the Associated Press. The conflict has also seen the Houthi rebel's frequent use of armed drones to attack the Saudi-led coalition and strike across the border into Saudi Arabia.
The conflict has also spilled over into the neighboring waterways of the Red Sea and the Bab el-Mandeb, which connects the Red Sea to the Gulf of Aden. Those waterways are significant as they form chokepoints leading up to the Suez Canal, which connects the Mediterranean Sea to the Middle East and forms a crucial route for the global energy supply and commercial shipping.
The Houthis have been observed operating explosive-laden drone boats in these crucial waterways. The boats can be remotely piloted and driven up to a target before their explosives are detonated. Iran is suspected of helping arm the Houthi rebels with these explosive boats, though Iran has denied the connection.
Laser weapons, like the LWSD, could prove useful in countering both aerial drones and boats operating in the region.
The USS Portland is operating as part of the Essex Amphibious Ready Group (ARG), which includes amphibious assault ship USS Essex (LHD-2) and dock landing ship USS Pearl Harbor (LSD-52). The Essex ARG is part of the 11th Marine Expeditionary Unit (MEU), which departed from San Diego, California in August and has been operating in the U.S. 5th Fleet region since September.