Two United States military veterans were killed on Friday after a tornado hit an Amazon warehouse in Illinois, causing the building to collapse. The company reportedly told at least one of the veterans that they could not leave prior to the tornado touching down.
According to the New York Post, Army veteran Larry Virden, who served in the Iraq War, texted his girlfriend that Amazon had ordered him to remain in the facility until the storm had passed. Virden, 46, was killed later that evening when the massive warehouse roof collapsed.
It is unclear why he was told to stay.
"I got text messages from him. He always tells me when he is filling up the Amazon truck when he is getting ready to go back … I was like 'OK, I love you.' He's like, 'well Amazon won't let me leave until after the storm blows over,'" Virden's long-time girlfriend Cherie Jones told The Post.
Jones said the text was sent roughly 16 minutes before the deadly tornado touched down.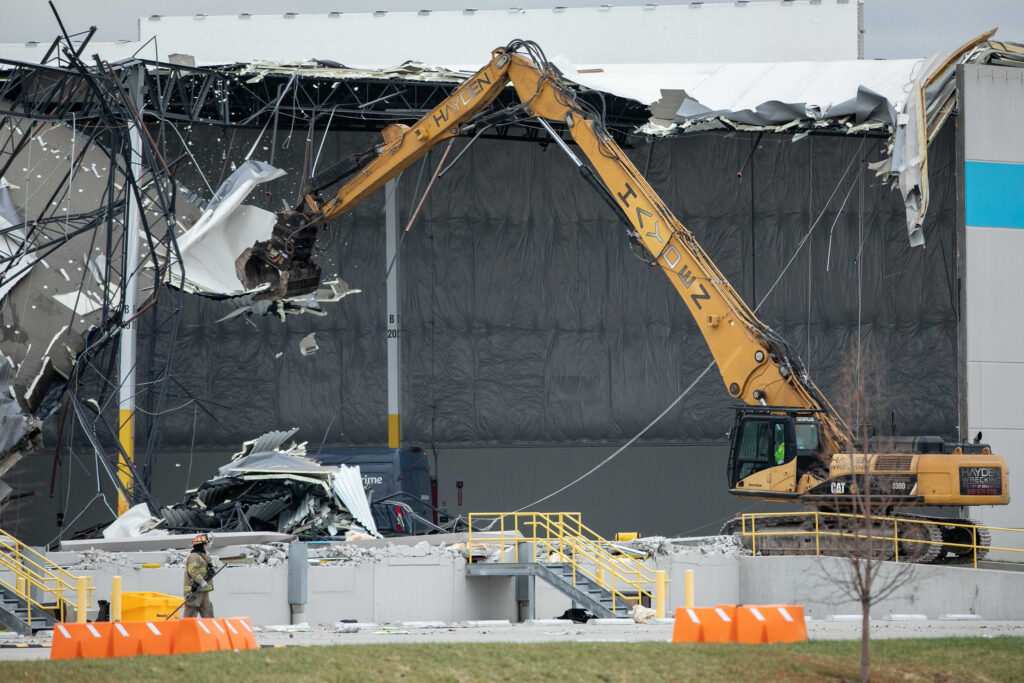 "We heard the tornado didn't touch down until 8:39 so he had 20 minutes to get home," she said. "I messaged him and that was the last text message I got from him. I told him where we live, it was only lightning at the time. After that, I got nothing from him."
Virden had four children, including adopted children. When asked if she blames Amazon for the veteran's death, Jones said, "Not really. But it's that what-if situation: What if they would have let him leave? He could have made it home."
Jones said Virden "was lucky" while serving in Iraq, where she said a missile blew up "like 200 yards away" from him.
"When he was over there, he made his peace with the maker so he was prepared to die. But we didn't want him to die now," she added.
"My oldest boy, he thinks that Daddy is going to come home, but now we have to tell him that Daddy's not coming home," Jones continued. "When my daughter came into the house, she was like, 'Where's Daddy? Where's Daddy?' And she started bawling because she knew something was wrong."
Clayton Cope, a Navy veteran, was also killed in the natural disaster, according to Fox News.
The outlet reported that Cope spent his last moments alerting his coworkers that they should take shelter before the roof collapsed.
"If you check social media, you can see just how many lives Clay touched. I mean, he was always willing to give out a helping hand or lend an ear and give out advice to anybody that ever needed it. He'd go out of his way to do anything for anyone. He was just that type of guy and it's truly devastating to have this loss right now. I'm still in shock, I can't believe it's real." Leighton Grothaus, Cope's friend, told Fox News.
"From what I was told, he tried to rush out and get as many people to safety as possible," Grothaus added.
Authorities have identified six people who were killed in the warehouse collapse.
Amazon spokesperson Kelly Nantel said in a statement: "We're deeply saddened by the news that members of our Amazon family passed away as a result of the storm in Edwardsville, IL. Our thoughts and prayers are with the victims, their loved ones, and everyone impacted by the tornado. We also want to thank all the first responders for their ongoing efforts on scene. We're continuing to provide support to our employees and partners in the area."
The company also said it is donating $1 million to the Edwardsville Community Foundation in the wake of the storm and is contacting victims' families to provide additional support.