Bob Dole's casket, draped in white, was carried through Washington National Cathedral on Friday.
It passed under the 215 stained glass windows and high columns, past former staff members, friends, family, presidents, vice presidents, generals, senators and representatives and rested at the altar as people took one more chance to say goodbye to one of Kansas' most notable sons.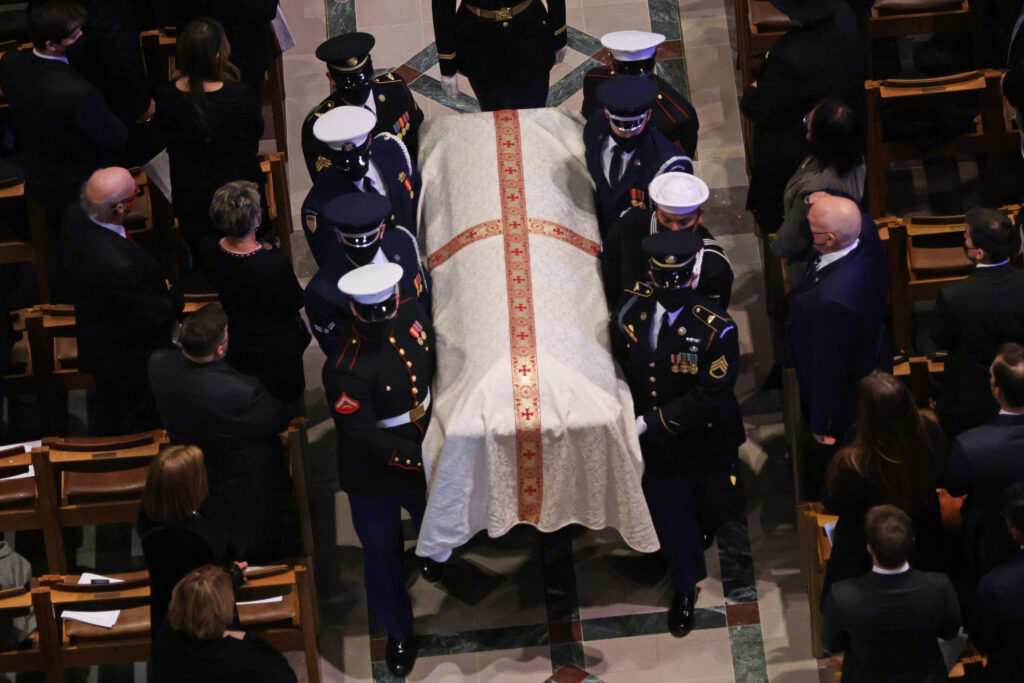 "Thank you for giving us time with Bob Dole, a Kansas star who truly shined through difficulty," said former Kansas Sen. Pat Roberts.
Dole died in his sleep Sunday. He was 98.
Dole lived a life that could have been a great American novel. He started it in a three-room house in Russell, Kansas, and by the end was eulogized in one of the country's finest cathedrals by the president of the United States. He nearly died fighting in World War II, and was lifted up by the people of his hometown through his recovery and into Congress, where he became one of the most important Republican politicians in the country, earning his party's nomination for the presidency in 1996.
His ascent was driven through his ambition and unwavering focus on his job in Congress. But it also came from his wit, his leadership, his generosity and his devotion to his hometown.
Biden listed off several of Dole's accomplishments in the U.S. Senate, focusing on times when he crossed the aisle to work with liberal senators to help fight hunger, to bring down barriers affecting people with disabilities and to help save Social Security.
It was a theme that ran through Biden's speech as he used his friendship with Dole, and some of Dole's last essays, to urge for less infighting in American politics and a greater attempt to find common ground and compromise.
"As long as we see each other not as enemies, but as neighbors and colleagues. As long as we remember that we're here not to tear down, but to build up. As long as you remember that, then taps will never sound for Bob Dole," Biden said. "For Bob will be with us always."
Former President Bill Clinton, who defeated Dole in the 1996 presidential campaign and later appeared with him on segments of the show "60 Minutes," arrived before the service and milled around with members of Congress, including Rep. Sharice Davids of Kansas.
Clinton was the only former president to attend the ceremony. While Dole was the only former Republican nominee to attend the Republican National Convention in 2016 that nominated Donald Trump, the former president did not attend. Dole supported Trump but acknowledged Biden won the election in an interview with The Kansas City Star in December.
Vice President Kamala Harris was there, alongside former Vice Presidents Mike Pence, Dick Cheney and Dan Quayle.
Dole's story of hardship is well known, how he grew up in the depression, how he came back from the war in a full body cast, how he had to relearn how to walk and navigate the seemingly mundane tasks of everyday life.
His daughter, Robin, said in her eulogy that Dole had a goal of helping one person each day and that, toward the end of his life, he was concerned he hadn't met his goal. She assured him that he had.
"My dad is the most generous person I have ever known," Dole said. "He was a giver, not a taker."
Former Senate Majority Leader Tom Daschle talked about the smaller ways Dole tried to help, like the time he called a man in Florida who had recently lost his arm and when he left the campaign trail in 1996 so he could attend the graduation party of a high schooler who had been paralyzed in a car accident.
"For all he did lose, he never lost himself," Daschle said. "He never lost his sense of humor, he never lost his sense of integrity, he never lost his love for his hometown, Russell, Kansas, or his love for Elizabeth and Robin or his sense of hope for the future."
Robin said she was able to talk with Dole every night over the past few years and that she got to hear him share with people how much he appreciated them. She shared words from one farewell letter Dole wrote to a former staffer, where Dole once again flashed his devotion to Kansas and his wit.
"I confess that I'm a bit curious to learn if I am correct that heaven will look a lot like Kansas," she quoted. "And to see, if like many of those who have gone before me, I will still be able to vote in Chicago."
After the service, Dole's casket was taken to the World War II Memorial for a public memorial service where Tom Hanks is set to speak. It will then go to Kansas for a series of ceremonies over the weekend before returning to Washington, D.C., for a burial at Arlington National Cemetery.
———
(McClatchy D.C. reporter Francesca Chambers contributed reporting.)
———
©2021 The Kansas City Star.
Distributed by Tribune Content Agency, LLC.