Foar From Home, a team of four U.S, military veterans, is set to row 3,000 miles across the Atlantic Ocean, from La Gomera, Spain to the Caribbean island of Antigua as they compete in the 2021 Talisker Whiskey Atlantic Challenge. Along the way, the team will raise money for organizations helping veterans and raising awareness for PTSD and suicide among the military and veteran community.
The rowing team consists of Marine Corps veteran Paul Lore, Army veteran Billy Cimino, Air Force veteran Cameron Hansen and Navy veteran A.M. "Hupp" Huppman.
Lore, Cimino and Huppman detailed the long row ahead of them in a recent interview with American Military News, explaining that they've been preparing for the massive challenge for more than a year and a half.
The Talisker Whiskey Atlantic Challenge is an annual race with categories for a single rower, a pair, a trio, or a quartet of four rowers. The Foar From Home team will work in pairs of two, with two teammates rowing for two hours while the other two teammates sleep. The team will work on and off in two-hour ships constantly for 24 hours a day until they reach the end of the 3,000-mile journey.
Huppman noted the team did not just decide to hop in the boat and sign up for the cross-ocean challenge. Instead, every team member has gone through between 18 months and two years of training, in preparation for the journey. Huppman said of the prerequisites to qualify for the challenge, "they have seamanship and open-ocean navigation, rescue at sea, survival at sea, medical training."
"We've all been trained up, really as trauma-level guys, where we can address stitches, staples, IVs, reset bones, reinflate lungs, tracheotomies, that kind of thing, so we can all take care of each other," Huppman said.
Huppman noted every member of the team is now an FCC-licensed radio operator, can operate an automatic identification system (AIS) and other navigation equipment.
The team also trained with Jacksonville University's rowing program, learning basic rowing techniques. Together the team has also put in hours of rowing training in a gym, as well as about 350 hours of coastal rowing, training, doing multi-day rows and training in different conditions miles out at sea.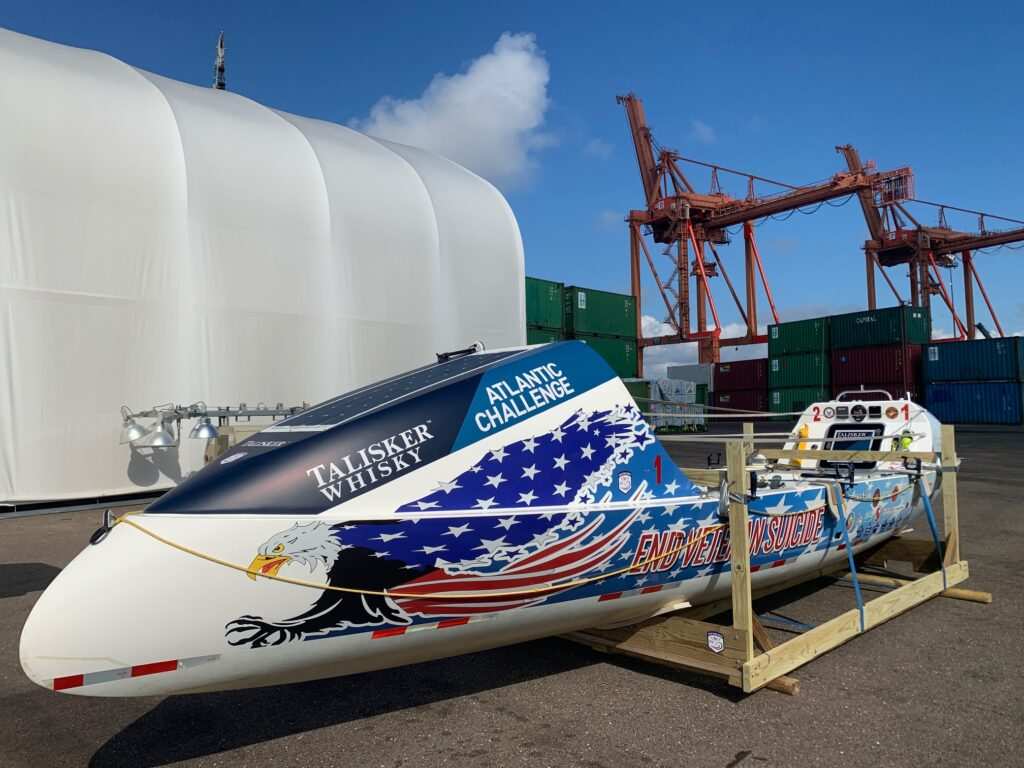 Staying fed through continuous rowing will be another challenge for the team. Rowers competing in the challenge can expect to burn up to 5,000 calories per day, so the Foar From Home team is bringing bricks of food. These bricks of food each weigh between three and four pounds and contain each rower's 5,000 to 6,000 calories of energy for every day of the challenge.
Cimino said the Foar From Home team came together after he met Lore and they raised money to support another team competing in the 2018 Talisker Whiskey Atlantic Challenge. The rowing team came together with a shared mission of using water and paddle events to raise awareness for PTSD and veteran suicide prevention.
As part of the Talisker Whiskey Atlantic Challenge, each team determines a fundraising goal. The Foar From Home team is using the challenge to raise money for K9s For Warriors. The team is also raising awareness for the Cross the Line Foundation and the Fire Watch Program.
K9s For Warriors' mission is to provide service dogs to help veterans coping with PTSD, traumatic brain injuries (TBIs) and other trauma associated with military service.
The Cross The Line Foundation is Cimino and Lore's non-profit whose mission is to raise awareness of veteran-related challenges and connects veterans with counseling, housing, employment, healthcare, and research resources. Lore noted Foar From Home recently raised $50,000 to create a vocational and scholarship endowment for veterans.
Fire Watch Program is a Florida-based veteran suicide prevention network equipped to find warning signs and provide assistance to veterans in crisis.
"We just really feel that they save lives," Lore said of veteran organizations.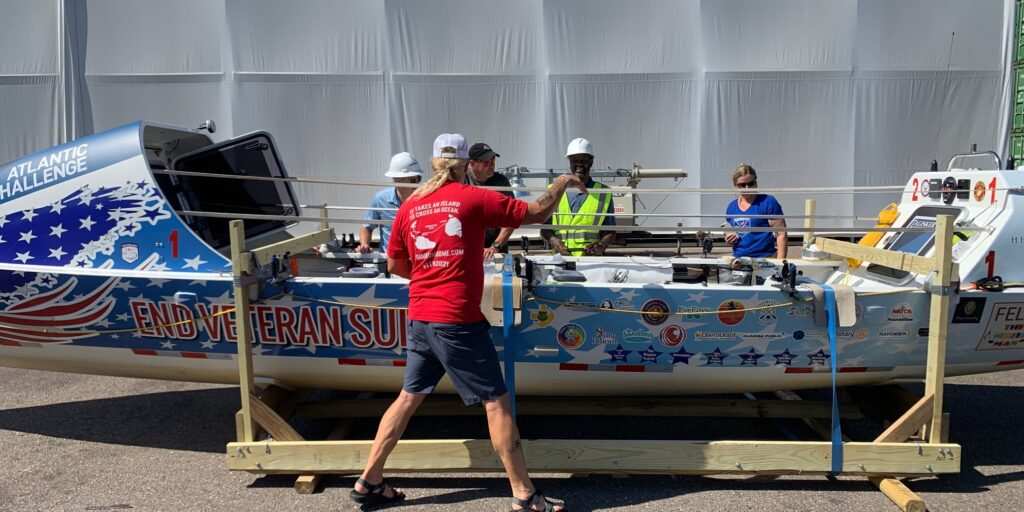 Huppman noted in many cases, K9s For Warriors rescues dogs from high-kill shelters, before retraining them to serve veterans. "Basically they're saving two lives," Cimino said.
Huppman also noted that in the past 10 years K9s For Warriors has rescued, retrained and paired over 700 dogs with veterans and have lost just one veteran to suicide in that time.
"The program works and so it's really easy to put your heart and your effort into something that you can see working every day," Huppman said.
Foar From Home is specifically hoping to use this cross-ocean row to raise $500,000 for K9s For Warriors. Their goal is to cover the costs for "mega-kennels," with room to train up to 64 dogs at a time.
Foar From Home is still working to raise funds to sponsor 2,200 miles of their fundraising goal for the cross-ocean row. Those interested in covering the cost of a mile can donate on the team's website. A mile costs $100 to sponsor.
The Foar From Home team left for the competition's starting point in La Gomera on Nov. 26. The race starts on Dec. 12.
Those wishing to follow along can track Foar From Home's progress across the ocean through the YB Races app.
Cimino said finishing the race alone will feel like a victory for the older Foar From Home team. "We realize our age, we're not in our twenties . . . we're more like guys in our fifties."
Hansen is 49 and Huppman is 55. Cimino will be turning 57 and Lore will be turning 59 during the challenge.
"If we finish it will be a victory for us," Cimino said.
"When we finish," Cimino's teammates chimed in during the interview.
Huppman noted the record for the fastest crossing of the Atlantic in this challenge was 29 days. "We're probably going to be 40 to 50 days, 45, 55, somewhere in there, realistically."
Lore said a win for the team will be when they can cut the $500,000 check for the kennel for K9s For Warriors, and if there's any money left over, he said it will go towards the vocational and scholarship endowment for veterans. "That's our first place prize."
"Veterans helping veterans makes things happen," Lore added. "And it doesn't have to be anything big. It doesn't have to be crossing the Atlantic Ocean" to make a difference for veterans.