Popular country music star Jason Aldean showed off new t-shirts last week featuring the slogan "Military Lives Matter," created as part of his wife Brittany's new line of patriotic apparel.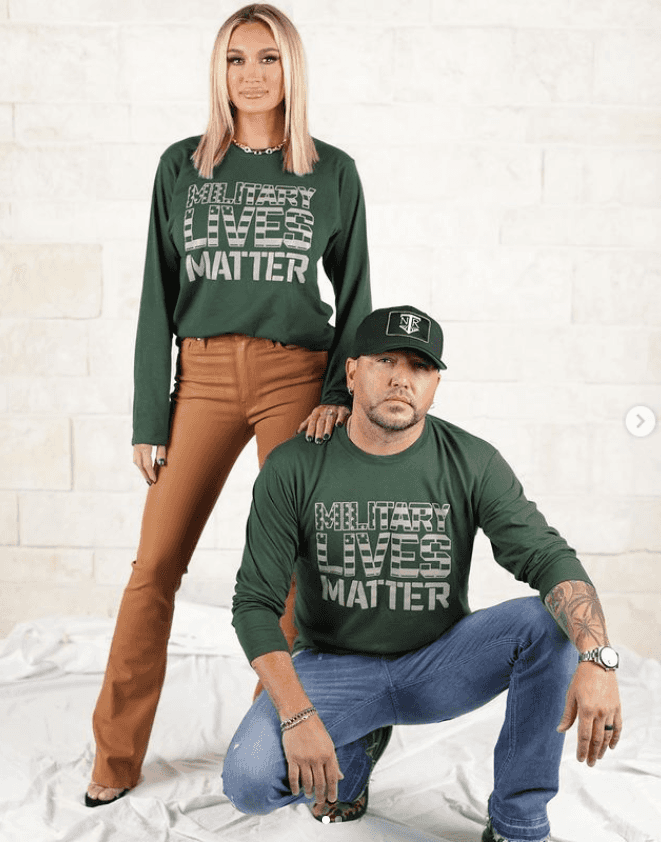 In a November 8 Instagram post, Brittany Aldean unveiled the new line of t-shirts, including those that read "Unapologetically Conservative," "UNsilent Majority: Speaking up to protect our freedom," and "We The People."  
"Our site is LIVE‼️ This is a flash sale so these pieces will only be available for 3 days, then gone forever‼️ We have four different pieces, all unisex sizes. One hoodie sweatshirt, one crew neck sweatshirt, one long sleeve t-shirt and one short sleeve t-shirt. A portion of the proceeds will be given to [Special Forces Charitable Trust] to help military families," Brittany Aldean's Instagram post stated. "Thank y'all for supporting this line we have worked so hard on! YOUR VOICE MATTERS! #godblessamerica."
Several weeks before releasing the patriotic apparel, the Brittany Aldean shared on Instagram photos of the pair's children wearing anti-Joe Biden shirts that read, "Hidin' from Biden." In the same post, Brittany wore a shirt that said "Anti-Biden Social Club."
Jason has been vocal about his conservative values, acknowledging to Audacy's Rob + Holly that "people know where I stand politically."
"I feel like if there's something I want to say, something I feel like I want to address then I'll do that and I have no problem doing that," Aldean said.
"There's times where I feel like I don't have a choice but to speak up or say something because I feel nobody else in the industry, or not a lot of people in our industry do that for fear," he said. "I just feel like somebody's got to be that guy and if it's me, then it's fine."
"At some point, it's gotten to where if you're a conservative and you're in this business you're not allowed to speak," Aldean continued. "Trust me, I have a lot of friends in this business that think the way I think and a lot of them are really scared to stand up and say anything for fear of backlash or whatever the case may be."
"People are going to have their opinion about whatever I say or think or whatever and that's completely fine," the singer concluded. "You don't have to agree with me, I don't expect everybody to agree with me, but I also have a voice and opinion just like everybody else."