A male Marine wearing a dress was included in Google's Veterans Day Doodle on Thursday. The artwork was created by a U.S. Army veteran.
The Doodle, which features six veterans wearing half of their military uniform and half of their civilian attire, shows what appears to be a red-headed man wearing a Marine Corps uniform on one half and a polka dot dress with a purple sweater on the other.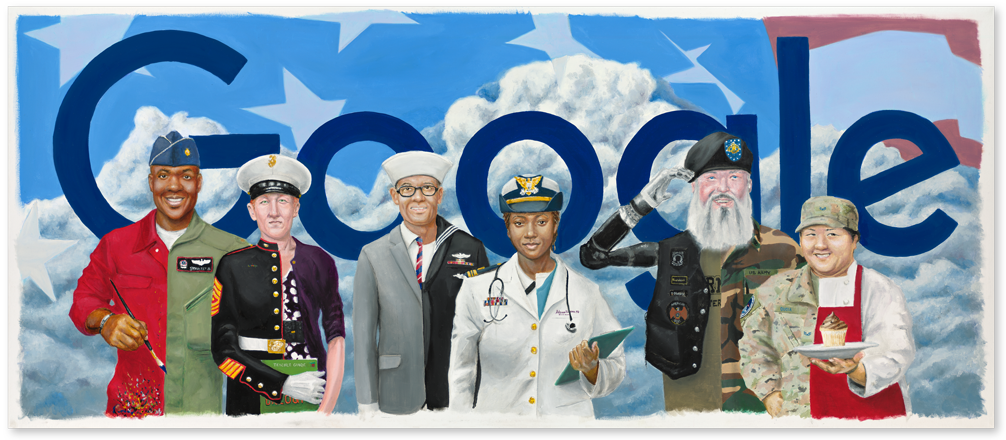 According to the Ledger Inquirer, the Marine wearing a dress is meant to represent a veteran who transitioned out of the military and into civilian life as a teacher.
The Google image also features an Air-Force Pilot-turned-painter, Navy seaman-turned-businessman, Coast-guardsman-turned-doctor, an Army soldier-turned-amputee-biker and a Space Force [Guardian]-turned-baker.
"Veterans Day is an expression of gratitude to those who have served in the military, whether the Air Force, Marines, Navy, Coast Guard, Army, or Space Force—each represented by veterans of their respective branch who have also transitioned to civilian life to serve the nation in other ways in today's Doodle artwork," a Google Doodle blog post explained.
The Doodle was designed by Columbus artist and Army veteran Steve Tette.
"It all happened really quickly," Tette said. "I got an email in early October out of the blue and of course jumped at the opportunity. Google is the world's largest platform for visual art, so how could I say no?"
Tette initially sent Google four design ideas. After creating an additional pair of designs, the partners landed on a single design that the artist painted on a nearly 5-foot canvas.
"Most of my research for this painting was on the dress codes of the different branches of the military. As a U.S. Army veteran, I am very familiar with Army dress codes. But, I had to spend many hours learning the uniforms of the five other services; Air Force, Marines, Navy, Coast Guard, and Space Force," Tette told Google. "Getting it right is very important to me."
Tette said he is an American realist painter who typically paints in oils, including the artwork created for Google.
"I'm a perfectionist and I think that's what Google found fascinating about my other works," Tette said. "When I paint, I want it to be right. And this painting is full of so many small details that I wanted to put there for whoever decides to look for them."
The Doodle featured men and women representing diverse ages, ethnicities and civilian jobs, which both Tette and Google said was important to include, the Inquirer reported.
"Patriotism comes in many forms. I was inspired by the veterans all around me. I come from a place where there's a strong veteran presence. So, I wanted to display the diversity of the American veteran, and how our lives as civilians are just as diverse," Tette said. "However, I primarily wanted to show the unity of the figures—I want them to be seen as one."