Eight people died after fans surged toward the stage during the opening night of Travis Scott's Astroworld music festival in Houston, triggering a panic-induced stampede that left hundreds more injured.
An estimated 50,000 people turned out for the Houston-born rapper's weekend event on Friday to see Scott perform at NRG Park, as well as other acts set to appear during the two-day fest including SZA, Bad Bunny, Master P, Roddy Rich, Lil Baby and Earth, Wind & Fire.
One 14-year-old, one 16-year-old, two 21-year-olds, two 23-year-olds and one 27-year-old died, Houston Mayor Sylvester Turner said Saturday afternoon. Investigators were still working to determine the age of the eighth person.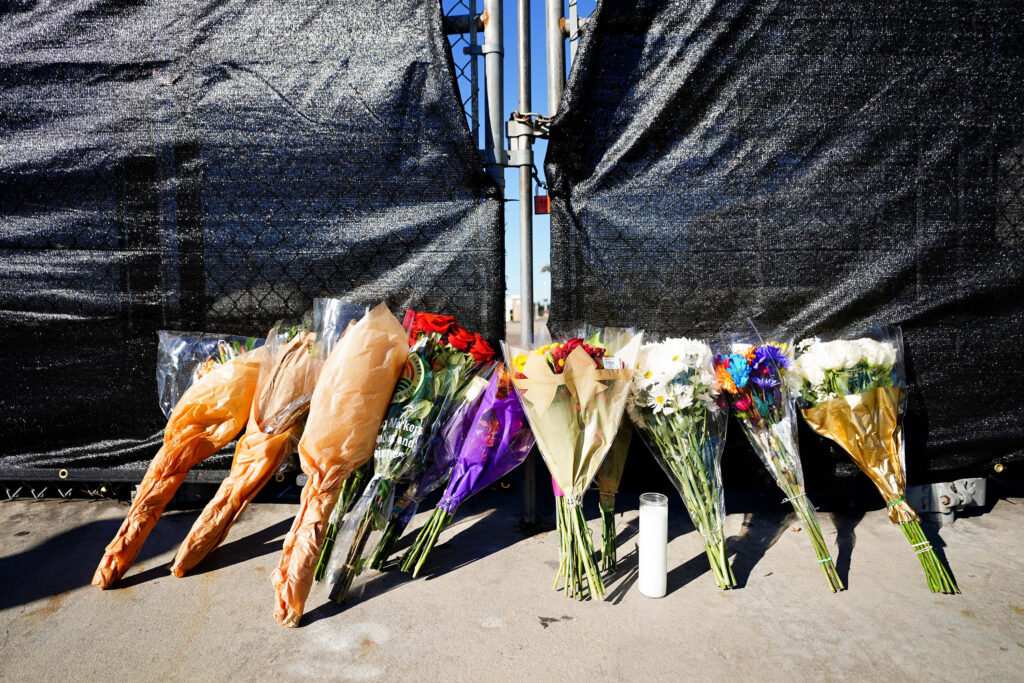 The chaos unfolded around 9 p.m., not long after Scott took the stage with surprise guest Drake, according to Houston Fire Chief Sam Peña.
"The crowd began to compress toward the front of the stage, and that caused some panic and started causing some injuries," he told reporters during a late-night news conference Friday.
"People began to fall out and become unconscious, and that created additional panic."
In addition to the eight people killed, 17 others were hospitalized, according to Turner. Four people were released by Saturday afternoon, but 13 people remained hospitalized.
Peña added that it's still unclear what sparked the incident, but that it was enough to overwhelm security and medical staff at the sold-out event.
Police Chief Tony Finner said more than 500 Houston Police Department officers were on the scene Friday night and that concert-planner LiveNation had hired more than 750 private security officers.
"It seems like it happened just over the course of a few minutes. Suddenly we had people on the ground experiencing some type of cardiac arrest or some type of medical episode," said Houston Police Executive Assistant Chief Larry Satterwhite, who was near the front of the concert when the situation unfolded.
In a later news conference, Finner added that there were "a lot of rumors going around," including "people injecting people with drugs."
Finner said one private security officer felt a prick in his neck before passing out. Emergency responders administered Narcan, which is used to stop narcotics overdoses, and the officer woke up, according to Finner.
Turner called for a detailed briefing from all stakeholders, including Live Nation and NRG Park, to find out how the festival "got out of control."
Investigators said 911 calls first went out at 9:30 p.m. and the concert was stopped by 10:10 p.m. However, the crowd remained after the music ended as emergency personnel attempted to clear the venue.
More than 300 people were treated at a field hospital set up near the festival.
The patients included a 10-year-old child, who was in critical condition Saturday morning, CNN reported. Authorities did not confirm the ages of the people who remained hospitalized in the afternoon.
"I'm absolutely devastated by what took place last night. My prayers go out to the families and all those impacted by what happened at Astroworld Festival," said Scott, who also promised to cooperate with an investigation into the matter, and thanked the Houston police and fire departments for their response.
Texas Gov. Greg Abbott described the deadly crush as "terrifying" and "tragic" in a statement on Saturday, while offering his condolences to those who were impacted.
"Thank you to the first responders and good Samaritans who were on site and immediately tended to those who were injured in the crowd," he said.
"The state of Texas is ready assist in the response, and I have directed the Texas Department of Public Safety to make state resources available to support the investigation."
Concert-goer Alleighya Odom, who has attended the annual festival since its start in 2018, said the dense crowd suddenly felt like "this force on my back, a continuous force."
"I started looking around and there's people on the ground, there's people looking at me like scared, eyes wild, like 'please help me,' " she told NBC News.
"There's people behind me crying because they're being stepped on."
Odom was ultimately able to escape the crush. She said she moved to a less-crowded area because she had a broken ankle and was worried about exacerbating the injury.
Clips shared on social media show Scott, 29, performing while emergency vehicles cut through the crowd. The chart-topping rapper can also be seen stopping the show on several occasions to request assistance for fans, according to the Houston Chronicle.
Back in May 2017, Scott, whose real name is Jacques Webster, was arrested after a concert in Arkansas because he "encouraged people to rush the stage," police said at the time. He was charged with inciting a riot, disorderly conduct and endangering the welfare of a minor, though the misdemeanor charges were later dismissed.
The Grammy-nominated rapper pleaded guilty to disorderly conduct in connection with incident a few months later. A 2019 crowd rush at the Astroworld festival led to three people being hospitalized.
Scott has a 3-year-old daughter with Kylie Jenner, who is pregnant with the pair's second child.
He launched Astroworld in 2018, the same year his hit "Sicko Mode" reached no. 1 on Billboard's Hot 100. Officials said that Saturday's lineup has been canceled due to the deadly crush.
"Our hearts are with the Astroworld Festival Family tonight — especially those we lost and their loved ones," the event organizers wrote in a statement.
Event organizers also asked that anyone with information on how the tragedy came about reach out to the Houston Police Department.
———
©2021 New York Daily News.
Distributed by Tribune Content Agency, LLC.