The police officer who was shot in the face and killed Sunday night was trying to take a stolen gun out of the hands of an 18-year-old who told investigators he was trying to shoot himself.
Jason Banegas, 18, pulled a stolen 9 mm semi-automatic handgun from his pocket during a violent fight with Officer Yandy Chirino.
"When he thought the officer was clear of the muzzle, he pulled the trigger," the warrant says.
Banegas told detectives he did not know Chirino was shot, the warrant says.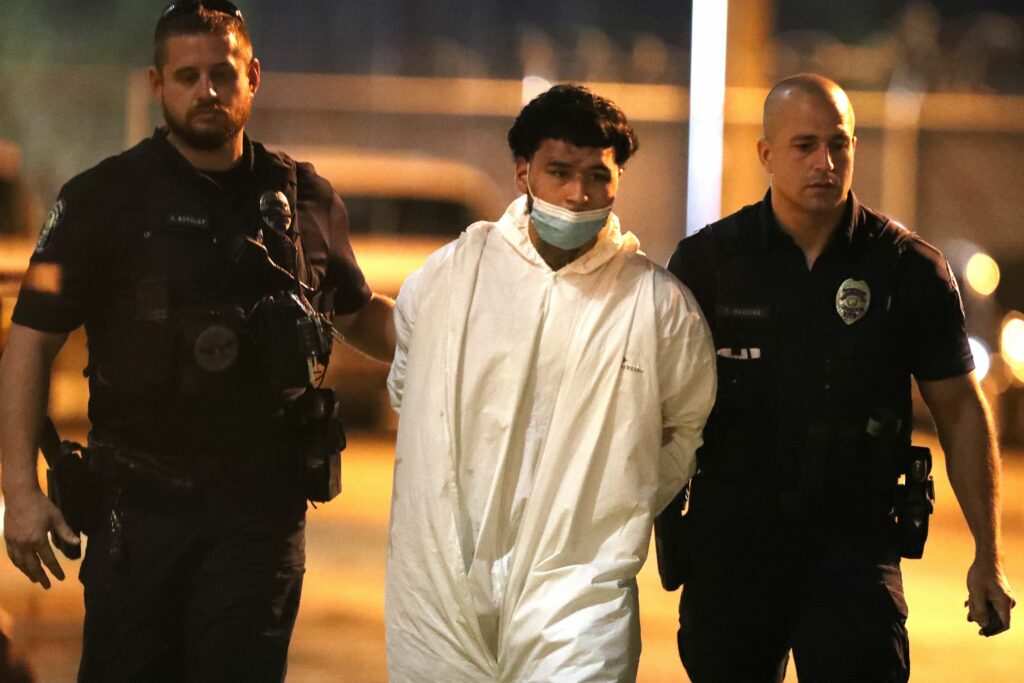 Chirino died early Monday after responding to a call of a suspicious man riding a bicycle from house to house in the area of 4040 North 44th Ave. in Hollywood, according to court records.
Two minutes after Chirino stopped Banegas, another officer arrived and saw Chirino and Banegas on the ground in a grassy area, Banegas holding a pistol and Chirino attempting to take it away from him, the warrant says.
The second officer kicked Banegas, knocking the gun out of his hand. Banegas then started to fight the second officer, who was scraped and scratched.
After the officer handcuffed Banegas, he noticed Chirino was unresponsive and shot in the face, the warrant says. He began CPR. Other officers continued CPR in a police car headed to the hospital.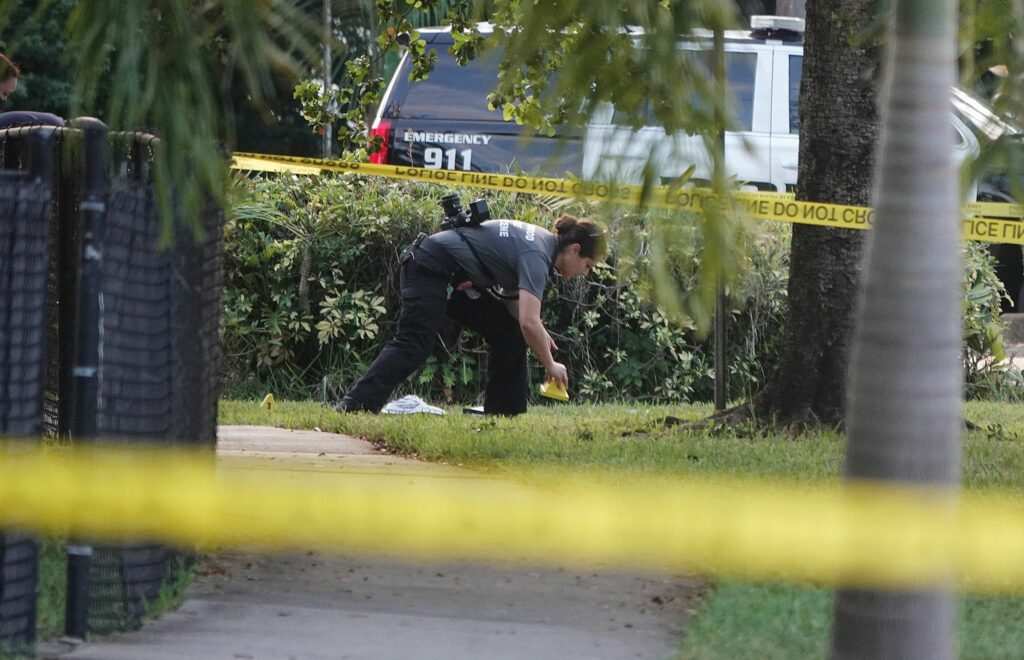 Chirino, 28, was pronounced dead at Memorial Regional Hospital shortly after 1 a.m. Monday.
Banegas was armed with a gun that had been stolen from a car over a month ago in Miami-Dade County, the warrant says. Banegas later told detectives he had the gun for about 24 hours.
At the crime scene, which surrounded a neighborhood park, detectives found a red bike with a white basket in the street, two sneakers and a pool of blood where Chirino was shot on the ground, the warrant says.
A man who said he was Banegas' sister's boyfriend had been across from the park where he said his Jeep broke down. He told detectives Banegas left for 30 minutes while he waited for a tow truck. Banegas, he said, came back riding a red bike, only to leave again.
This time he came back with a haul of Airpods, an iPhone, and iPod and cash, the warrant says. Banegas then wrapped them in a shirt and left the items on a bench in front of the country club, the man told police.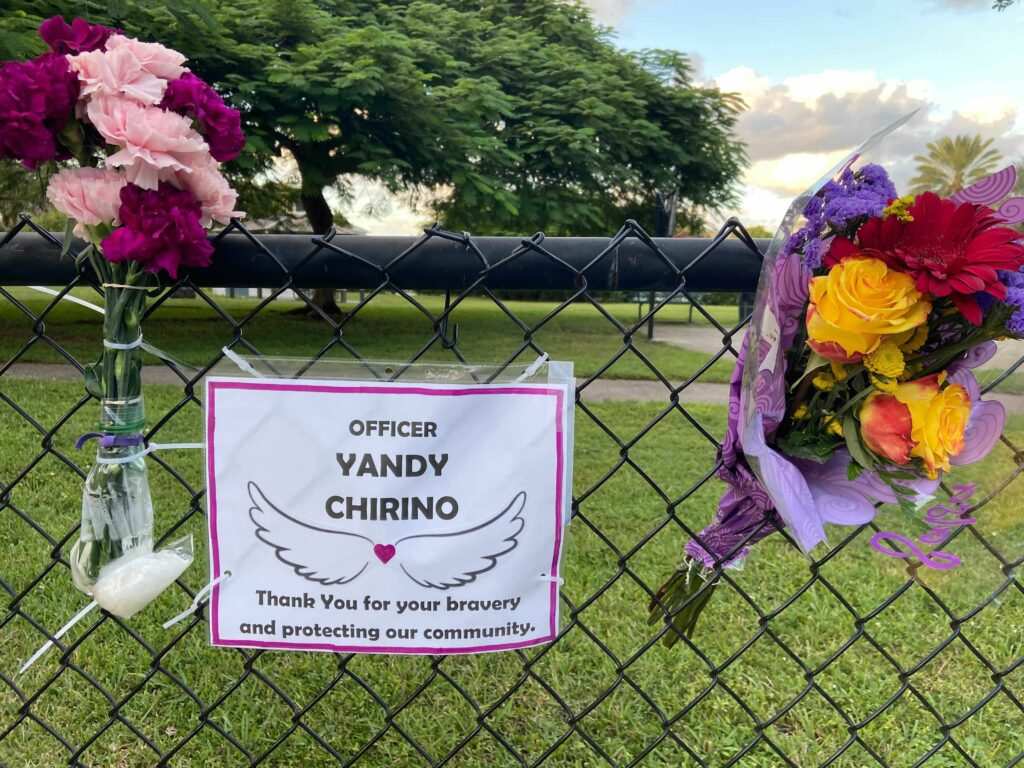 It was after Banegas left for the last time that the man said he heard two quick gunshots ring out, the warrant says.
Banegas told police that after he took the bike, he attempted to open the doors of eight cars, and three of them were unlocked. After he left the stolen items on the bench, Banegas told police he rode the bike out into the road when he was stopped by Chirino.
As he tried to pedal away, Chirino grabbed him and he "panicked," knowing he had a gun and was recently released from Miami-Dade County jail, the warrant says.
Just 30 days ago, Banegas was freed from jail in Miami-Dade County on burglary, trespassing and cocaine charges. But when Banegas stood before a judge Tuesday morning, it was with the prospect of never being free again.
At the lectern in bond court, Banegas lowered his head as Judge Tabitha Blackmon read through a list of charges Banegas now faces.
In addition to a first-degree murder charge, Banegas, of Miami, faces charges of grand theft of a firearm; resisting arrest with violence; and burglary, among other possible charges.
Banegas will be represented by the public defender's office. Blockmon ordered him to undergo a mental health evaluation at the request of his lawyer. He was denied bond.
At 18, Banegas had already been arrested six times before, records show, being detained for the first time by Miami-Dade Police at 14.
In January 2017, Miami-Dade police arrested Banegas on charges of burglary, criminal mischief and preventing or obstructing extinguishing a fire. Those charges came two weeks after he admitted to entering a school and destroying computers, technology equipment and filing cabinets by spraying fire extinguishers throughout the school and throwing paint on classroom walls and floors, according to a 2017 arrest report.
At the age of 15, he was arrested twice on burglary charges for breaking into cars, the arrest reports show. Prosecutors dismissed one of those two cases. And at 16, Miami-Dade police arrested Banegas for stealing a car, leading to two officers chasing him on foot and using K9s to find him.
At 17, Banegas was arrested again and accused of burglarizing someone's car, the arrest report says. Later that same year, Miami Police detained him on suspicion of having cocaine with intent to sell or distribute near a school, a charge that wasn't pursued by prosecutors. That charge came after Miami SWAT agents conducted a search of a Miami home and found bags of suspected cocaine, marijuana, thousands in cash and a silver bucket with "a large amount of suspected narcotics" that were set on fire to be destroyed, the report says.
A makeshift memorial grew Tuesday outside Mara Berman Guilianti Park in the 4000 block of North Hills Drive in Hollywood. As neighbors passed by the park fence Monday on their evening walks, many stopped to read the homemade signs thanking Chirino for his service. A local synagogue has organized a community prayer vigil for 5:45 p.m. Thursday in the park.
Several officers met at the hospital after Chirino was admitted, said Rod Skirvin, president of Broward County Police Benevolent Association. "Everybody told a lot of stories about him, talking about him, praying, keeping their hopes up," Skrivin said.
Nearly 12 hours after Chirino was pronounced dead, officers from the Hollywood Police Department helped carry the fallen officer's flag-draped casket out of the hospital and into a Hollywood Fire & Rescue ambulance.
Mourners gathered outside the hospital's emergency room exit, embracing each other in tears. Officers blocked roads as a motorcade of police officers flanked the sides of the ambulance as it made its way to the medical examiner's office in Davie. Some first responders stood along the highway, their right hands over their hearts as the ambulance carrying his body drove by.
Another Hollywood police officer died early Monday from an apparent suicide, according to reports.
"It has been an extremely sad day for the Hollywood Police Department," a spokesperson for the department said in a statement. "One of our officers who was off duty, unexpectedly passed away. Plantation Police is handling the death investigation. No other information will be given at this time."
Chirino's death is a harsh reminder to law enforcement officers and their families of the realities of the profession, when "what can appear to be a normal encounter with somebody can turn deadly in one second," Skirvin said.
"The bad guy knows what he's going to do. The officer does not. So you have to keep your guard up at all times when speaking with anybody because you never know when that person is going to attack you. And that's what happened in this case," Skirvin said.
Chirino studied at Florida International University before joining the department four years ago. And in that short time, he received four commendations for stopping suspects while they were breaking into cars.
These letters, which were a permanent part of the young officer's personnel file, reveal he had a keen eye for his surroundings, excellent response time and the wherewithal to capture a fleeing suspect.
On May 26, 2018, soon after midnight, a call came in about a person trying to break into cars along State Road 7. Chirino responded with another officer and "as a result of their tactics and rapid response" they caught the suspect.
Just before 4 a.m. on May 15, 2019, two people were breaking into cars. Chirino captured them nearby, and some stolen items, which included credit cards, were returned to the victims. "Officer Chirino should be commended for his rapid response, excellent patrol techniques and observation skills," a supervisor wrote. "As a result of Officer Chirino's actions, two burglary suspects were arrested and taken off the streets."
On July 11, 2019, after 4 a.m., Chirino was dispatched to a call about two suspects trying to open car doors in a parking lot. The suspects fled, and Chirino chased them. Two other officers came to help, and they captured the suspects hiding inside a laundry room with two sets of car keys and a woman's wallet that didn't belong to them.
Most recently, on June 2, 2020, he used Ring camera "police resources" to find a suspect trying to break into cars. He passed this information to two officers who found the suspect "actively attempting to break into a vehicle." A foot chase through a residential neighborhood led to the suspect, who was found by a K9 sergeant. Chirino and the others were commended for their teamwork, police tactics and use of available police resources and dedication to duty.
Skirvin said the call Chirino responded to Sunday is one "that every officer goes on a thousand times during their career."
"What I've been wanting to remind the public is that these are the types of calls that officers handle every day and every shift and what can seem very routine to the public … This is a good example of how in one second it can go from just an interview to an officer fighting for his life," Skirvin said.
___
© 2021 South Florida Sun-Sentinel
Distributed by Tribune Content Agency, LLC