More than two times as many people were killed with knives than rifles in 2020, according to crime data from the Federal Bureau of Investigation released this week.
The data shows that there were 877 homicide cases committed with a knife or cutting instrument in 2020, compared to 302 homicides committed using a rifle of any kind over the same period.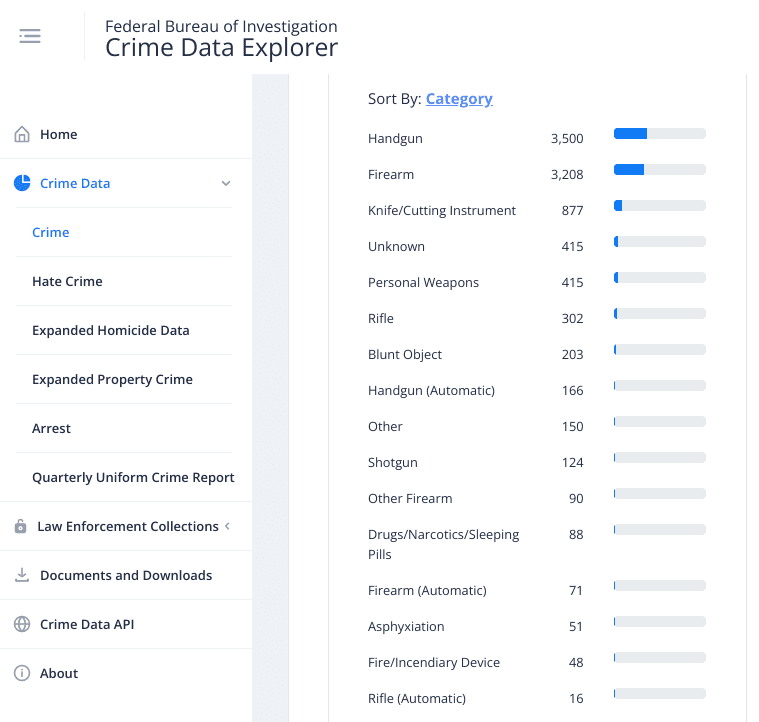 The FBI reported similar findings in 2019, when 644 people were killed with a knife or cutting instrument and 179 people were killed with any type of rifle.
The data also showed that 415 people were killed by hands, fists, feet (personal weapons), and 415 people were killed by unknown means — both of which higher than the number of people killed by rifles.
Also in 2020, the FBI found 3,500 homicides were committed using a handgun. The year before, the number of people killed with a handgun topped 2,200.
The statistics come as President Joe Biden's administration continues its push for more gun control. In its most recent move, the administration banned the importation of certain Russian firearms and ammunition, despite shortages that continue impacting Americans nationwide.
According to the National Association for Gun Rights, the sanctions will make the popular 7.62×39 rifle round "used by sportsmen, hunters, and Second Amendment enthusiasts alike…impossible to find." Russian-made brands like Wolf, Bear, Tulammo, Barnaul, and Red Army Standard, which are popular imported ammo options for American gunowners, are likely to be among those impacted by the restrictions.
The National Rifle Association (NRA) condemned the move as another attempt by the Biden administration to restrict Americans' Second Amendment rights, noting that ammunition exports to the United States make up a small percentage of Russia's GDP, whereas a large part of ammunition supply in America originates in Russia.
In June, Biden's Department of Justice announced new model legislation "help states craft their own 'extreme risk protection order' laws," more commonly known as "red flag laws," which allow courts to issue orders "temporarily" preventing a person from accessing firearms.
"Research has shown that states can save lives by authorizing courts to issue extreme risk protection orders (ERPOs) that temporarily prevent a person in crisis from accessing firearms," the DOJ claimed. "This model legislation provides a framework for states to consider as they determine whether and how to craft laws allowing law enforcement, concerned family members, or others to seek these orders and to intervene before warning signs turn into tragedy."
A similar provision in the 2022 National Defense Authorization Act would allow military courts to issue protective orders that include "red flag" gun confiscation, according to the more than 1,300-page bill.
In the legislation, those beholden to the United States Code of Military Justice could be issued a "military court protective order" by a military judge or magistrate, which would make "possessing, receiving, or otherwise accessing a firearm" illegal.