Lt. Col Stuart Scheller, the Marine officer who gained viral attention for demanding accountability from senior military leaders over their role in the chaotic withdrawal from Afghanistan, was taken to a military brig on Monday after breaking a gag order.
Retired U.S. Navy SEAL Eddie Gallagher, whose Pipe Hitter Foundation is providing fundraising support for Scheller, announced the latest update in Scheller's case in a Monday Facebook post. Gallagher's post relayed a message from Scheller's parents, Stuart Scheller Sr. and Cathy Scheller, who said, "It is with a heavy heart that we, his parents, are informing you that our son, Lt. Col Stuart Scheller, has been incarcerated by the USMC this morning, September 27, 2021. He was issued a Gag order which he broke this weekend by posting on social media."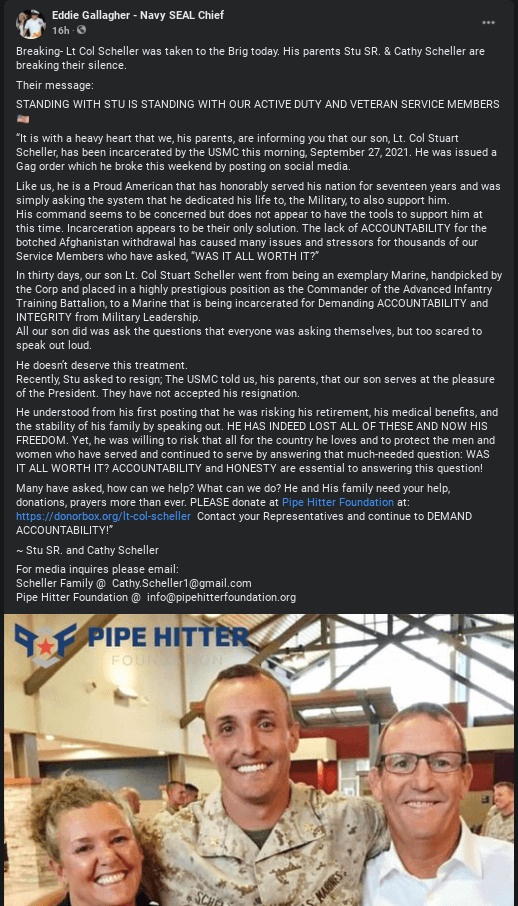 Over the weekend, Scheller made a number of posts on his Facebook page, including one September 25th post that criticized Presidents Donald Trump, Barack Obama, George W. Bush and Bill Clinton, as well as Generals James Mattis, David Petraeus, Michael Flynn, Julian Alford and Francis Donovan. Scheller also shared criticism of the military news publication Task & Purpose, as well as military academics.
Scheller ended his September 25th post by writing, "What happens when all you do is speak truth and no one wants to hear it. But they can probably stop listening because… I'm crazy… right? Col Emmel please have the MPs waiting for me at 0800 on Monday. I'm ready for jail."
Scheller originally gained attention for a video he made on the same day that 13 U.S. service members were killed in a suicide bombing attack at the Kabul airport in Afghanistan, which was then being used as the evacuation point for Americans and Afghans leaving the country. In his original video, Scheller said, "People are upset because their senior leaders let them down and none of them are raising their hands and accepting accountability and saying 'we messed this up.'"
In a subsequent video, Scheller said he was seeking a way to bring charges against Marine Gen. Kenneth McKenzie, the commander of U.S. Central Command (CENTCOM), for dereliction of duty.
"The lack of ACCOUNTABILITY for the botched Afghanistan withdrawal has caused many issues and stressors for thousands of our Service Members who have asked, 'WAS IT ALL WORTH IT?'" the message from Scheller's parents continued. "In thirty days, our son Lt. Col Stuart Scheller went from being an exemplary Marine, handpicked by the Corp and placed in a highly prestigious position as the Commander of the Advanced Infantry Training Battalion, to a Marine that is being incarcerated for Demanding ACCOUNTABILITY and INTEGRITY from Military Leadership. All our son did was ask the questions that everyone was asking themselves, but too scared to speak out loud."