On Tuesday, the Taliban announced some of the leadership roles in its new interim government, including Sirajuddin Haqqani, who is on the FBI's list of most-wanted terrorists.
The Taliban named Haqqani as Minister of Interior, responsible for police and security, the Wall Street Journal reported. Haqqani is the leader of the Haqqani Network, a U.S.-designated foreign terrorist organization. The U.S. National Counterterrorism Center said the Haqqani Network is designated as a foreign terrorist organization "because of its involvement in the Afghan insurgency, attacks on US military and civilian personnel and Western interests in Afghanistan" and its links with Al Qaeda.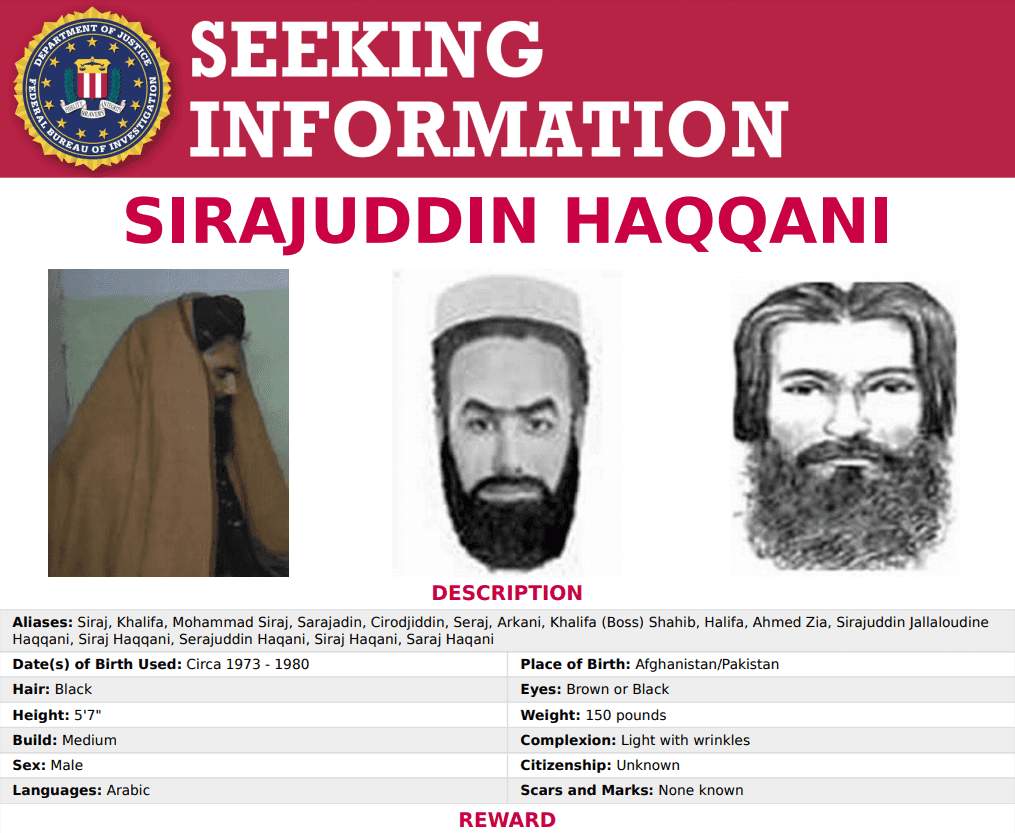 The FBI currently lists a $5 million bounty for Haqqani. He is wanted for questioning in connection with a January 2008 attack on a hotel in Kabul, Afghanistan that killed six people, including an American citizen.
Haqqani is also believed to have plotted and participated in cross-border attacks against U.S. and coalition forces in Afghanistan. Haqqani is also alleged to have been involved in the planning of an assassination attempt on Afghan President Hamid Karzai in 2008.
In addition to naming Haqqani as the interior minister for its interim government, the Taliban also named several other leadership roles. CNN reported longtime Taliban member Mullah Mohammad Hassan Akhund will serve as the interim prime minister. Mullah Abdul Ghani Baradar, who co-founded the Taliban, will serve as the interim deputy prime minister. Mullah Yaqoob, who has served as one of the deputy leaders of the Taliban since 2016, will serve as the new interim defense minister.
While the Taliban have announced interim leadership roles, they have yet to announce a formal permanent government to replace the U.S.-backed Afghan government, which relinquished control on August 15, as the Taliban entered the Afghan capital city of Kabul. The Taliban have alluded to the return of the Islamic Emirate of Afghanistan, but have not described how the restored Taliban government will operate going forward.
Absent from the Taliban leadership roles announced so far are any women. Taliban leaders have said women will play a prominent role in society in Afghanistan and have access to education but, CNN reported, women have not been included in any new talks regarding the formation of the new Taliban government.
The Taliban also appears unconcerned with promoting ethnic diversity in its new government. Taliban spokesman Zabihullah Mujahid said, "Our government won't be based on ethnicity. We will not allow this type of politics."
While the last U.S. troops left Afghanistan last week, hundreds of Americans and thousands of vulnerable Afghans are still stuck in the country. On Tuesday, Secretary of State Antony Blinken said President Joe Biden's administration is in talks with the Taliban to resolve "issues" blocking Americans, lawful permanent residents and Afghan allies from leaving Afghanistan on charter flights.