Retired U.S. Navy SEAL Eddie Gallagher said on Wednesday that PayPal "deplatformed" Lt. Col. Stuart Scheller, the Marine officer who went viral for demanding accountability after the chaotic evacuation from Afghanistan, on the same day Gallagher's Pipe Hitter Foundation began fundraising with Scheller. On Thursday, PayPal reversed that decision on its own without any action taken by Gallagher, the foundation or Scheller.
"Just hours after launching our campaign for LtCol Scheller he has been deplatformed by @paypal," Gallagher said in his Wednesday Facebook post. "Big Tech has been doing this for years to silence, crush, and intimidate individuals and their families and destroy their livelihoods."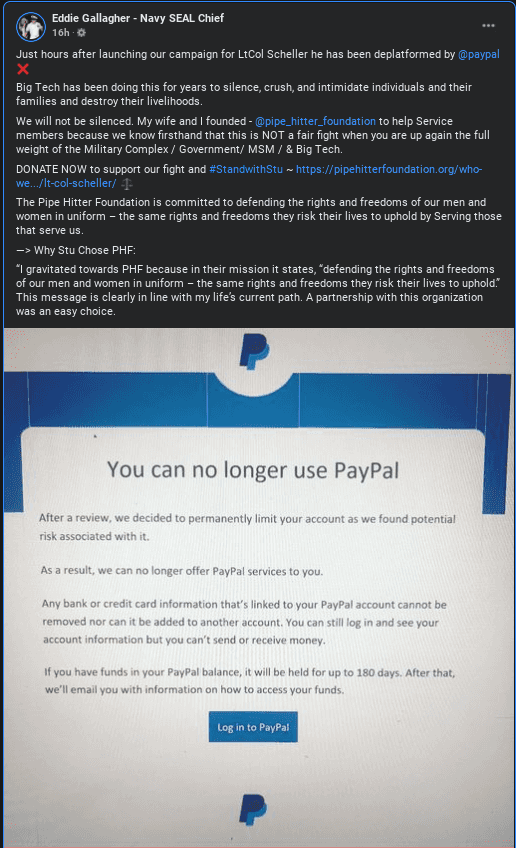 Gallagher shared a screenshot of the notice Scheller received from PayPal, which said, "After a review, we decided to permanently limit your account as we found potential risk associated with it."
On Thursday, Gallagher said, "The account has been mysteriously restored. Keep in mind no information was provided to them to 'review' and Stu is under a gag order so he has no way to communicate or get any word out."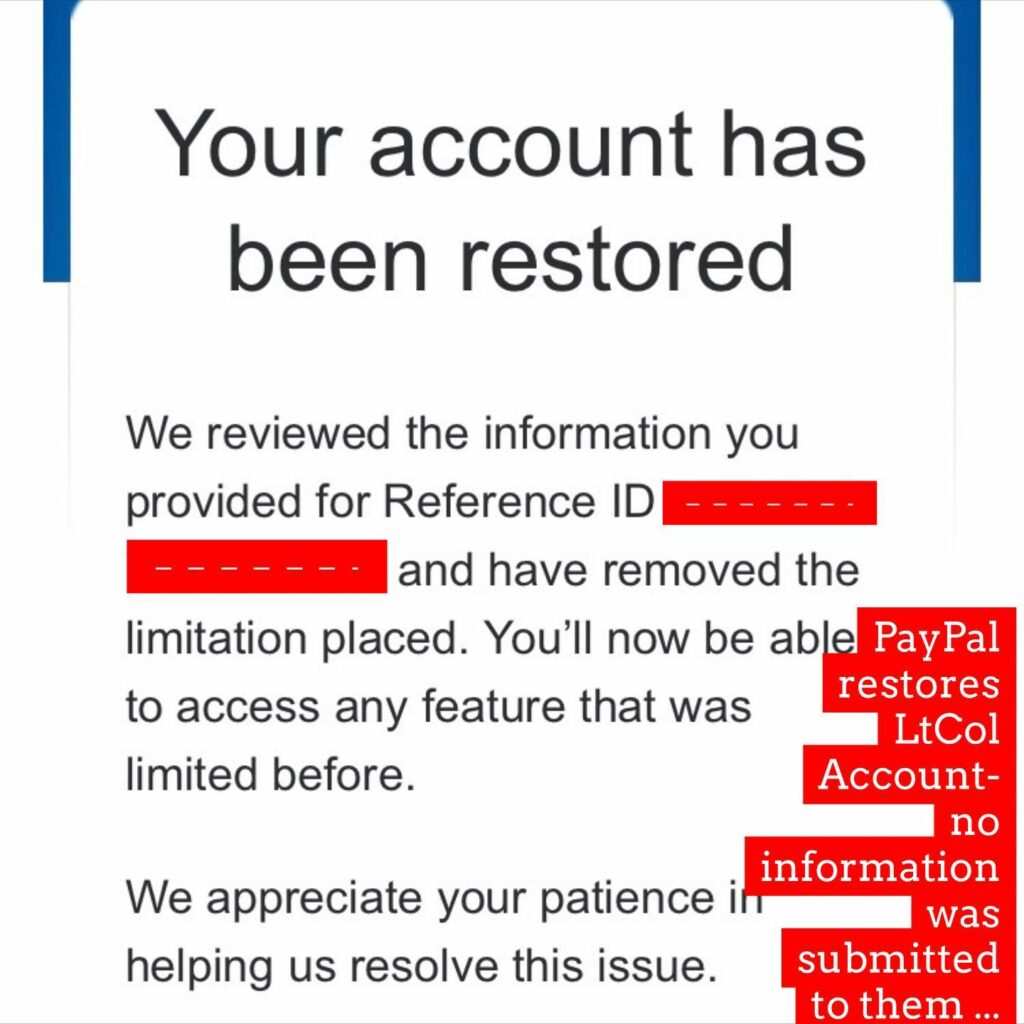 At the time of publication, PayPal has not responded to an American Military News request for comment.
"We will not be silenced," Gallagher continued in his Wednesday Facebook post. "My wife and I founded – @pipe_hitter_foundation to help Service members because we know firsthand that this is NOT a fair fight when you are up again the full weight of the Military Complex / Government/ MSM / & Big Tech."
Scheller gained widespread public attention after he released a video on the same day 13 U.S. service members were killed in a suicide bombing attack at the Kabul airport in Afghanistan. In his now-viral video, Scheller criticized the handling of the U.S. military withdrawal from Afghanistan and called on senior military leaders to face accountability.
Scheller released subsequent videos, with one announcing he would resign his commission and another video announcing that he would try to bring a court-martial case against Marine Gen. Kenneth McKenzie, the commander of U.S. Central Command (CENTCOM), for his role in the Afghanistan withdrawal and evacuation effort.
Throughout his various videos, Scheller acknowledged that his highly public criticisms of senior military leaders could imperil his battalion commander status, his military retirement and his family's overall stability.
In his Facebook post, Gallagher shared Scheller's comments about why he had turned to the Pipe Hitter Foundation for support through his ongoing row with senior military leaders.
"I gravitated towards PHF because in their mission it states, 'defending the rights and freedoms of our men and women in uniform – the same rights and freedoms they risk their lives to uphold,'" Scheller said, according to Gallagher's post. "This message is clearly in line with my life's current path. A partnership with this organization was an easy choice."
Gallagher started the Pipe Hitter Foundation after his own high-profile split with the U.S. military. In September 2018, Gallagher was charged with murdering an ISIS terrorist prisoner and faced a monthslong war crimes court-martial before being acquitted of the murder charges. The Pipe Hitter Foundation's stated mission is to provide financial and legal support for military service members.
This article was updated to note that Scheller's PayPal account had been restored.