In a Saturday press briefing, Nassau County Sheriff Bill Leeper advised armed homeowners to "blow" an armed murder suspect on the run "out the door" if he targets their homes.
Leeper offered the advice to armed homeowners while discussing the active manhunt for 35-year-old Patrick McDowell, who allegedly shot Nassau County Sheriff's Deputy Joshua Moyers and who remains at large.
"This guy is dangerous," Leeper said of McDowell. "If you're in a home and he breaks into your home and you have a gun, blow him out the door."
The Florida Times-Union reported Deputy Moyers was making a traffic stop of a suspect minivan occupied by a male driver and a female passenger. The male driver did not have his license and gave Moyers a false name. After Moyers ran the vehicle's records and determined the name he had been given did not match the ownership of the vehicle, he asked if the driver had any weapons and told him to get out of the vehicle.
The driver then shot Moyers once in the face, below his right eye, and then again in the back after Moyers fell to the ground. Leeper said the incident was caught on Moyers' body camera and the male driver was subsequently identified as McDowell.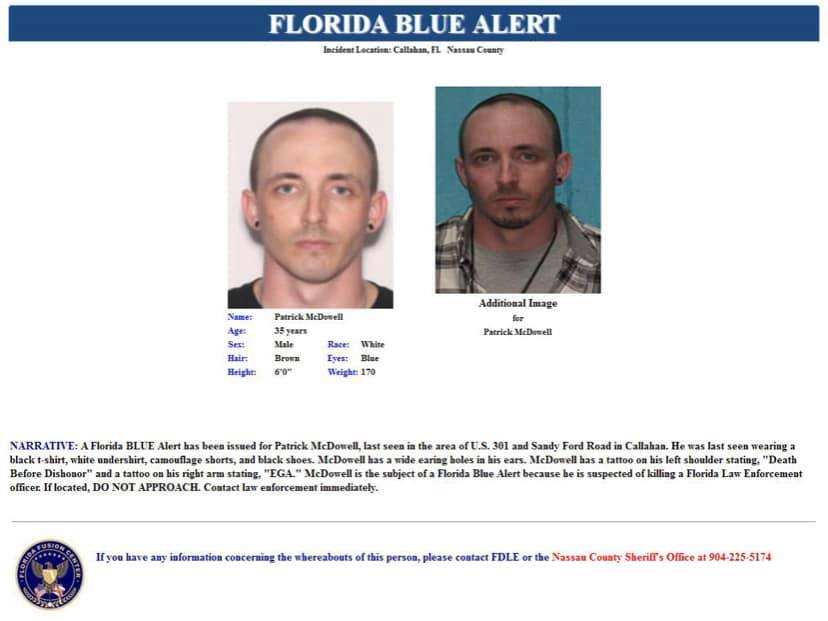 "Unfortunately, Deputy Moyers is not going to survive," Leeper said during the Saturday afternoon press briefing. "Where the bullets lodged, what it did, there's just nothing they can do, unfortunately."
Leeper said Moyers' family and fiancé came to the decision on Friday night to donate Moyers's organs. Leeper said UF Health Jacksonville was in the process of finding potential organ recipients on Saturday.
Leeper later announced Moyers' death in a Sunday press release.
"It is with great sadness that I announce Deputy Josh Moyers has passed away this afternoon, September 26, 2021 at 2:19 PM at UF health in Jacksonville," Leeper said. "Please keep Josh's family and fiancé in your thoughts and prayers as we navigate this terrible tragedy."
According to an Officer Down Memorial Page, Moyers was kept on life support until Sunday, before he passed away.
As of Saturday, more than 300 personnel from multiple law enforcement agencies were participating in the search effort for McDowell. The search effort has focused on an area covering about five square miles and encompassing more than 3,000 acres.
Helicopters, drones, armored personnel carriers and all-terrain vehicles have all been brought into the manhunt.
McDowell is currently on a year and six months probation on a 2018 forgery charge and was under drug-offender probation. McDowell has previously been arrested on charges of giving a false name to law enforcement and aggravated possession of stolen firearms.