Dramatic bodycam footage first released Thursday shows a training officer with the San Diego Sheriff's Department rescuing a deputy who almost died after being exposed to fentanyl while investigating a crime scene on July 3. The deputy comes so close to death that the training officer promises he's "not going to let [him] die."
In the video, Deputy David Faiivae from the San Marcos Sheriff's Station is seen observing the back of a vehicle filled with illicit substances.
"Yeah, it's a powder," one of the officers says. "Could be cocaine or fentanyl."
"It tested positive for fentanyl," a second officer notes.
Seconds after the officers' exchange, Faiivae is seen taking steps backward and freezing with his arms slightly extended before collapsing on the pavement.
The field training officer, Cpl. Scott Crane, recognized Faiivae was suffering from a fentanyl overdose and immediately jumped into action, administering the life-saving medication Naloxone, which rapidly reverses the effects of an overdose.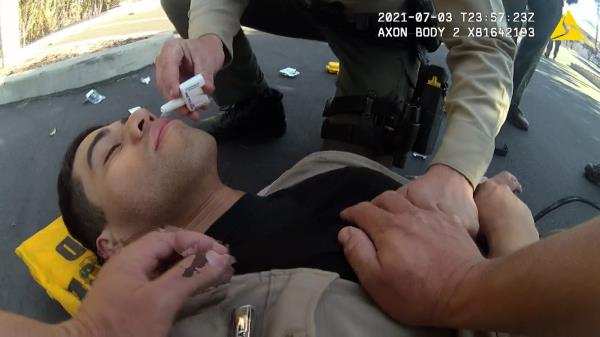 "My lungs just locked up. I couldn't breathe," Faiivae later said in a public safety video. "I was trying to gasp for breath but I couldn't breathe at all."
"Faiivae you ok? Talk to me," Crane says in the video, as Faiivae is heard faintly apologizing through shallow breaths. "Don't be sorry. There's nothing to be sorry about. I got you, ok? I'm not going to let you die."
The deputy was transported by ambulance to a nearby hospital for additional treatment.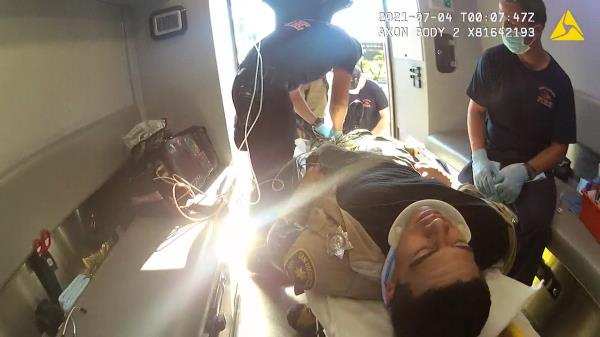 After the incident, the San Diego Sheriff's Department released a public safety video stressing the dangers of the synthetic opioid, Sheriff Bill Gore described as "50 times more potent than heroin."  
"Fentanyl overdoses are on the rise throughout our county," Gore said in the video. "Every day, deputies recover fentanyl in our communities and the county jails are not immune to the dangers of this drug."
"Every week, sheriff's deputies intercept fentanyl entering our facilities. When inmates overdose on fentanyl smuggled into our jails, deputies and nurses are saving dozens of lives every month by administering Naloxone," he continued.
The sheriff said fentanyl overdoses in California have increased nearly 46 percent in the last year alone.
"Being exposed to just a few small grains of fentanyl could have deadly consequences," Gore said. "The dangers of fentanyl are real and this drug is killing our communities."
In FY2020, a record amount of fentanyl smuggled into the country from Mexico was confiscated in the Border Patrol's San Diego region, The San Diego Union-Tribune reported. The increase amounted to a 255 percent jump from the previous fiscal year.