On Friday, the U.S. Central Command (CENTCOM) concluded that an unmanned aerial vehicle (UAVs) produced by Iran was used to attack an Israeli-owned oil tanker last week. CENTCOM included a series of photos of UAV debris found on the tanker which were analyzed and found to match other known Iranian UAVs.
In an emailed statement to American Military News, CENTCOM said following a suspected Iranian "Kamikaze" drone attack on the Israeli tanker, M/T Mercer Street, an "expert explosive investigative team from the USS Ronald Reagan embarked the M/T to examine the evidence and interview the surviving crew members." The investigating team found pieces of what they believe is a vertical stabilizer for a wing and "internal components which were nearly identical to previously-collected examples from Iranian one-way attack UAVs."
CENTCOM shared images of what they believe was a fin-like vertical stabilizer to be attached to an aircraft wing, found on the Israeli cargo ship.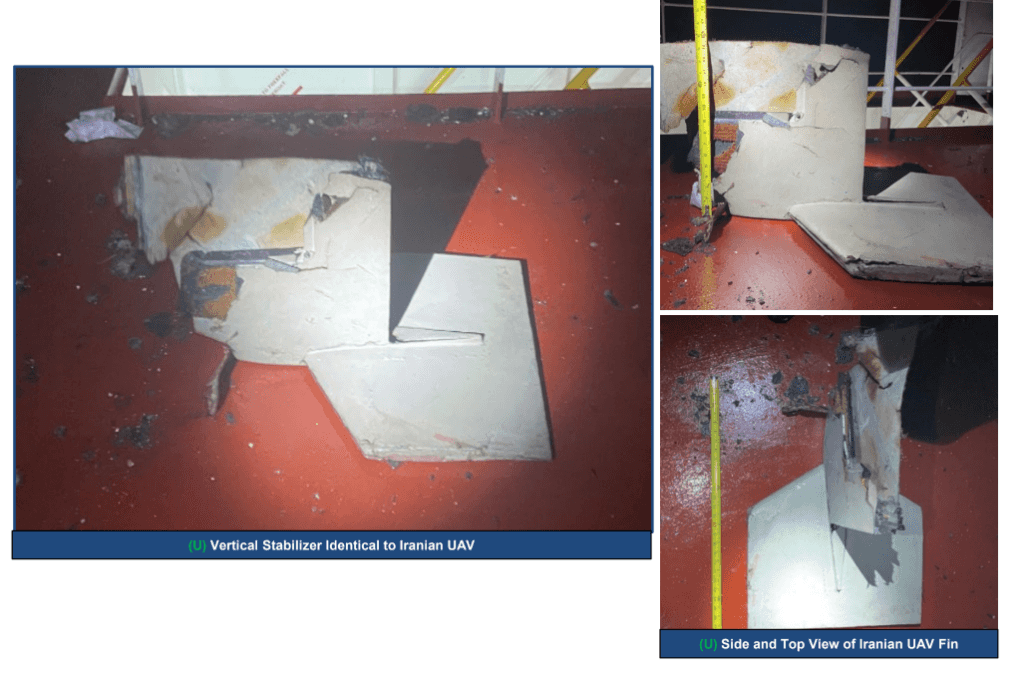 CENTCOM shared additional photos of both intact and damaged models of smaller and larger "delta wing" style UAVs. The delta wing UAVs have been shown at Iranian airshows and in military test settings. Two images show those Iranian drones before impacting against targets.
"The use of Iranian designed and produced one way attack 'kamikaze' UAVs is a growing trend in the region," CENTCOM also wrote.
CENTCOM further stated the distance between Iran's coast and the location of the drone attacks were within the range of documented Iranian one-way attack UAVs. Explosive experts also found chemical indicators consistent with Nitrate-based explosives and identified the explosive compound RDX, "indicating the UAV had been rigged to cause injury and destruction."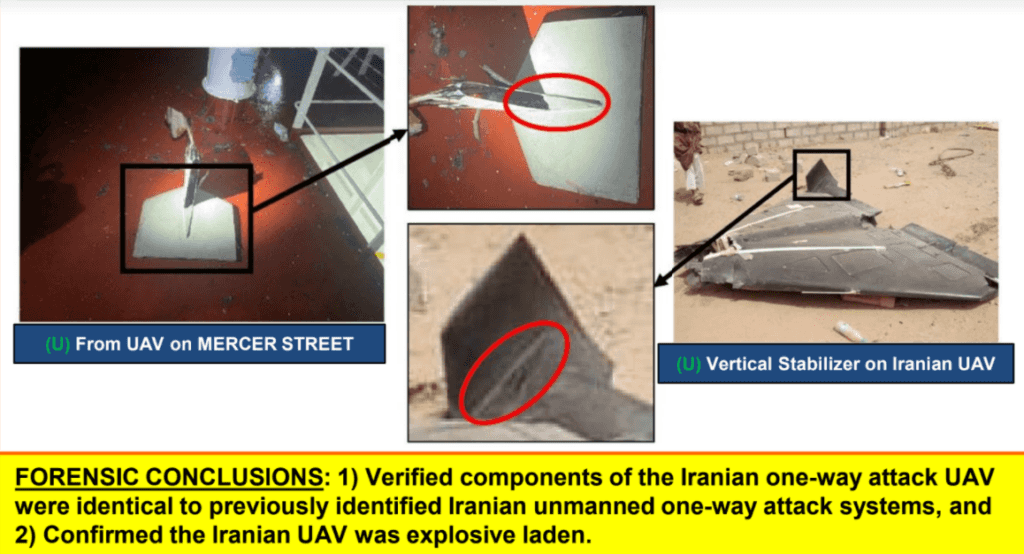 The CENTCOM statements and photos come after U.S. Secretary of State Antony Blinken joined with his Israeli and United Kingdom counterparts in assessing Iran was behind the explosive drone attack that targeted M/T Mercer Street.
Iran has denied responsibility for the alleged attack and Iranian Foreign Ministry spokesman Saeed Khatibzadeh told the Iranian state-run Islamic Republic News Agency, that the accusations by Israel, the U.S. and U.K. are baseless. Khatibzadeh said, "the illegitimate occupying regime must put an end to false accusations against Iran."
Following the initial investigation, CENTCOM determined the Israeli-owned oil tanker was unsuccessfully targeted by two previous explosive UAV attack attempts on the evening of July 29.
"The crew reported the attacks via distress calls on the evening of July 29. Based on crew interviews, the investigative team found credible the reports of the attacks, which impacted the sea near the M/T Mercer Street," CENTCOM said. "Investigators found small remnants of at least one of the UAVs on Mercer Street that the crew had retrieved from the water, corroborating the reports."
"The investigative team determined that the extensive damage to the Mercer Street . . .was the result of a third UAV attack on July 30," CENTCOM wrote. "This UAV was loaded with a military-grade explosive, and caused the death of two crewmembers; the master of the ship, a Romanian citizen, and a United Kingdom national who was part of the security detail."