Navy unveiled new football uniforms on Monday honoring the United States Marine Corps to be featured for the September 11 game against Air Force.
"Inspired by the iconic 'Dress Blue A' uniform, the 2021 USMC uniform shares symbolic elements from both enlisted and officer regalia," Navy Athletics wrote in its announcement of the new uniforms. "It draws parallels with white gloves, black cleats, red trim, and royal blue pants. The actual ensemble worn by a Marine is the only uniform within the U.S. Military designated to include this red, white, and blue color scheme."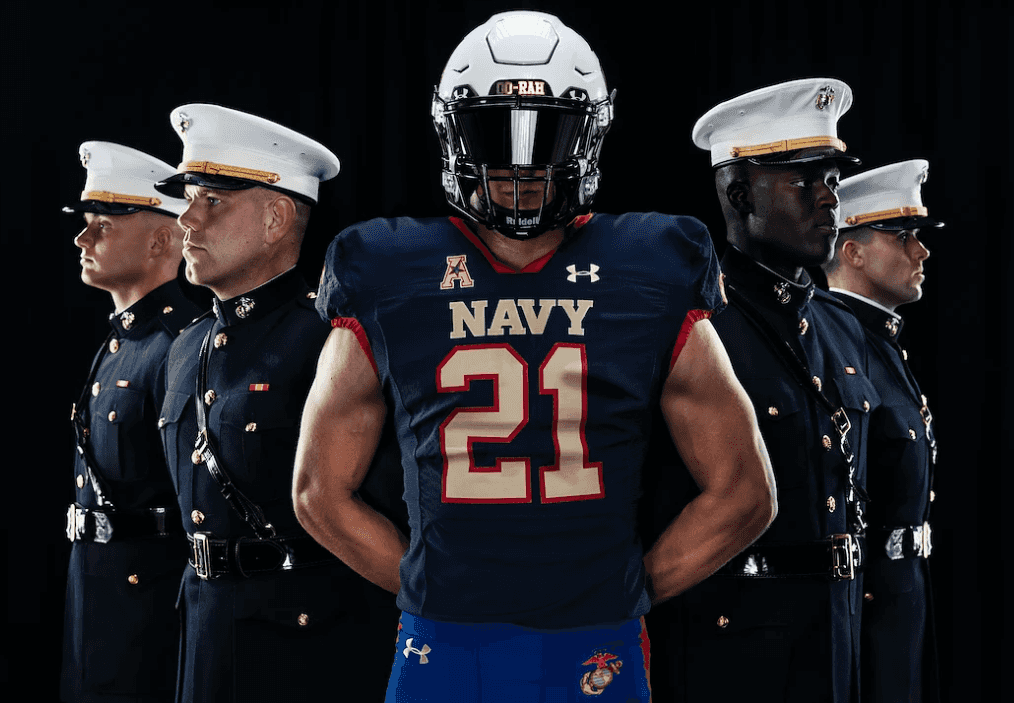 The uniforms feature the iconic Eagle, Globe and Anchor on the helmet, shoulder and pant, and the unique Marine Corps battle cry "OORAH" is emblazoned across the front of the helmet.  Semper Fidelis, the Marine Corps motto which is often abbreviated to Semper Fi, is highlighted on the back of the helmet and the nameplate. The top of the helmet includes the quatrefoil, which can be found on the top of the Marine officer barracks cover.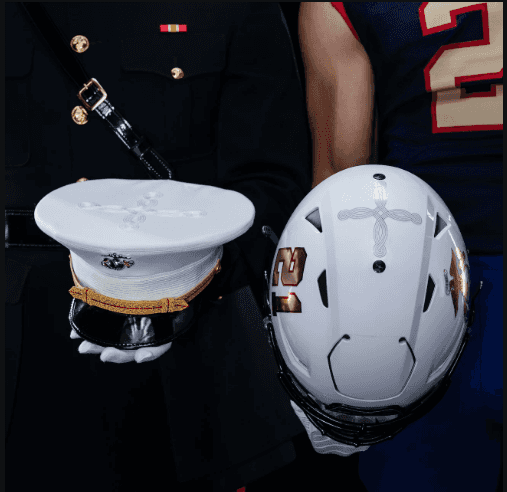 "The EGA has represented the title every Marine has earned since 1868. The eagle stands at the ready symbolizing the proud nation Marines defend. It holds a scroll in its beak which bears the motto of the Corps, 'Semper Fidelis' which is Latin for 'Always Faithful'. The globe represents the Corps' worldwide presence, impact and reputation as a fighting force that wins on behalf of our Nation's people and progress. Wrapped in rope, the anchor points both to the Marine Corps naval heritage and its ability to access any battleground across any coastline in the world," Navy Athletics explained.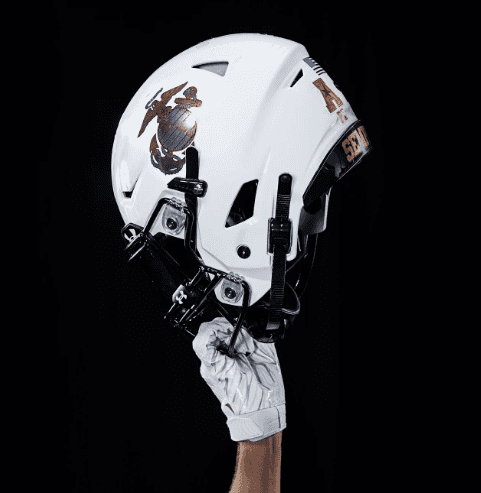 According to Navy Athletics, roughly 25 percent of Naval Academy graduates commission into the Marine Corps each year through a "competitive selection process," and nearly 50 percent of football players pursue the Marine Corps as a service assignment.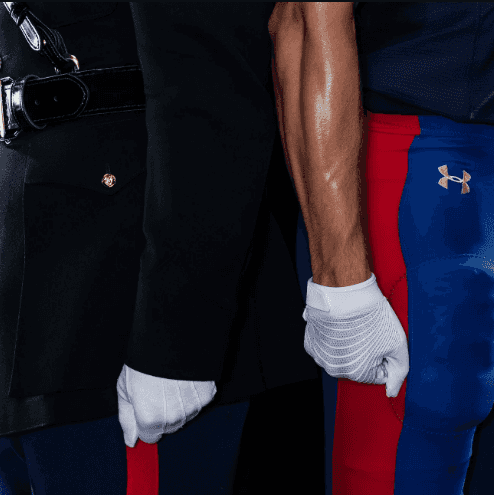 "The Navy Football team will wear the first USMC-themed uniform during its game against Air Force on September 11, 2021," Navy Athletics wrote. "This date marks the 20th anniversary of the 9/11 attacks and beginning of the global war on terrorism. As we watch these rivals on the gridiron, we acknowledge the unity amongst the U.S. Military branches and thank those who have dedicated themselves to the service of our country."
Individuals on social media are encouraged to use the hashtags #SemperFi and #OORAH for a chance to be featured on the USMC microsite and Navy Athletics social media channels.