Navy veteran and MSNBC contributor Malcolm Nance shrugged off Thursday's deadly suicide bombing in Kabul that left 13 United States service members dead and 15 other service members injured, tweeting that people should just "deal with it," before deleting it.
"20 YEARS – FYI there have been terrorist suicide bombers killing civilians nearly DAILY in Afghanistan. This ain't new. It's why we are leaving. #DealWithIt," Nance wrote on Twitter. At the time of Nance's tweet, widespread reporting said four U.S. Marines were dead.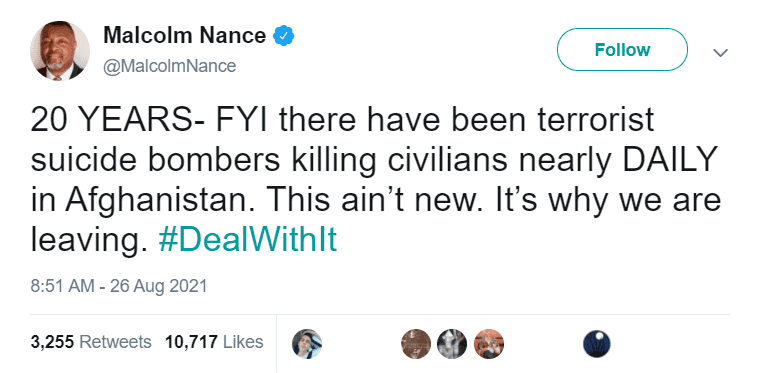 Nance immediately became the target of condemnation on social media for the dismissive tweet.
Code of Vets, a nonprofit that helps veterans in crisis, blasted Nance after an early casualty count was released, tweeting, "We just lost four Marines! Four brothers. Your post is a direct reflection of your character!"
Clay Travis of Outkick.com also slammed Nance, writing, "Imagine Tweeting this on a day when at least 12 American soldiers died in a terrorist attack."
KTTH Radio's Jason Rantz tweeted, "MSNBC's Malcolm Nance: 'Deal with it.' Ten Marines are dead. Malcolm Nance is a ghoul."
One Twitter user challenged the MSNBC contributor, writing, "Say this to the mothers of the service members who died."
For America mocked Nance, tweeting, "Hey, Siri, show me the biggest POS on the internet today. #dealwithit."
Others supported Nance's tweet, including one Twitter user who wrote, "Thank you sir. Finally someone giving context to this situation. MSM just want the sound bites – no context, no meaning, just whataboutism; denigration and division. No more for me though – no more."
"That is the most succinct explanation I have seen written," another Twitter user responded. "Thank you. Wish the media would just print that instead of bashing Biden. Thank you for your CONTINUED service to our country."
On Thursday, Marine Corps Gen. Kenneth F. McKenzie Jr., commander of U.S. Central Command, confirmed 12 U.S. service members were killed in a pair of suicide bombing attacks on the Kabul Airport earlier in the day and 15 more U.S. service members were injured. Later, an additional service member died of their injuries, bringing the American death toll to 13.
McKenzie said, "We're still working to calculate the total loss as we just don't know what that is right now."
The U.S. service members killed on Thursday are the first U.S. service members to be killed in Afghanistan in over a year and a half. Two U.S. service members were shot and killed in an ambush attack in February 2020 and six more were wounded during that same attack.