On Thursday, the Chinese Embassy in Antigua and Barbuda tweeted and then deleted a racially charged criticism of western officials who gathered in support of a Canadian national who faces the death penalty in China.
"The performance art of Western diplomats in China: to 'defend' the Canadian drug felon. Such a clumsy political show is utterly despicable. Oh, yes, the most aside, that little yellow-skinned role is a Japanese, who is not even qualified to stand on the stage," the Chinese embassy account tweeted.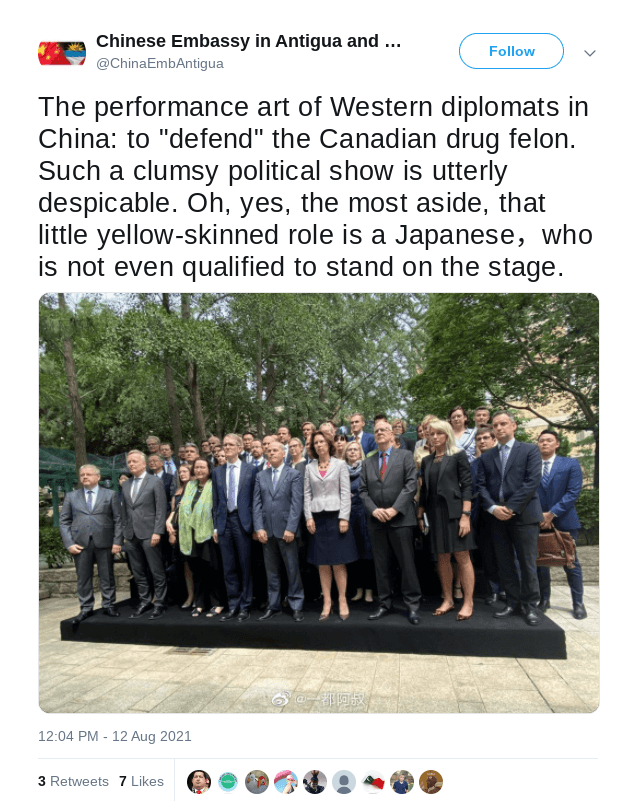 The tweet is no longer available on the Chinese embassy account, but it can be still be seen through an archived link.
NPR reporter Emily Feng, a Beijing-based correspondent for the radio network, tweeted, "The casual racism in this tweet is despicable. And the man you're referring to is an American diplomat."
The Canadian man the Chinese embassy account's tweet appears to refer to Robert Schellenberg. On Tuesday a Chinese court upheld a death sentence for Schellenberg, who was charged with smuggling, trafficking, transporting, and manufacturing drugs.
Schellenburg was originally handed a 15-year prison term in 2018 but his sentence was upgraded to the death penalty after Canadian authorities arrested Huawei chief financial officer Meng Wanzhou on Dec. 1, 2019, at the request of U.S. prosecutors. The U.S. has charged Meng with misleading HSBC Holdings about Huawei's relationship with Iran.
Canadian Conservative Party leader Erin O'Toole accused China of handing Schellenburg a death sentence as retaliation for the Huawei executive's arrest, Canada's The Globe and Mail reported.
Following Meng's arrest, Chinese authorities arrested eight other Canadian nationals. One Canadian man detained in China, Michael Spavor, faces an 11-year prison term on charges alleging he spied on China.
On Tuesday, the Canadian Embassy in China tweeted, "Today the Canadian embassy and 25 countries stand together in solidarity for #MichaelSpavor, arbitrarily detained in China since December 2018."
On Wednesday, U.S. Secretary of State Antony Blinken wrote, "We stand with the international community in calling for the People's Republic of China (PRC) to release, immediately and unconditionally, Canadian citizens Michael Spavor and Michael Kovrig."
"We continue to condemn these arbitrary detentions as well as the sentence imposed against Mr. Spavor on August 10," Blinken continued. "Mr. Spavor and Mr. Kovrig have not received the minimal procedural protections during their more than two-and-a-half-year arbitrary detention, and we stand with more than 60 countries who endorsed the recent Declaration Against Arbitrary Detention in State-to-State Relations. In my discussions with PRC officials, I have raised several cases of both U.S. and Canadian citizens subject to arbitrary detentions and exit bans in China, and I strongly support the immediate and unconditional release of all those whom the People's Republic of China has arbitrarily detained. The practice of arbitrarily detaining individuals to exercise leverage over foreign governments is completely unacceptable. People should never be used as bargaining chips."
"The United States also remains deeply troubled by the lack of transparency surrounding these legal proceedings and joins Canada in calling for full consular access to Mr. Spavor and Mr. Kovrig, in accordance with the Vienna Convention on Consular Relations and the China-Canada Consular Agreement. We call upon PRC authorities to grant the requests of Canadian officials and other foreign diplomats to attend their proceedings."