An Afghan's body was reportedly found in the landing gear of a U.S. Air Force C-17 Globemaster III transport aircraft on Monday after transporting Afghan citizens from Hamid Karzai International Airport in Kabul.
After leaving Kabul, the C-17's landing gear was malfunctioning, prompting the crew to declare an emergency. Upon landing at another airport, human remains were discovered in the wheel well, three people close to the situation told The Washington Post on Tuesday. Two sources close to the situation who spoke with Politico also gave the same account.
It's not clear if the affected C-17 is the same one shown in a viral video in which dozens of Afghans poured into its belly, or the viral photo showing hundreds of Afghans crammed into a C-17.
U.S. Central Command (CENTCOM) released a statement late Monday confirming that 640 Afghans were evacuated on a C-17 flight on Sunday, which was first reported by Defense One.
A photo shared with Defense One that also appeared on the popular Air Force amn/nco/snco Facebook page, was later released by the Air Force itself, along with confirmation of the 640 evacuated Afghans.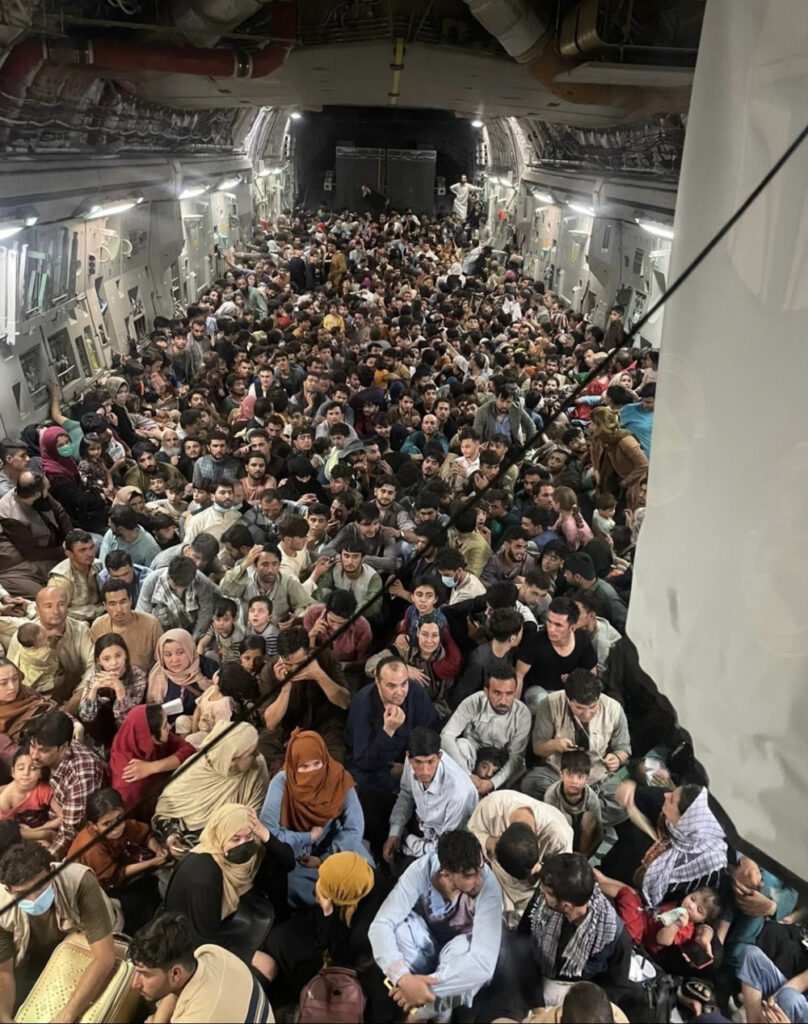 Defense One identified that aircraft as Reach 871, a C-17 from the 436th Air Wing based at Dover Air Force Base in Delaware.
Audio of satellite radio communications reportedly between the C-17 pilot and someone on the ground conveyed shock to hear the number of people on the military flight. "Ok, how many people do you think are on your jet? 800 people on our jet? Holy…Holy cow…Ok…," a man's voice says.
The officials speaking to Defense One said multiple flights departed Kabul with hundreds of people on board, and other flights may have been carrying even more than 640 people.
Brig. Gen. William D. "Hank" Taylor told reporters at the Pentagon on Tuesday that roughly 1,400 people had been evacuated from Kabul since August 14. Late Monday night into Tuesday, seven evacuation flights left Kabul with approximately 700 people, including 165 American citizens.
Pentagon Press Secretary John Kirby said that the U.S. has the capacity to fly out 5,000 to 9,000 people from Kabul per day if the airport can continue to be secured without evacuation flights being interrupted. At full capacity, he said, evacuation flights should be able to reach completion by President Joe Biden's August 31 full withdrawal deadline.
It was reported that seven people died in the chaos at the Kabul airport, and Pentagon spokesman John Kirby also confirmed two "armed Afghans" were killed by American troops near the airport after the suspects fired on Americans.