The U.S. Army Garrison in Italy (USAG Italy) is now requiring all uniformed personnel who are unvaccinated against COVID-19 to wear masks on-base even when they're outside. Unvaccinated troops are also banned from gyms or dine-in restaurants on base even if they do wear masks, the service confirmed to American Military News this week.
The new masking guidelines for U.S. Army posts in Italy were first revealed by an Instagram user last week. The Instagram account, Informedwithanthony, shared photos of an apparently leaked email distributed among USAG Italy personnel on July 16, which said "non-vaccinated personnel will wear a mask indoors and outdoors while on USAG Italy installations" and "are no longer authorized in any indoor Athletic facility (with or without a mask)" and are "not authorized to dine-in at any indoor dining facility" other than a base dining facility (DFAC).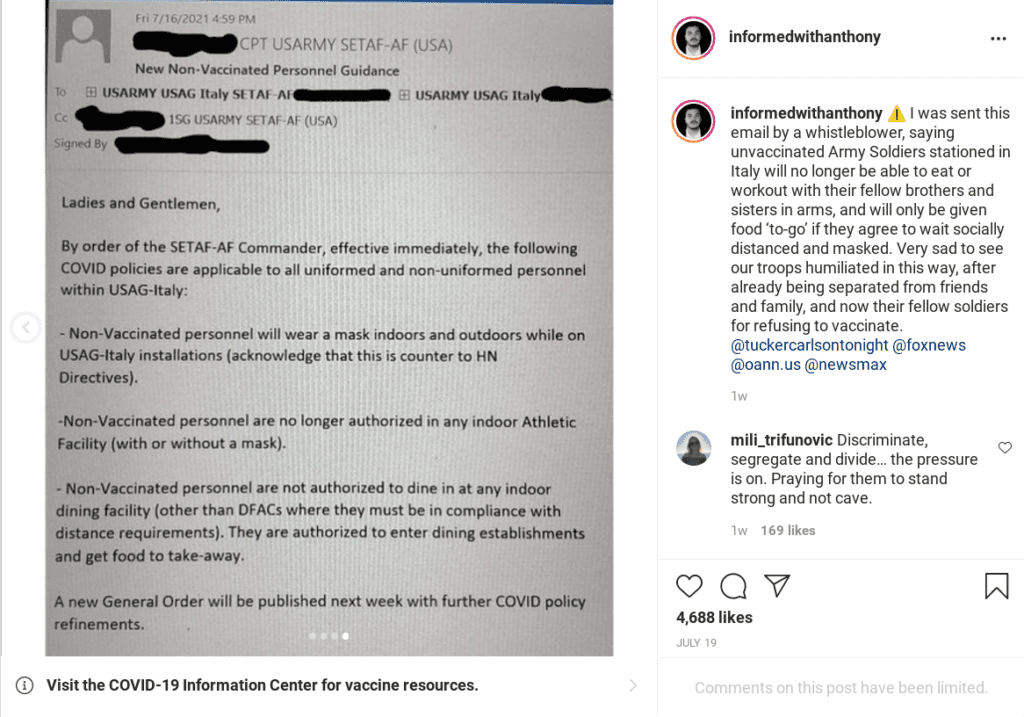 A spokesperson for USAG Italy confirmed the policy to American Military News, stating that, "Uniformed personnel who are not vaccinated must wear masks indoors and outdoors on USAG-Italy installations. Uniformed personnel who are not vaccinated are not authorized to enter any indoor fitness center or athletic facility on post. Furthermore, they are not authorized to dine-in at any indoor restaurant, on post, except at an Army Dining Facility and must observe mask requirements that apply within the dining facility and maintain social distancing whenever possible."
The leaked email shared by the Instagram account added that although the command would require unvaccinated personnel to wear masks even when outside, it would "acknowledge that this is counter to [host nation] directives."
Italy officially lifted its own outdoor mask mandate in June. On the USAG Italy website under a section titled "COVID Mask Policy," the command states, "The Italian health ministry issued an ordinance regarding the wear of a mask to cover mouth and nose throughout the country. Starting June 28, in white zone regions (all of Italy is currently white) masks are no longer required outdoors. The ordinance is valid until July 30. You still need a mask with you."
It's unclear why the mask policies listed on USAG Italy's website have not been updated to reflect the new policy mandating masks for unvaccinated uniformed personnel outdoors.
When American Military News asked USAG Italy why the command would require masking outdoors for unvaccinated personnel if neither the U.S. nor Italy require it, a USAG Italy spokesperson said, "Commanders can make the rules more restrictive than host nation rules if the situation on the ground warrants, as has been done at installations around the military."
The new mask guidelines imposed on unvaccinated uniformed personnel come in the weeks after Army Times reported the U.S. Army had advised commands to prepare to mandate COVID-19 vaccines to all troops by as early as Sept. 1.
Large percentages of the U.S. military remain unvaccinated.
The U.S. Navy is currently the military branch with the highest percentage of service members either partially or fully vaccinated, at 77 percent. The Army is the second-most vaccinated branch with a 70 percent vaccination rate, and the U.S. Air Force next with 61 percent vaccinated. The U.S. Marine Corps is the least vaccinated branch with 58 percent of service members either partially or fully vaccinated.
Following the report the U.S. Army is preparing for mandatory COVID-19 vaccinations, Rep. Thomas Massie (R-KY) tweeted that U.S. service members had told him they would seek a way to quit their military service if they are forced to take the COVID-19 vaccine. The exact means by which a service member can "quit" is unclear. Troops can't typically leave the military until their period of military service is over, though Massie noted some instances in which service members were able to resign under honorable conditions after refusing the Anthrax vaccine in the late 90s and early 2000s.
A 2004 federal court decision put a stop to the military's mandatory Anthrax vaccination program and ruled the previous six years of vaccine administration to be illegal. Many U.S. service members were, however, given dishonorable discharges, and even court-martialed for refusing the vaccine. Many have struggled to have their military records corrected in the years since the 2004 court decision overturning the military's Anthrax vaccination mandates.