An arduous search at the Surfside condo building disaster site that has yielded no signs of survivors in seven days accelerated Wednesday with the addition of a new ramp and a crane to haul away massive pieces of concrete — offering a glimmer of hope to families of missing residents.
"Bringing the heavy equipment in … could lead to those incredible good news events," State Fire Marshal Jimmy Patronis said in a Miami television interview, adding that workers found tunnels under the rubble. "We're doing everything possible to make sure every life that can be saved is saved."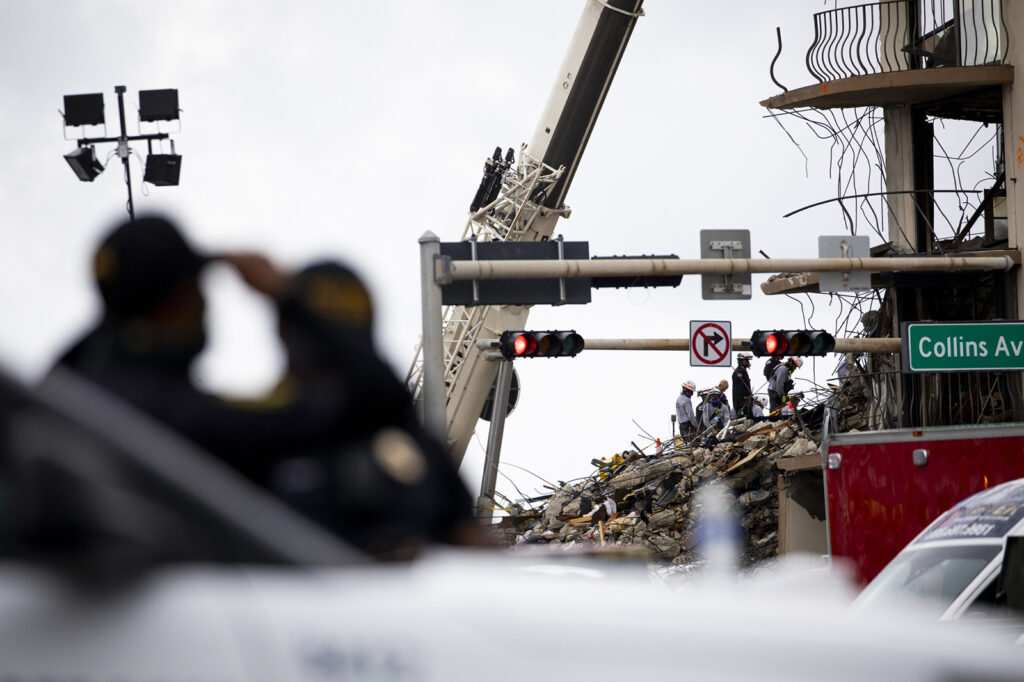 The official toll increased to 18 people declared dead and 147 people unaccounted for after Champlain Towers South collapsed last Thursday.
Mindful of the fears gripping relatives of the suspected victims, authorities vowed to continue the search around the clock despite the potential for tropical storm systems and still-dangerous conditions for workers on the mound.
"While there's an overwhelming amount of grief, there's still the apprehension about not knowing for sure," Florida Gov. Ron DeSantis said at a late morning news conference, after meeting with affected family members. "Rest assured those (rescuers) are going to be working on that pile and it's not going to stop. They (relatives) are going to get answers one way or another."
Surfside Mayor Charles Burkett promised: "This is going to go until we pull everybody out of there. This is our number one effort … I know the families appreciate that."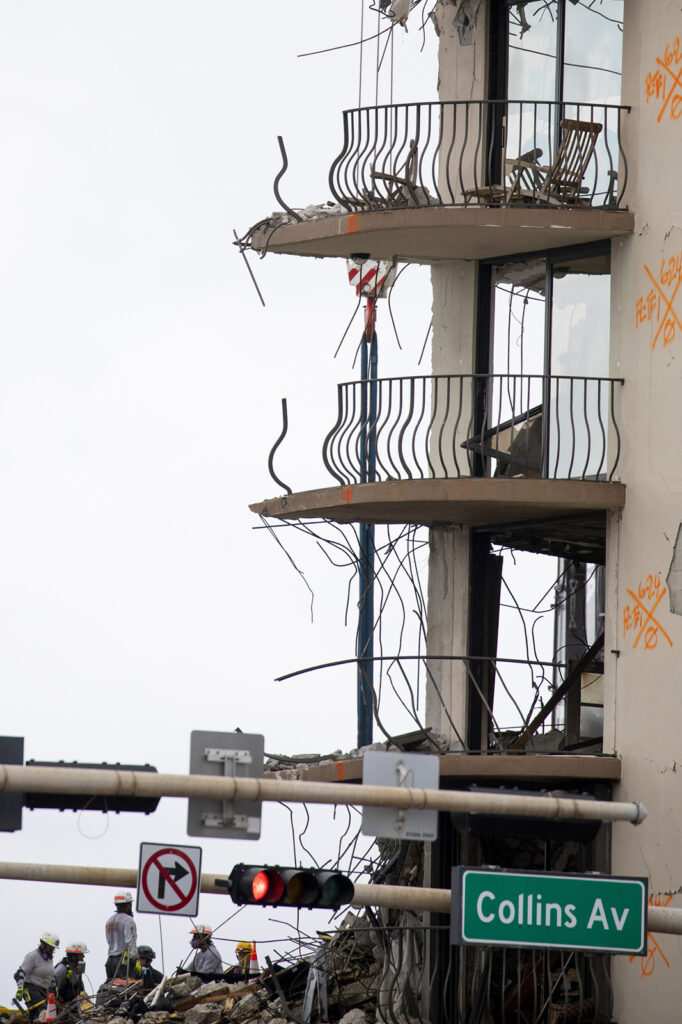 News of the heightened response comes ahead of President Joe Biden's and first lady Jill Biden's planned visit to Surfside on Thursday to visit with the families of victims and rescue workers.
Miami-Dade Police Director Freddy Ramirez predicted the Bidens' visit will boost morale in the devastated community.
"We've had several challenges from weather, sorrow, pain," Ramirez said. "And I think that the president coming will bring some unity here for our community, support, like our governor, our mayor, all of us together."
Hundreds of workers had moved more than 3 million pounds of concrete and debris before what Patronis called a "Herculean effort" to construct a ramp, allowing the heavy machinery to come in and open up previously inaccessible areas.
"We hope to start seeing some significant improvement in regards to the possibility of (finding) any voids that we cannot see," Miami-Dade Assistant Fire Chief Raide Jadallah said, according to an Associated Press report.
The Surfside emergency has involved the state's largest disaster response for any nonhurricane event. More than 400 workers from across the state and from Israel and Mexico are at the scene, working 12-hour shifts in treacherous conditions.
"I can't overemphasize the risk that everyone's taking right now," Miami-Dade Fire-Rescue Chief Alan Cominsky said Wednesday. "And we all know why we're doing it."
While several state and federal agencies are conducting numerous investigations into why the 40-year-old tower fell and took lives with it, The Washington Post on Wednesday reported interviews with experts have raised questions about whether existing damage to a deck in the pool area contributed to the disaster.
Yet the examination also cautioned there may be "no single definitive cause."
"There is a possibility that part of the pool (area) came down first and then dragged the middle of the building with it, and that made that collapse," said Allyn E. Kilsheimer, a veteran engineer hired by Surfside to investigate the collapse. "And then once the middle of the building collapsed, No. 2, then the rest of the building didn't know how to stand up and it fell down also, No. 3."
The Post cited that of the more than a dozen experts interviewed for its article, including nine structural engineers, most agreed the collapse appeared to involve a failure at the lowest levels of the building or in the parking garage under it. Four experts viewing images of the rubble saw indications of "punching shear failure," in which concrete slabs that make up the floors of a building detach from the structure's vertical support columns.
The newspaper's report came on the heels of intense media coverage Tuesday about a letter sent to homeowners April 9 outlining how damage to the building's basement garage had "gotten significantly worse" since an inspection about 2 1/2 years earlier.
The letter informed residents about signs of an "accelerating" concrete failure and that the building's roof required additional major repairs, with total price tag for all of the work soaring from about $9.1 million in 2018 to $16.2 million this year.
"A lot of this work could have been done or planned for in years gone by. But this is where we are now," wrote Jean Wodnicki, president of the Champlain Towers South Condominium Association, according to The Associated Press.
These issues were first highlighted in a 2018 inspection by Morabito Consultants. That review found a "major error" in the design of the building, crumbling concrete columns in the garage area beneath the structure, and predicted that failure to fix the problems in the "near future will cause the extent of the concrete deterioration to expand exponentially."
These and other findings are the focus of multiple civil lawsuits and a criminal grand jury that will decide who to hold accountable, and how to prevent it from happening someplace else.
James Olthoff, National Institute of Standards and Technology associate director for laboratory programs, said at the Wednesday night press conference that the agency is orchestrating a team to begin investigating what caused the deadly collapse.
Olthoff, like others, have warned it could possibly take years.
A video posted to TikTok on Tuesday appears to show the entrance to the parking garage of the north side of Champlain Towers South Condo with water pouring out of the ceiling of the garage and chunks of concrete covering the floor, the Miami Herald reported.
On Wednesday, the city of North Bay Village announced that Hilda Noriega, the 92-year-old mother of Police Chief Carlos Noriega, had perished in the disaster.
"The Noriegas have lost their 'heart and soul' and 'matriarch' of their family, but will get through this time by embracing the unconditional love Hilda was known for," the city said in a statement.
With the death toll rising to 18, authorities have released the names of 12 victims so far. All but one was found dead at the site.
Miami-Dade County Mayor Daniella Levine Cava said at a press conference Wednesday that two of the victims found in the rubble Wednesday were children, a 4-year-old and a 10-year-old.
Updates are still being made to a list of those believed to be missing. Detectives are working through the list to provide a more accurate number by checking for any possible duplicates, Levine Cava said.
Multiple family members and distant friends have called to report the same person, or sometimes they may only have the name or unit number for a person, not both.
"The numbers are fluid and will continue to change," Levine Cava said, noting that 139 residents have been counted as safe.
Officials are monitoring the progress of a tropical cyclone that developed Wednesday evening. Forecasters said it is still too early to say whether the system will affect South Florida. The tropical cyclone is expected to form into Tropical Storm Elsa by Thursday, according to the National Hurricane Center. Officials are preparing ahead of any storm by requesting another urban search-and-rescue team to rotate out crew members.
Miami-Dade police are asking for anyone who may have witnessed the collapse or has photos or videos to contact a tip line at (305) 428-4417 from 8 a.m. to 1 a.m. Eastern time.
Families and individuals who have been displaced were told they can register at SurfsideReunite.com, an alert system created by the state of Florida, Miami-Dade County and the town of Surfside to provide updates and access to resources. People can register for alerts by visiting SurfsideReunite.com or by calling the toll-free number (833) 930-3701.
___
© 2021 South Florida Sun Sentinel
Distributed by Tribune Content Agency, LLC