A 23-year-old mother of two who was dragged from a car and shot Saturday after the Puerto Rican Day parade in Humboldt Park succumbed to her injuries Tuesday, officials said.
Yasmin Perez and her children's father, Gyovanny Arzuaga, were attacked after what police called a minor traffic crash in the neighborhood. Arzuaga was shot in the head and killed, all of it captured on a viral video.
"They left their babies," Arzuaga's aunt, Vickie Ponciano, said Tuesday, weeping.
Police said the couple were ambushed by several men in the middle of the street after the crash, marking a tragic end to what had been a day of celebration. Mayor Lori Lightfoot called the videotaped attack "horrific" Monday and called for those involved to turn themselves in.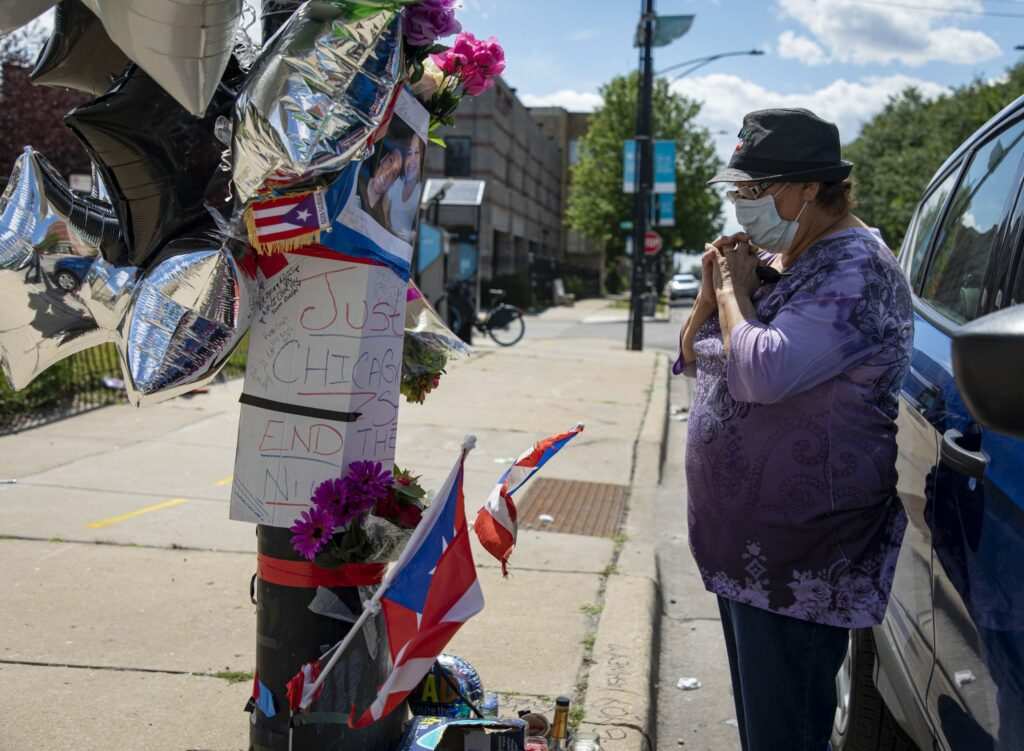 Perez died of her injuries Tuesday morning, according to the Cook County medical examiner's office. The couple was among 14 people shot within blocks of parade festivities over the weekend. Of those 14, three others also were killed.
"We are all heartbroken and devastated beyond belief as they leave behind two beautiful children," reads a note on a GoFundMe page set up by the family to pay for funeral and medical expenses. As the family grieved, they demanded justice.
Arzuaga and Perez, who lived with their two children in Hanover Park, drove to the Humboldt Park neighborhood on Saturday to attend the parade and celebrate their culture, Ponciano said.
But a little after 9 p.m., near the end of the festivities, the couple was attacked by a group of men on the 3200 block West Division Street, after a "very minor" traffic crash, Brendan Deenihan, chief of detectives of the Chicago Police Department, said this week.
After the incident, a group of people approached the vehicle, and "they are seen hitting and beating the woman, who was the driver of the vehicle and then eventually dragging her out," said Deenihan during a conference at Chicago police headquarters.
Viral video of the shooting that circulated online showed Perez being dragged by several people out of a dark SUV with a Puerto Rican flag sticking out of a window. Arzuaga, who was seen on the ground nearly covering her, was then shot by a gunman in a white tank top, the video showed.
"What the video doesn't show is there was a shot discharged at some point. You can't see it in the video. And that appears when the female gets struck (by gunfire)," Deehihan said.
That was when Arzuaga tried to get on top of her, "and then you see (a) suspect clearly just holding the gun, shooting him in the head almost execution-style," Deenihan said, describing the graphic images.
He said police are trying to find all the suspects captured in the video.
At a separate news conference Monday, Lightfoot said the city has "promising leads" and hopes the individual is arrested soon.
"But as you saw from that horrific video, it wasn't just one person. There's one person who dealt the fatal shot, but there were others who were standing by, who dragged that poor woman out of the car, the man who was killed literally used his body as a shield and he paid for that with his life," Lightfoot said, calling it a "horrific statement" about those involved.
Ponciano said Arzuaga was a "wonderful father," who cared for his children and their mother.
She added that both of their mothers, Arzuaga's and Perez's, are in "deep pain," and the family "has a lot of questions," about the slayings.
As they begin to arrange the funeral for the young parents, Ponciano thanked all those who have donated to a pair of GoFundMe pages, each set up by the different families. One had raised more than $30,000 by Tuesday and the other more than $4,000.
All the money that is leftover from the family's current expenses will be used to help care for the safety of the two children that Arzuaga and Perez left behind, the family said.
Arzuaga and Perez were among eight people fatally shot in Chicago from 6 p.m. Friday to late Sunday night. Those killed were among more than 50 shooting victims during that period of Father's Day weekend. Not included in the tally was a woman who was fatally stabbed in the downtown area not far from Willis Tower over the weekend.
___
© 2021 Chicago Tribune
Distributed by Tribune Content Agency, LLC.