On Friday, the U.S. Navy set off a massive explosion in the Atlantic Ocean right next to its new advanced aircraft carrier, USS Gerald R. Ford.
The massive underwater explosive was detonated as part of the ship's first Full Ship Shock Trials (FSST), which are meant to simulate battle conditions and ensure that the new aircraft carrier can withstand the shockwave of a nearby enemy attack.
The Navy announced the tests and said they were "conducting the shock trial testing in accordance with Office of the Chief of Naval Operations Instruction 9072.2, and as mandated by the National Defense Authorization Act of 2016."
The Navy has conducted similar shock tests with other new ship models in the past. The most recent ship shock trials were conducted in 2016 against the Littoral Combat Ships USS Jackson (LCS 6) and USS Milwaukee (LCS 5). The San Antonio-class amphibious transport dock USS Mesa Verde (LPD 19) was similarly tested in 2008, as was the amphibious assault ship USS Wasp (LHD 1) in 1990, and the guided-missile cruiser USS Mobile Bay (CG 53) in 1987.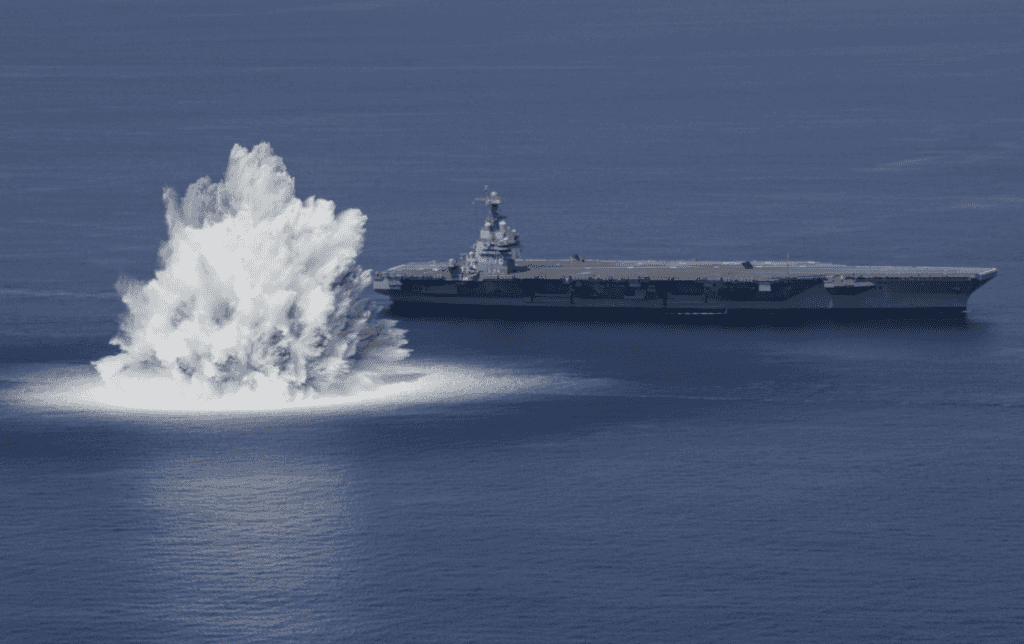 The USS Gerald R. Ford, the first of the advanced new Ford-class aircraft carriers, is the first U.S. aircraft carrier to undergo these shock trials since 1987 when Nimitz-class aircraft carrier USS Theodore Roosevelt (CVN-71) was tested.
The Navy said its latest trials were conducted off the East Coast of the United States inside a narrow time frame to comply with environmental mitigation requirements and respect the known migration patterns of marine life in the test area.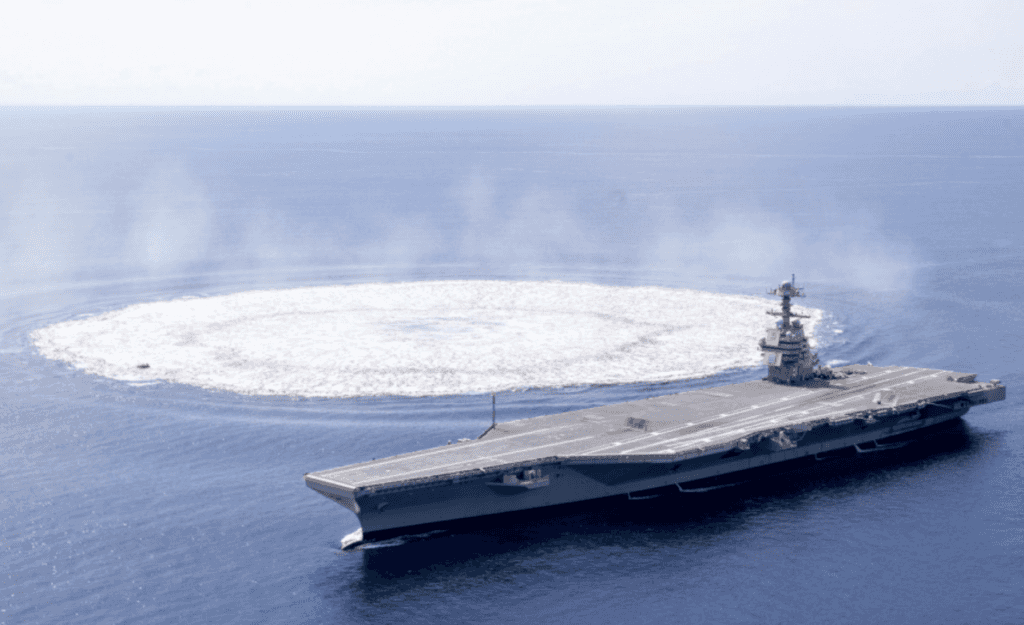 The Navy also employed extensive protocols throughout ship shock trials to ensure the safety of participating military and civilian personnel in the testing area.
The trials for the USS Gerald R. Ford come after the ship completed an 18-month Post Delivery Test & Trials period in April. During that 18-month trial period, the crew completed all required testing and accomplished planned improvements and maintenance ahead of schedule while the aircraft carrier served as the sole East Coast platform for conducting carrier qualifications.