Richard Torres-Estrada, the first-ever chief diversity and inclusion officer for the U.S. Special Operations Command (SOCOM), has been allowed to return to his duties this week after being investigated over past social media posts, including one comparing then-President Donald Trump to Hitler.
"Mr. Torres-Estrada has resumed the duties of the Chief of Diversity & Inclusion for United States Special Operations Command after a USSOCOM commander-directed investigation into the circumstances surrounding his hiring concluded and found no violations of law or DoD regulation," SOCOM spokesman Ken McGraw told Military Times on Thursday.
SOCOM announced Torres-Estrada's hiring for the new command role in a March tweet. Within hours of the announcement, social media users began taking note of his past social media posts.
In a June 2020 Facebook post, Torres-Estrada shared a digitally-altered photo of Hitler holding a bible at a rally in Nazi Germany, next to a photo of Trump holding a bible outside the St. John's Episcopal Church in Washington D.C., which rioters set fire to last summer.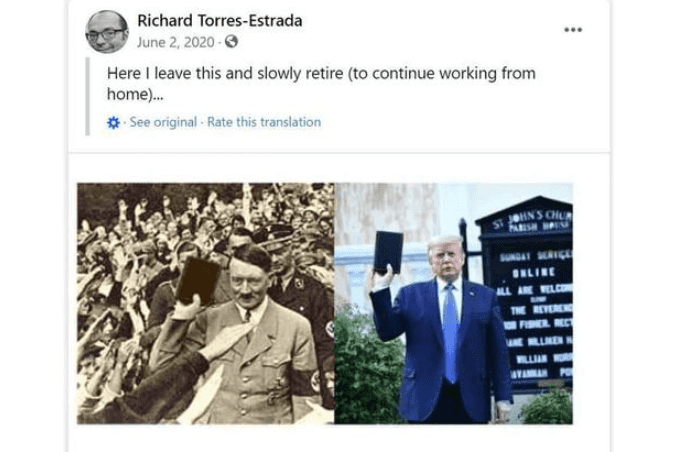 In February of this year, Torres-Estrada shared another image of a "missing" flyer for Sen. Ted Cruz (R-TX). The post came out around the same time Texas suffered widespread power outages after a winter storm. Cruz was criticized for being out-of-state at the time on a family vacation.
Within days of SOCOM announcing his hiring, SOCOM confirmed Estrada was being investigated for his posts and was "assigned to other duties pending the results of the investigation."
Following the investigation's conclusion, McGraw told Military Times, "USSOCOM is confident in the hiring process and Mr. Torres-Estrada's potential to fill this important position."
SOCOM's decision to hire Torres-Estrada comes as military leaders under President Joe Biden's administration have stressed a goal of diversity in the military.
Some members of Congress have raised concerns that efforts to promote diversity in the military are instead causing further politicization of the force.
Last week, Sen. Tom Cotton (R-AR) questioned Defense Secretary Lloyd Austin about complaints he had heard from within the military U.S. troops complained of being segregated by race and sex "in order to stratify people based on their perceived privilege." Cotton said a special operations community member was also told by an official that "the U.S. special operations community is racist."
This week, two more House Republican lawmakers questioned Chief of Naval Operations (CNO) Adml. Mike Gilday over his decision to include "How to Be an Antiracist" on its official reading list, despite complaints that the book promotes discrimination and that its author, Ibram X. Kendi has shared conspiracy theories that white people are responsible for AIDS and are actually aliens.
Gilday said "I don't support everything that Kendi asserts" and "everybody has to be in a position to weigh fact from fiction."