On Monday the NFL and several of its members honored the late football player-turned U.S. Army Ranger Pat Tillman, who gave up his spot on the Arizona, Cardinals football team to join the military after the Sept. 11, 2001, terrorist attacks and who was subsequently killed in action.
On Memorial Day, the NFL shared a photo of the Pat Tillman statue at the State Farm Stadium in Glendale, Arizona on its Instagram page.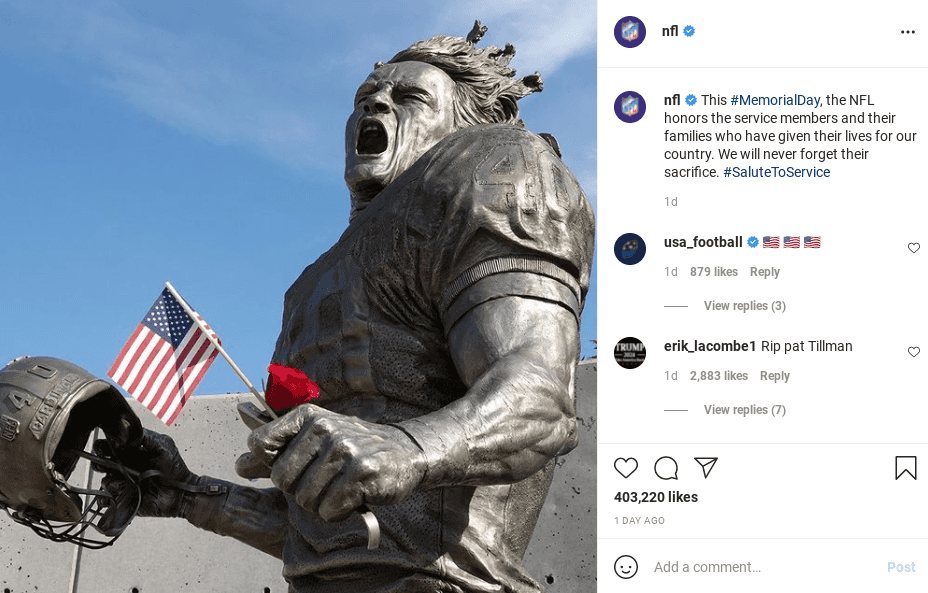 The NFL said, "This #MemorialDay, the NFL honors the service members and their families who have given their lives for our country. We will never forget their sacrifice. #SaluteToService."
Quarterback Tom Brady also shared the NFL's post to his Instagram story, with the message, "Thankful for our service men and women for making the ultimate sacrifice to ensure our freedom."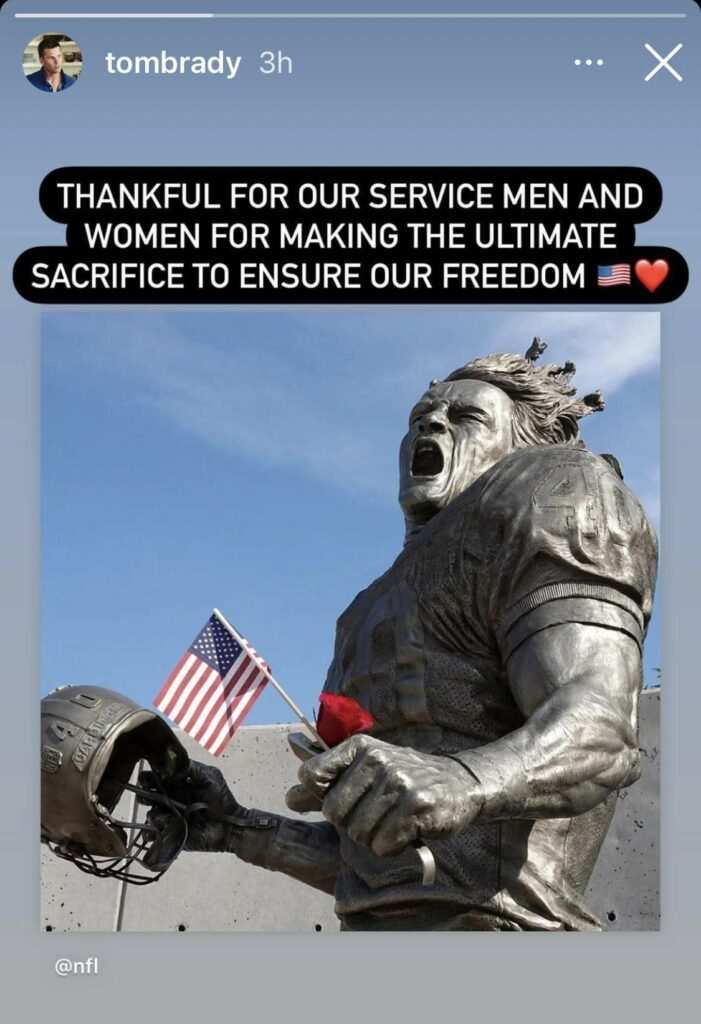 After joining the Army, Tillman deployed once to Iraq in 2003 as part of Operation Iraqi Freedom and then deployed again in 2004, this time to Afghanistan. On April 22, 2004, during a vehicle-mounted patrol in Afghanistan's Khost Province, Tillman's unit was ambushed. During the fighting, Tillman dismounted from his vehicle to take up an advantageous position on a hillside to provide covering fire for his unit. It was during this action that Tillman was fatally fired upon by another soldier in his unit. He was 27 years old at the time.
Arizona Cardinals and defensive end JJ Watt also shared a picture of the Tillman statue to their Instagram pages.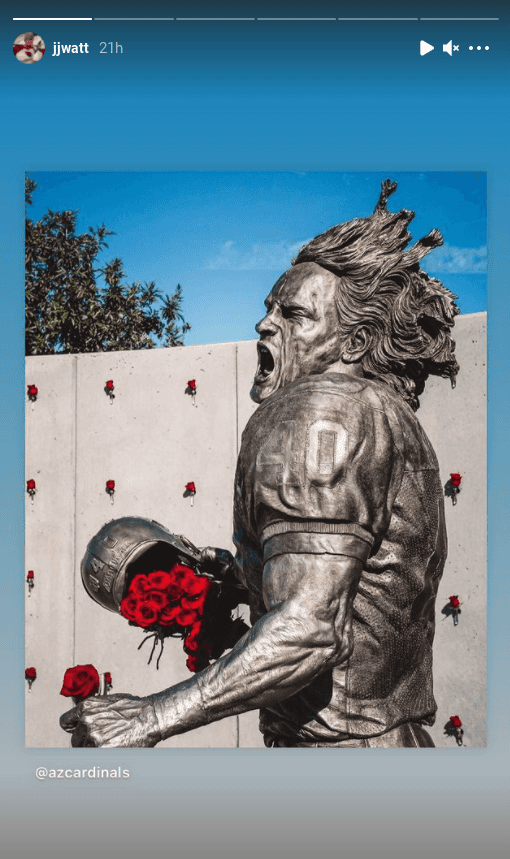 Ahead of Memorial Day, Watt also released a new training shoe, developed by Reebok, to honor Tillman's legacy. The JJ IV Valor training shoe was developed in coordination with Pat's wife Marie Tillman and the Pat Tillman Foundation. Between May 27 and August 31, Reebok will donate $10 to the Pat Tillman Foundation for every pair of the new shoe sold. Watt also announced he will donate all of his proceeds from the shoe sales to the Pat Tillman Foundation.
Other NFL figures paid their respects to the fallen troops on Memorial Day. Former 49ers quarterback and Hall of Famer Joe Montana tweeted, ""Today we salute our fallen and give thanks to those who have made the greatest sacrifice. #MemorialDay."
The New England Patriots tweeted, "Infinite gratitude. Robert and Josh Kraft, joined by representatives from the Town of Foxboro, honored our fallen heroes during a wreath laying ceremony at our @PatriotPlace flag garden this Memorial Day weekend."
The Baltimore Ravens shared a post from Head Coach John Harbaugh, in which he highlighted the "first, last and only all African American Ranger Company." According to the post, the image is from 1951 following a dangerous mission in the Korean War that involved the 2nd Airborne and 2nd Light Ranger Infantry company.
"This picture struck me. These men were heroes," he wrote. "Thank you to the men and women sho have given their lives, and the families of those who have lost their spouse, father, mother, sister, brother, daughter, son, friend. We are grateful to them for the freedom and security and opportunity to do all the things that they themselves sacrificed for us. Thank you!"