On Thursday, the Ticonderoga-class guided-missile cruiser USS Monterey (CG-61) intercepted a stateless dhow sailing through the Arabian sea with dozens of Russian anti-tank missiles, thousands of Chinese AK-pattern Type 56 assault rifles and hundreds of PKM machine guns, sniper rifles and rocket-propelled grenades launchers. The weapons shipment may have originated from Iran and have been bound for Yemeni rebels.
The Bahrain-based U.S. 5th Fleet announced the massive weapons bust in a Saturday press statement. The USS Monterey carried out the weapons bust with the assistance of its embarked U.S. Coast Guard Advanced Interdiction Team (AIT).
The U.S. 5th Fleet said, "The original source and intended destination of the materiel is currently under investigation. The materiel is in U.S. custody awaiting final disposition. Assessment of the findings will be an interagency effort."
A U.S. defense official told The Associated Press that initial investigatory efforts determined the vessel likely came from Iran and was likely bound for the Iran-backed Houthi rebels in Yemen. Suspected Iranian weapons shipments were also intercepted en route to Yemen last year.
Iran has previously denied it shipped weapons to the Yemeni rebels and did not respond to an Associated Press request for comment about the latest intercepted weapons shipment.
The Houthi rebels have launched numerous attacks using advanced missiles and drones throughout the ongoing Yemeni conflict between the rebels and a Saudi-led military coalition. Iran disavowed involvement in a September 2019 drone and missile attack that targeted Saudi fuel facilities, but U.S. and Saudi officials expressed doubt that the Yemeni rebels could have carried out the attack without Iran's help.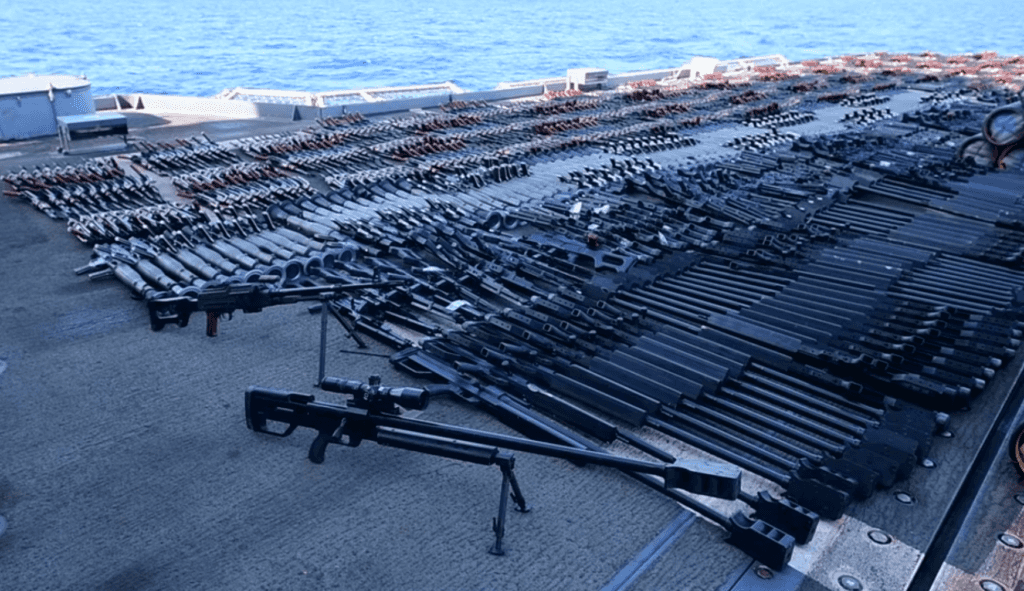 "Monterey provided more than 36 hours of over watch and security for its boarding teams and the interdicted vessel throughout the two-day operation," the 5th Fleet statement read.
In addition to the thousands of captured weapons, the shipment also contained weapons parts, including advanced optical sights.
"After all illicit cargo was removed, the dhow was assessed for seaworthiness, and after questioning, its crew was provided food and water before being released," the 5th Fleet said. "The U.S. Navy conducts routine patrols in the region to ensure the free flow of commerce for legitimate traffic, disrupt the transport of illicit cargo that often funds terrorism and unlawful activity, and safeguard the rules-based international order."