The U.S. and other allied countries who fought through World War II celebrated on Saturday marking 76 years since Nazi Germany surrendered and concluded the portion of the war in the European theater on May 8, 1945. The day became known as Victory in Europe Day, or VE-Day.
On May 8, 1945, German forces signed their unconditional surrender after U.S. and allied forces closed in on them from the West and Soviet Russian forces closed in from the East.
President Harry S. Truman at the time called the day "a solemn but glorious hour."
Though the war would continue for more than three months against Imperial Japan, the Nazi German surrender marked a day of celebration for those who fought across Europe.
The U.S. Army shared video showing VE-Day celebrations in 1945. "On May 8, 1945 — known as Victory in Europe Day or V-E Day — celebrations erupted around the world to mark the end of World War II in Europe," the Army's tweet said.
The Friends of the National World War II Memorial and the National Park Service held a ceremony at the National World War II Memorial on Saturday to commemorate the day.
The U.S. Department of Defense tweeted, "Today marks 76 years since the Allies' victory in Europe and the end of #WWII in that theater. The war officially ended four months later in September 1945."
The DOD also shared a VE-Day website featuring photos of U.S. forces fighting throughout the war, and World War II veterans later commemorating the end of the war.
The U.S. Air Force also tweeted a photo of celebrations from VE-Day 1945, and said, "On this day, 76 years ago, the allied powers formally accepted Nazi Germany's surrender, marking the end of the WWII in Europe."
The American Legion also shared images from the original VE-Day celebrations, adding, "On this day in 1945, German troops throughout Europe finally laid down their arms. The U.S. and Great Britain celebrated Victory in Europe Day, rejoicing in the defeat of the Nazis. Remember those men & women who brought us victory. If you can, thank one today."
U.S. Army Maj. Gen. Lapthe Flora, commanding general, Combined Joint Task Force – Horn of Africa (CJTF-HOA) and U.S. Ambassador Jonathan Pratt attended a World War II commemoration at the French Army Base in Djibouti on Saturday.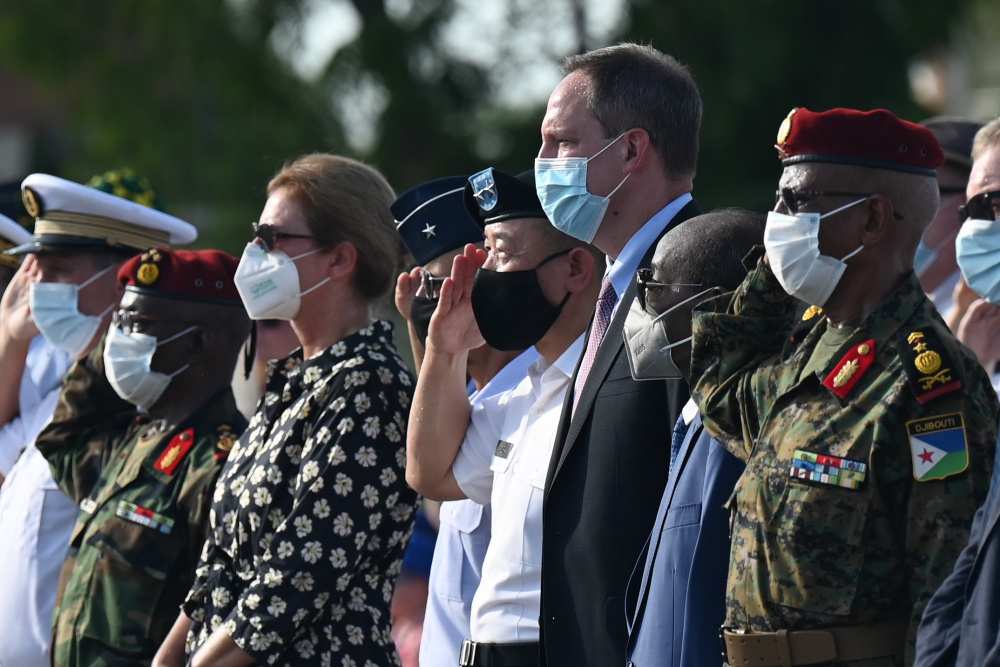 World leaders and millions of people around the world also commemorate the day with ceremonies.