Retired Army Col. Ralph Puckett was decorated with the Medal of Honor honored on Friday for his heroics during a Korean War battle more than 70 years ago.
President Joe Biden presented the 94-year-old Puckett with the highest U.S. military decoration in recognition of his actions during the battle at Hill 205 on Nov. 25 and 26, 1950. Puckett is the first service member to be presented with the Medal of Honor since Biden took office.
During his remarks at the award ceremony, Biden said, "Today we are hosting a true American hero and awarding an honor that is long overdue, more than 70 years overdue."
Biden described Puckett as having frequently volunteered to serve in harm's way, even when he could have avoided it and said Puckett believed in being there for the fight."
"He volunteered for the Army corps enlisted reserve, he tried to fight in World War II, he volunteered to go to Korea instead of the safer posting in Japan," Biden said. "He volunteered for the new Ranger company and then he prayed 'dear God, don't let me get a bunch of good guys killed' when he was chosen to command that company."
Biden noted Puckett risked his own life to draw enemy fire in his company's initial assault on Hill 205. Once they captured the hill, Biden noted Puckett and his company would be faced with fending off a Chinese force that outnumbered them nearly 10 to 1.
According to an account of the battle from the U.S. Army Special Operations Command's History Office and interviews Puckett has since given of the battle, then then-23-year-old commander led a group of 51 Rangers to capture Hill 205 and hold it against waves of Chinese forces, fighting on the side of communist North Korea. Puckett and his company repelled the Chinese human wave attacks for more than four hours.
During the first wave, Puckett was wounded in the left thigh by a hand grenade. While injured, he refused to evacuated and continued to fight the ensuing waves of Chinese soldiers. During the next two waves, Puckett was injured again, this time in the left shoulder.
Biden said during each attack wave, Puckett continued to expose himself to enemy fire, checking to make sure their parimeter was holding and passing out extra ammunition and encouragement to his men while also calling in artillery support, "sometimes danger close" to his company.
Puckett continued to expose himself to enemy fire while fighting through the attacks. Ammunition began to run low after the fourth and fifth waves were turned away, but Puckett and his fellow Rangers continued to hold the hill. With their ammunition running low, Puckett's company received an order to fix bayonets, in preparation to counterattack.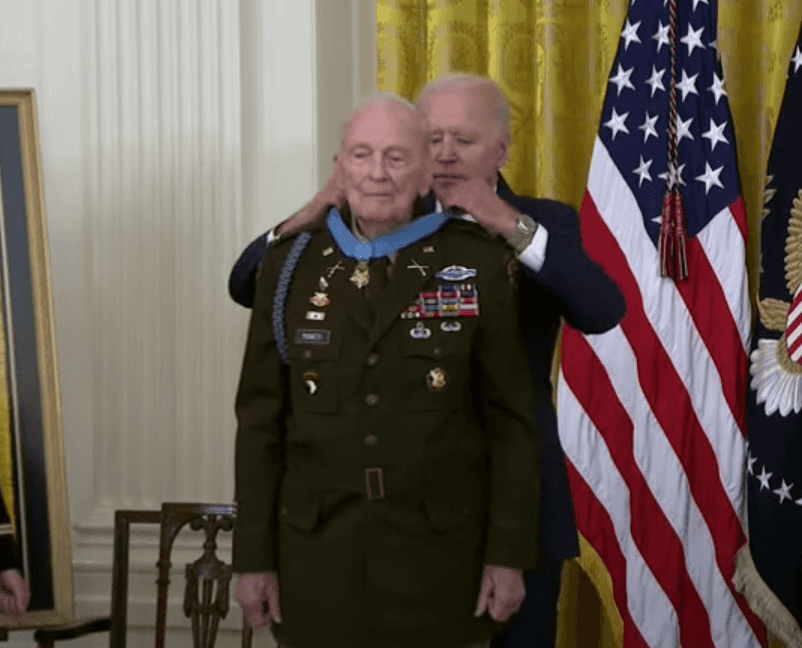 As the Rangers waited for the moment to launch their counterattack, two Chinese mortar shells landed near Puckett, causing him further injuries. With the mortar attack, Puckett now had wounds to both feet, left shoulder and left arm, thighs and buttocks. Puckett recalled his right foot was so badly damaged that had to persuade medical personnel not to amputate it.
Following the mortar strikes, the Chinese forces launched the sixth and final wave of their assault. Low on ammunition and battered by the previous assaults, Puckett's company began to retreat. William L. Judy found Puckett during the assault, but Puckett was unable to move and told Judy to leave him behind.
Judy and Rangers Billy G. Walls and David L. Pollock ignored Puckett's orders and Walls and Pollock dragged Puckett by his wrists down the hill. Upon retreating, Puckett ordered one last artillery barrage against Hill 205.
"The Rangers did not hold the hill, but they extracted a high price," Biden said.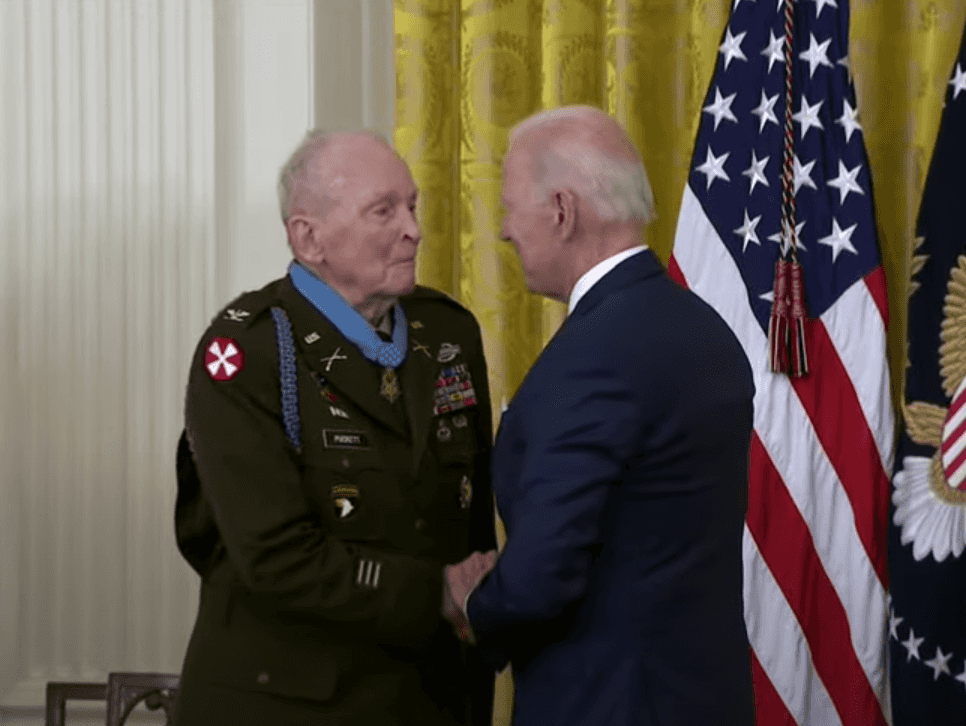 Biden went on to say, "Korea is sometimes called the forgotten war. Those men who were there under Lt. Puckett's command will never forget his bravery. They will never forget that he was right there by his side throughout every minute of it."