Twitter suspended the new account for former President Donald Trump's recently launched communications platform that the 45th president uses to communicate directly with his followers.
Trump's account for his new platform, @DJTDesk, was introduced this week, then suspended by Wednesday evening.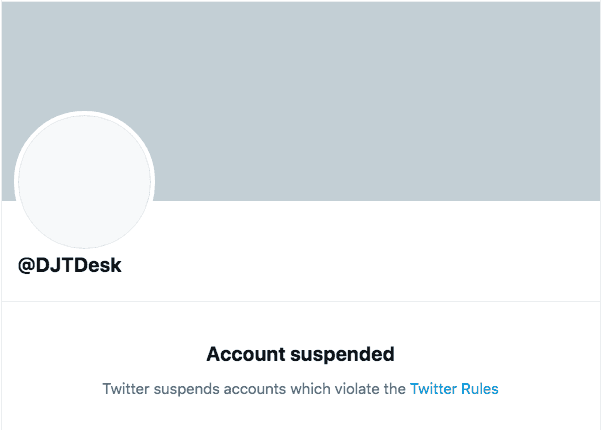 Called "From the Desk of Donald J. Trump," Trump's new platform is designed for him to post comments, images and videos months after being banned from social media sites like Twitter and Facebook.
Followers can share the former president's posts to social media sites, but the site does not include a feature to let users reply or engage with Trump's posts directly.
Trump was initially suspended from Twitter in January following the violent Capitol demonstration due to "the risk of further incitement of violence."
"After close review of review of recent Tweets from [Trump's] account and the context around them we have permanently suspended the account due to the risk of further incitement of violence," the company announced at the time.
In February, the social media giant confirmed that Mr. Trump would never be allowed back on Twitter even if he runs for office again.
"The way our policies work, when you're removed from the platform, you're removed from the platform – whether you're a commentator, you're a CFO, or you are a former or current public officials," Twitter's Chief Financial Officer Ned Segal said at the time
"Remember, our policies are designed to make sure that people are not inciting violence, and if anybody does that, we have to remove them from the service and our policies don't allow people to come back."
Trump took another blow in his ongoing battle with social media platforms this week as Facebook's Oversight Board decided to uphold Facebook's Jan. 7 ban of the former president's account, but noted that Facebook must review the decision within six months to make a final decision.
The Oversight Board concluded that Trump's posts "created an environment where a serious risk of violence was possible," but admitted that Facebook was wrong to "impose the indeterminate and standardless penalty of indefinite suspension" that went against its typical penalties.
Following the decision, Trump released a statement slamming the social media giant.
"What Facebook, Twitter, and Google have done is a total disgrace and an embarrassment to our Country. Free Speech has been taken away from the President of the United States because the Radical Left Lunatics are afraid of the truth, but the truth will come out anyway, bigger and stronger than ever before. The People of our Country will not stand for it!" Trump said.
"These corrupt social media companies must pay a political price, and must never again be allowed to destroy and decimate our Electoral Process."