A Marine Corps officer became the first active-duty service member charged for his role in the January 6 Capitol Hill demonstration, according to the Department of Justice.
Maj. Christopher Warnagiris, 40, who is stationed at the Marine Corps Base in Quantico, Virginia, was arrested Thursday and charged with assaulting, resisting, or impeding certain officers or employees, obstruction of law enforcement during civil disorder, obstruction of justice/Congress, knowingly entering or remaining in any restricted building or grounds without lawful authority and violent entry and disorderly conduct on Capitol grounds.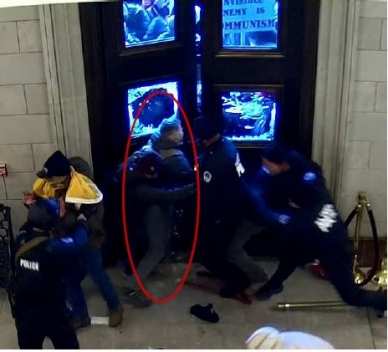 According to a Department of Justice press release, Warnagiris can be seen in video footage pushing a Capitol Police officer while he was attempting to close the door to the Capitol, pushing through a line of guards blocking the building's East Rotunda doors.
"Once inside, Warnagiris positioned himself in the corner of the doorway, using his body to keep the door open and pull others inside. When a U.S. Capitol Police (USCP) officer tried to pull the doors shut, Warnagiris refused and continued pushing it open," the department stated.
John Scott-Railton shared additional footage of the clash between Warnagiris and law enforcement on Twitter.
"VIDEO 2: USMC officer Christopher Warnagiris playing a key role keeping door open and helping the mob gathered outside get into the #Capitol," he wrote.
USA Today reported that the U.S. Marine Corps confirmed Warnagiris is on active duty, saying, "The Marine Corps is clear on this: There is no place for racial hatred or extremism in the Marine Corps. Our strength is derived from the individual excellence of every Marine regardless of background. Bigotry and racial extremism run contrary to our core values."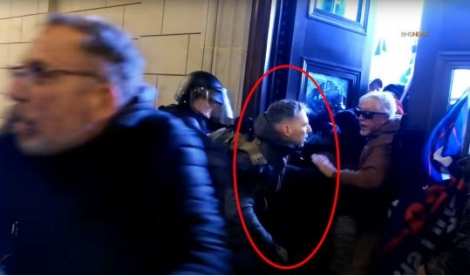 The FBI's Washington Field Office is investigating the case, and identified Warnagiris as #241 in their "seeking information" photos. It will be prosecuted by the U.S. Attorney's Office for the District of Columbia and the Department of Justice National Security Division's Counterterrorism Section.
So far, the DOJ has charged roughly 440 individuals for their roles in the storming of Capitol Hill. Over 125 have been accused of assaulting or impeding law enforcement.
In April, a self-described "lifetime member" of the Oath Keepers who took part the protest became the first to plead guilty to charges related to the incident, while also agreeing to cooperate with the government.
Politico reported that Schaffer had engaged in lengthy plea discussions with U.S. District Court Judge Amit Mehta and ultimately agreed to a deal that compels him to "cooperate fully with the United States," including interviews and providing evidence of known crimes.