On Saturday, the Central Political and Legal Affairs Commission of the ruling Chinese Communist Party (CCP) shared a meme on a Chinese social media platform mocking COVID-19 deaths during a recent spike in cases in India, before deleting the post.
The CCP office used its official account on Sina Weibo, the Chinese equivalent to Twitter, to share a picture of its newly-launched Tianhe space station module, juxtaposed with an Indian funeral pyre for COVID-19 victims. The BBC reported the post was captioned "Lighting a fire in China VS lighting a fire in India."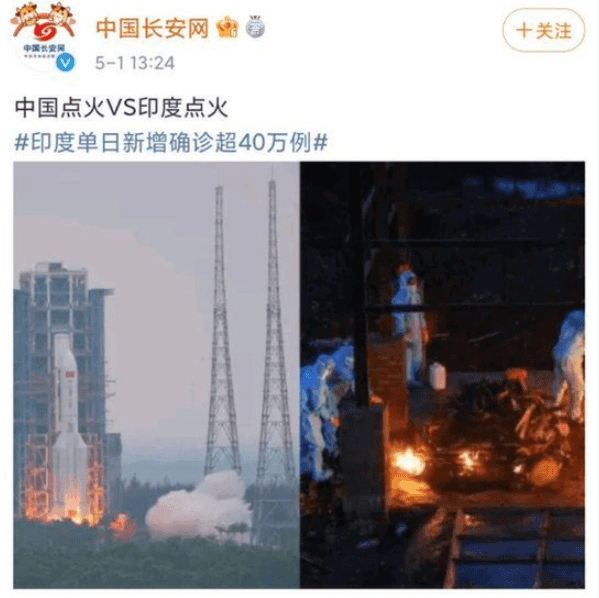 Bloomberg further reported the CCP office's post also included a hashtag that noted new COVID-19 cases in India have surpassed 400,000 a day.
Both Bloomberg and BBC reported Sina Weibo users criticized the post as insensitive and inappropriate. Later that day, the controversial post could no longer be found.
Since deleting the post mocking India, China has been promoting its support of India during the spike in COVID-19 cases.
"We hope everyone gives attention to the Chinese government and mainstream public opinion supporting India's fight against the epidemic," China's foreign ministry said in response to a Bloomberg request for comment.
Following the controversial post, Bloomberg reported Xijin, the Global Times editor who had previously mocked Trump for his COVID-19 case, wrote, "Hold high the banner of humanitarianism at this time, show sympathy for India, and firmly place Chinese society on a moral high ground."
The controversial CCP post comes amid already strained relations between China and India. Last summer, Chinese and Indian troops engaged in a deadly brawl over a disputed Himalayan border region.
Manya Koetse, the editor-in-chief of What's On Weibo, a site that tracks trends on the social media platform, told Bloomberg, "I don't think we can expect a clarification from the Party account in question, but I do think there was no consensus on this post or else it would not have been removed so quickly."
China has previously mocked countries for their handling of the COVID-19 pandemic. Last year, Chinese state media published a video mocking U.S. responses to the pandemic outbreak. Hu Xijin, the editor-in-chief of the state-run Global Times, also mocked President Donald Trump for testing positive for COVID-19 in October.
The COVID-19 pandemic first appeared in China and China has been accused of downplaying the severity of the virus and even silencing whistleblowers raising alarms about the virus during critical stages of the global virus response.