Cheerios launched an effort on May 1 called "Brighten Military Lives" to donate $1 for every code entered on their website to Operation Homefront, a nonprofit organization whose mission is to help "build strong, stable, and secure military families."
"Simply put, those who invest in our important work, like Cheerios and their caring customers who participate in their 'Brighten Military Lives' campaign, bring our mission to life," Brig. Gen. (ret.) John I. Pray Jr., President and CEO of Operation Homefront, told American Military News in an email. "We are grateful for their support as we seek to build strong, stable and secure military families so they can thrive, not simply struggle to get by, in the communities — our communities — they have worked so hard to protect."
To find a code, shoppers must purchase a specially-marked family-sized box of Cheerios — available exclusively at Walmart — and submit the code found printed inside the box. The varieties included in the campaign are Original (Yellow Box) Cheerios, Honey Nut Cherios and Multi-Grain Cheerios.
According to Cheerios' charitable website cheeriosgives.com, the popular cereal brand "is proud to support America's military families. For each promotional code you enter on this website, Cheerios will donate $1* to Operation Homefront."

After a participant has located one of the codes, they must choose one of three causes to which Cheerios will donate, including financial assistance, housing support and family programs.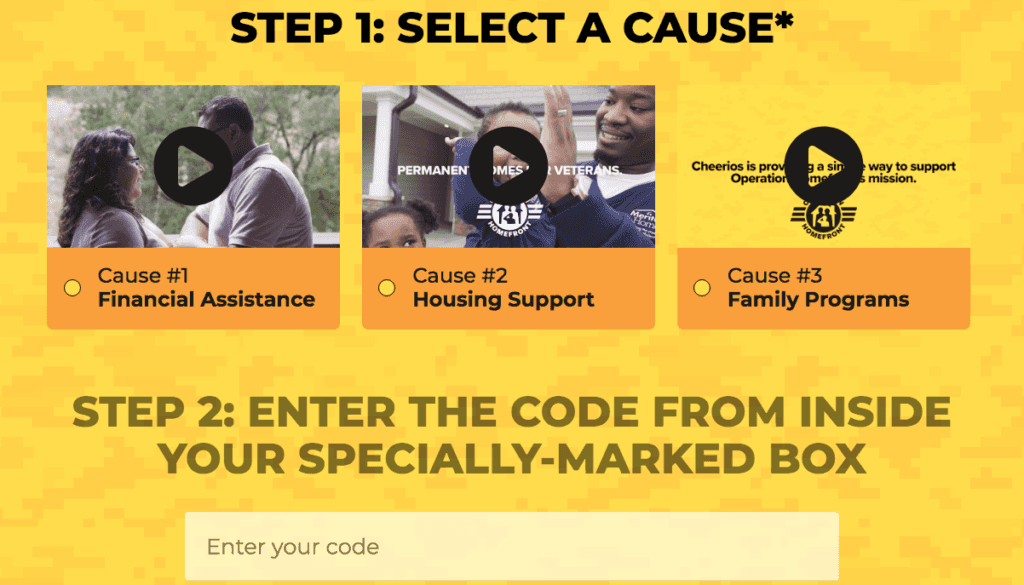 The first cause, financial assistance, seeks to help military families "address critical financial shortfalls."
"Our highly valued Critical Financial Assistance program … has fulfilled more than 47,000 requests totaling more than $31 million in financial assistance to help this very special and deserving group of our fellow citizens pay their overdue rent and mortgage payments, home and car repairs, utility and grocery bills, and more," Pray said.
In the last year alone, Operation Homefront has fulfilled more than 2,000 requests submitted by military families hit hard by the COVID-19 pandemic, totaling $1.3 million.
The second cause, housing support, helps military families prepare for home ownership, in addition to providing "rent-free, furnished apartments to wounded, ill, and injured warriors and their families where they can live together while transitioning to civilian life."
"Part of the American dream has always been owning a home," cheeriosgives.com states. "Operation Homefront's Permanent Homes for Veterans (PHV) program prepares veterans and their families for home ownership by providing a mortgage-free home and the opportunity to work directly with OH caseworkers and financial counselors. Since 2012, OH has deeded over 600 homes to military families (PHV)."
"Since 2008, OH has defrayed nearly $6.8 million in rent and utility costs to military families," it continues.
The third cause, family programs, provides military children with backpacks filled with school supplies and families with everything they need to cook holiday meals.
"Operation Homefront's Back-to-School Brigade provides military children with backpacks filled with donated school supplies, helping to relieve families of this cost and enabling them to use their income for other household expenses. Since 2008, OH has provided over 425,000 backpacks to military children," the website states.
Through Operation Homefront's family programs, the non-profit has served meals to over 500,000 military families as part of Holiday Meals for Military, and helped more than 18,000 new and expecting moms with Star-Spangled Babies.
"We serve tens of thousands of military families each year through a variety a highly-valued relief, resiliency and recurring family support programs designed to help military families who are struggling to make ends meet," Pray told American Military News.
To find out more about Cheerios' partnership with Operation Homefront, click here.