Two people were killed and 20 wounded in a shootout that began when three shooters wearing ski masks and hoodies sprayed bullets at a crowd gathered for a rap album release concert in Northwest Miami-Dade early Sunday morning, in what police said was the worst mass shooting in the county in recent memory.
Three of those injured are in critical condition, according to police.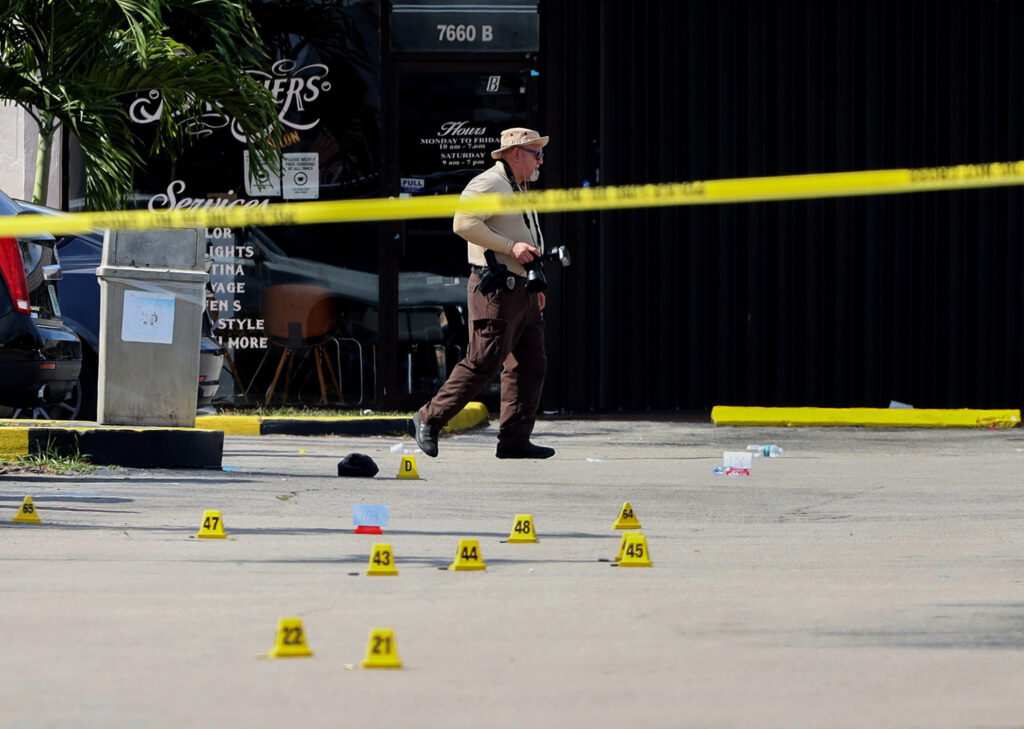 The shooting started shortly after midnight, Miami-Dade Police Director Alfredo "Freddy" Ramirez said, when three shooters armed with handguns and semi-automatic rifles emerged from a white Nissan Pathfinder and fired dozens of bullets "indiscriminately" into a crowd gathered for a rap concert outside the El Mula Banquet Hall near the Country Club of Miami. Ramirez told the Miami Herald that the shooters sat patiently in the vehicle waiting for the target — or targets — to leave the club before exiting the SUV and taking aim.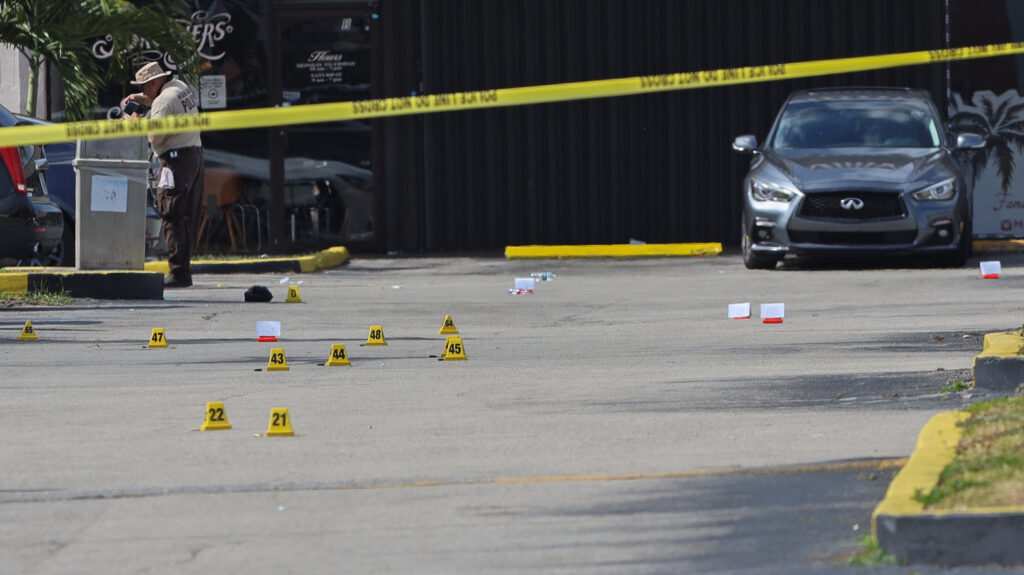 The aftermath was so chaotic — with paramedics, friends and family members driving victims to various hospitals in both Miami-Dade and Broward counties — that police on Sunday afternoon were still trying to identify everyone who was shot. Miami-Dade Fire Rescue took eight of the injured to Miami-Dade and Broward hospitals, said Miami-Dade police spokesman Detective Angel Rodriguez. He said at least 12 other victims went to various hospitals on their own.
The two people killed in the shooting were pronounced dead at the scene.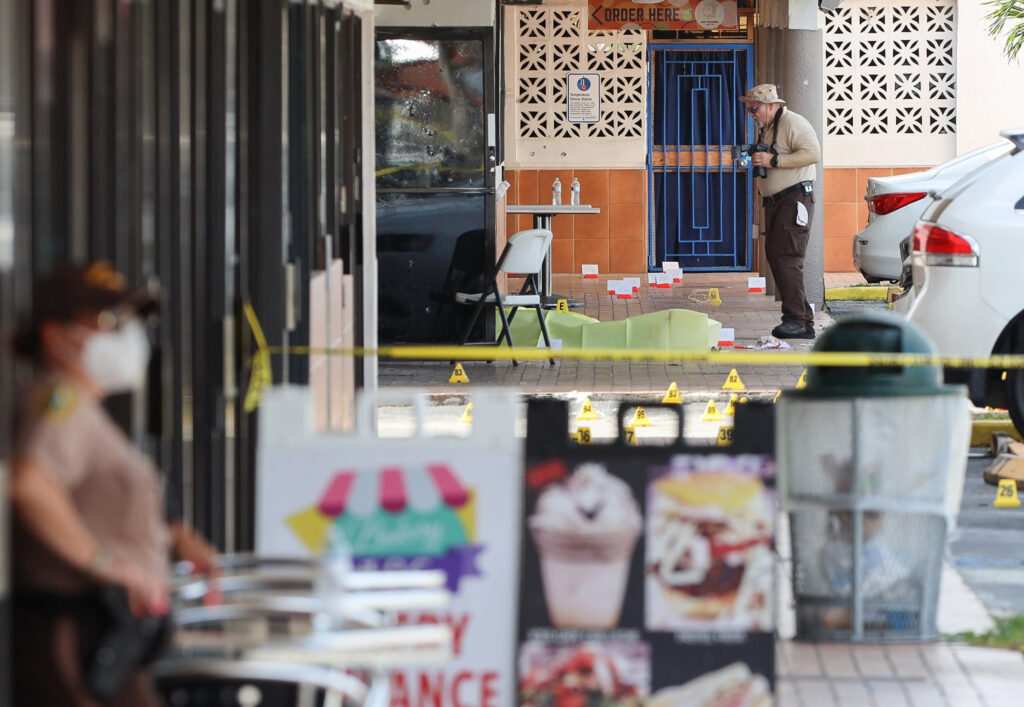 Investigators had not identified any victims, suspects or motives in the shooting by mid-Sunday afternoon. But Ramirez said during an early-morning press conference outside the Country Club Shopping Center, where the shooting took place, that the latest attack was "definitely not random."
"This type of gun violence has to stop," Ramirez said, asking anyone with information on the shooting to come forward, and promoting on Twitter a Miami businessman's offer to give $100,000 to anyone with information leading to an arrest. "Every weekend it is the same thing. This is targeted."
Police going through the scene Sunday morning found dozens of bullet casings. They scoured social media and planned to staff any other parties around town with off-duty cops.
As technicians continued to document the massive crime scene, the hunt was on for the three masked attackers — believed to be men — and the white Nissan Pathfinder they used to ambush the crowd and escape. Investigators also began poring over social-media accounts and surveillance videos, trying to determine whether the rappers or their associates — or other attendees who went to the club — had been targeted as part of an ongoing feud.
Meanwhile, family and friends of the victims waited outside of Ryder Trauma Center at Jackson Memorial Hospital, at one point holding hands in a prayer circle as they awaited news of their loved ones.
"We believe this is a targeted act of gun violence," said Ramirez, whose department has dealt with an uptick in gun violence in recent months. "This is a despicable act of gun violence, a cowardly act."
The venue where the shooting occurred, El Mula Banquet Hall, located in the Country Club Shopping Center in an unincorporated area north of the State Road 826 big curve, has been on the radar of police for some time.
El Mula, which used to be called Magic Mushroom, had been rented out for the evening, according to police. The venue, located on the 7600 block of Northwest 186th Street, was hosting a Memorial Day Weekend album release party on Saturday night featuring live performances from local rappers, including ABMG Spitta, according to several event fliers posted on Instagram. The flyer incorrectly listed Hialeah as the city where the event was taking place.
Ramirez said one of the victims shot in the ankle was a rapper, although he couldn't confirm if it was the same rapper advertised on the flier.
The owner of El Mula is listed as Joseph Medlin, 28, of Hollywood, who also runs a daycare in Dania Beach. His Instagram had been live on Saturday morning, but was later taken down. He did not return multiple calls and messages seeking comment on Saturday.
El Mula's Instagram account, which had been publicly accessible most of Sunday, was abruptly changed to private. And another event planned for Sunday night at El Mula was canceled because the banquet hall is still an active crime scene.
A promoter whose cell number is included on El Mula's Instagram page declined to answer any questions from a reporter. "I have nothing to do with that club," he said on Sunday morning. "I don't know what happened last night."
Ignacio Alvarez, a retired Miami-Dade police major who worked the district where Sunday morning's shooting occurred until 2016 and now runs a Miami law firm, said he's quite familiar with the club where the shooting happened. He said the space has been rented out for years for parties and several times police were called to break up fights.
"They never gave police a heads-up when they were having large parties," he said. "There were lots of fights. At least back then, they weren't hiring off-duty officers. At the very minimum, they should have had off-duty or told police about the event."
Miami-Dade police confirmed to the Miami Herald they had no off-duty officers working at the venue on Saturday night.
Lindon Donoso, who was not home when the shots rang out at El Mula, said his 21-year-old son was at their home nearby across Miami Gardens Drive. Donoso said his son took cover with his 16-year-old sister.
"He got scared. He was playing the PlayStation and he heard the shots and he ran to the room to my daughter and told her to go on the floor," Donoso told a Herald reporter. "It's weird that something like that happened. It's always quiet around here."
By 6 a.m. Sunday, a few people remained outside the entrance of Ryder Trauma Center at Jackson Memorial Hospital, eager to hear updates. People approached by the Herald did not want to talk about what happened, or were too emotional to give interviews.
Later on Sunday morning, a woman told reporters outside the plaza that her son and nephew were among the people shot and injured overnight. Angelica Green, of Miramar, said the two 24-year-olds had just arrived at the event and were not yet inside when three men in "hoodies and ski masks" started shooting at the crowd.
Green said her son was shot once in the abdomen and underwent surgery at Ryder Trauma Center. He is in stable condition, she said. Green's nephew was shot one time in the abdomen and three times in the leg, she said. She was told that her nephew's wounds "were pretty massive," but that he also seems to be in stable condition.
A friend of Green's son drove him and three others to Palmetto Hospital before they were transferred to Ryder Trauma Center, Green said. Shortly after being shot, Green's son called her and her husband "frantic," she said, telling them he felt burning pain.
"The worst phone call of my life," Green said. "He was telling us, if something happens to him, that he loves us. We said, 'We love you, too, but you're gonna survive this.'"
Chad Harris, whose 19-year-old daughter was also shot, told WSVN-7 in an interview outside Ryder Trauma Center that he was still waiting to hear back from doctors on her condition.
"Words can't explain how I feel right now, man," said Harris. "She's in surgery right now. We're just praying."
Around 10 a.m. Sunday, a helicopter hovered above the scene and police tape blocked off the entrance to the Country Club Shopping Center. Police continued to place yellow markers on the ground and take photographs outside El Mula Banquet Hall. A body shrouded with a white tarp, red sneakers sticking out from under the covering, was still lying at the scene around 11 a.m.
A Miami-Dade police officer told the Herald all of the stores in the shopping center — including day cares, a restaurant, a nail salon and a bakery — were closed until further notice. The officer said one restaurant owner was briefly allowed inside to turn off their stove.
This is at least the second major shooting in the Miami area over the Memorial Day weekend. Late Friday into Saturday, one person was killed and six others wounded outside of a building in a drive-by shooting in the Wynwood area of Miami. Dozens of shell casings from at least two separate caliber weapons littered the street.
There was also a brazen shooting and car chase early Thursday evening near Casino Miami Jai-Alai in which three people were injured. One of them was an innocent bystander who was shot during the carnage, along with two people in one of the cars.
"It is very difficult to stop a small amount of individuals who want to go out there and commit murder, and it takes all of us to stop this," Ramirez said. "We really have to put the work in this summer to keep our children and community safe."
Police told the Herald they are looking into the possibility of Saturday night's mass shooting being connected to the two other attacks in Miami the past few days — though Ramirez said detectives don't yet have a reason to believe the incidents are connected.
"All three could be connected," said Ignacio Alvarez, a retired Miami-Dade police major who worked the district where Sunday morning's shooting occurred until 2016. "Was it retaliatory? They probably don't have the answer yet."
About a 20-minute drive east, there was yet another shooting overnight Saturday at the King of Diamonds Miami strip club. Ramirez said the shooting came after some sort of argument, and there was no reason at the moment to believe the incident was related to any other.
The brazen attack in the unincorporated corner northwest pocket of Miami-Dade early Sunday morning was also the largest mass shooting in memory in the county.
Seven years ago, nine people were shot and two killed when two men pulled up to an apartment complex across the street from Liberty Square, got out of a dark SUV and opened fire with semi-automatic rifles on a group of people who were gathered in the courtyard on a Saturday night.
Also, in 2009, two teenagers were killed and seven others injured when gunmen with assault rifles opened fire on a group of people playing dominoes.
Miami-Dade County Mayor Daniella Levine Cava tweeted Sunday that she is working closely with public safety officials to "bring criminals to justice" and "fight violence at the root with strategies aimed at prevention & intervention."
"We must create alternate pathways for at-risk youth and we must build safer, more prosperous neighborhoods to stem the tide of violence," Levine Cava tweeted. "Enough is enough — no more innocent lives lost."
Levine Cava also announced she would be hosting a press conference on Monday at 10 a.m. to address the string of shootings of the weekend.
Florida Gov. Ron DeSantis said in a tweet his administration was praying for the recovery of the people wounded and mourned the loss of the two victims.
"We are working with local authorities to bring justice to the perpetrators. Justice needs to be swift & severe!" DeSantis added.
Police do not yet have description of the three people who shot into the crowd. Anyone with information on the shooting or shooters is asked to call Miami-Dade Crime Stoppers at 305-471-8477.
The overnight shooting garnered widespread attention and outrage on social media, including from businessman and reality show star Marcus Lemonis, who grew up in Miami and said on Twitter he was contributing $100,000 to the police reward for information that would help arrest suspects.
Director Ramirez told WPLG Local 10 that police needed the public to cooperate to bring the suspects to justice.
"The ones that know something or saw something, they need to say something so that this stops," he said.
———
(Miami Herald staff writer Colleen Wright contributed to this report.)
©2021 Miami Herald.
Distributed by Tribune Content Agency, LLC.