The military challenge coin is often presented to service members in acknowledgment of an accomplishment that may not be otherwise recognized by an award or commendation.  This history of the challenge coin is often disputed, however, with historians offering different accounts of potential roots for this longstanding tradition.
In the video below, "The History Guy" explores the origins of the challenge coin tradition. Watch it here:
Challenge coins are usually larger than standard coins, typically about 1.5 to 2 inches in diameter, and are often round, although they can be formed into any shape.  They commonly have the unit emblem stamped into them and one can often find the rank of the person who presented the coin pressed somewhere on it as well.  Service members with years of service often have a display of their coins visible in their office as a display of pride in their military career.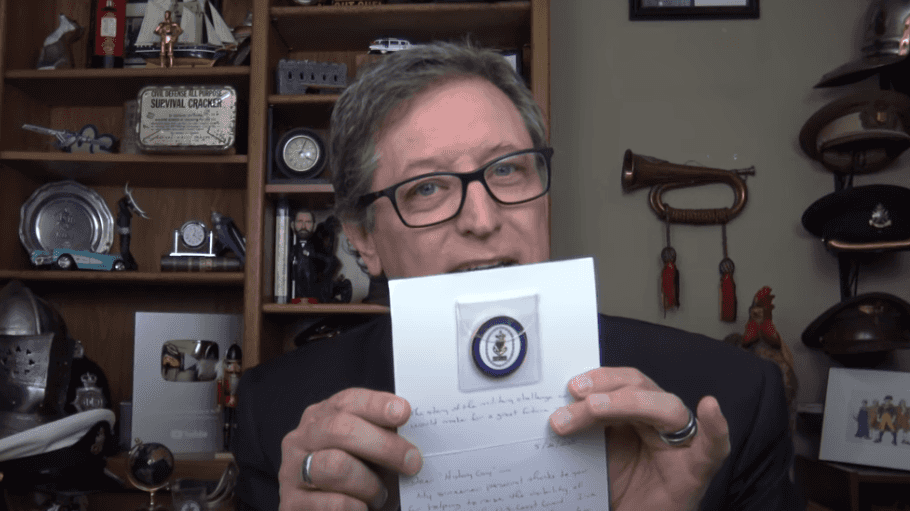 The truth is that many stories of challenge coin origins can be considered more legend than history, but they are exciting nonetheless. 
One common story comes from American pilots in World War I who volunteered to fly aircraft for the French prior to the US joining the war.  According to the story, a lieutenant had coins created for members of the unit with the symbol, an Indian head.  One day, a pilot's plane was struck down behind enemy lines, he was captured, and his identification was taken from him.  That night, he escaped during an artillery attack with nothing but his coin, which he presented at the French line to prove that he was an ally, and his life was saved. While exciting, there are no eyewitness accounts to verify the details, and the name of the officer is unknown.
Another story references the early use of challenge coins for a U.S. military unit.  In the early 1950s, the 10th Special Forces Group (SFG) was training for unconventional warfare and allowed the recruitment of foreign nationals who, after five years of service, would achieve US citizenship.  With many members coming from different European nations, there was a struggle to speak English between them.  According to legend, the challenge coins helped determine who was in the unit as communication was lacking.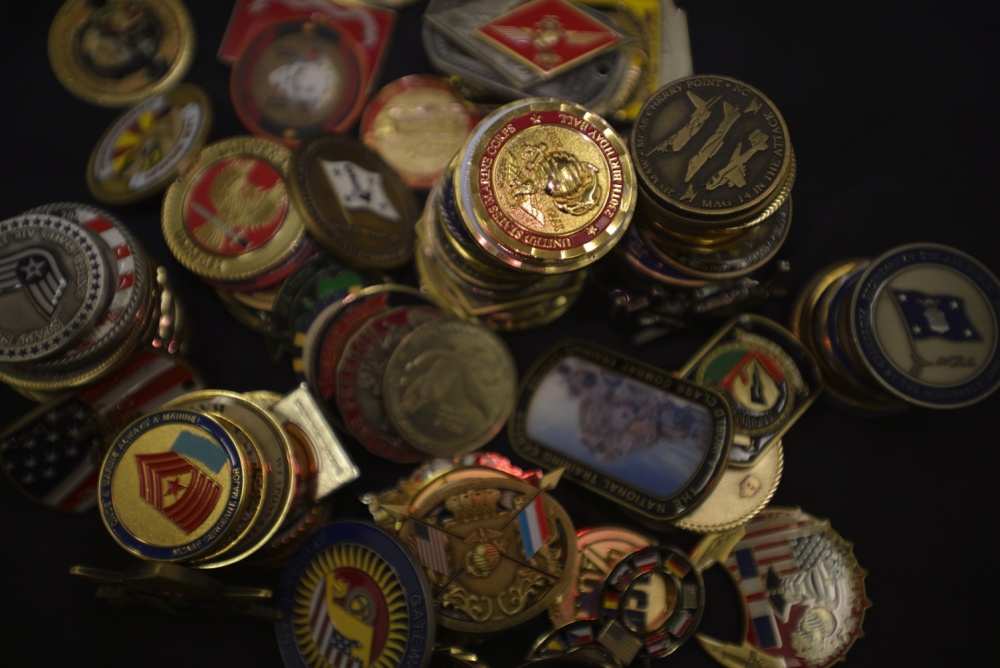 Other recognition through the use of coins can be seen during Roman times, when Roman legionnaires were paid after battle and presented with an extra coin marked with the Soldier's legion.  These coins were often considered to be distinct, so the Soldiers would hold onto them.
The use of the term "challenge coin" has a more well-known history that includes necessary etiquette.  When service members are out, one of them can slam a challenge coin onto the bar, thus requiring other members to present their challenge coins.  There are different rules depending on the situation. 
In some instances, service members must produce their unit coin and whoever is unable is required to buy a round of drinks for anyone who had their coin.  In other cases, service members must present a coin that was given to them by someone of the same rank or higher. Whoever presents a coin that was given by the lowest ranking individual must buy the round.  For example, if someone produces a coin they received from a General, but their buddy presents a coin they received from the President of the United States, then the service member with the coin from a General must purchase that round of drinks.  This tradition dates back to World War II when Soldiers in Germany were challenged to present a pfennig coin.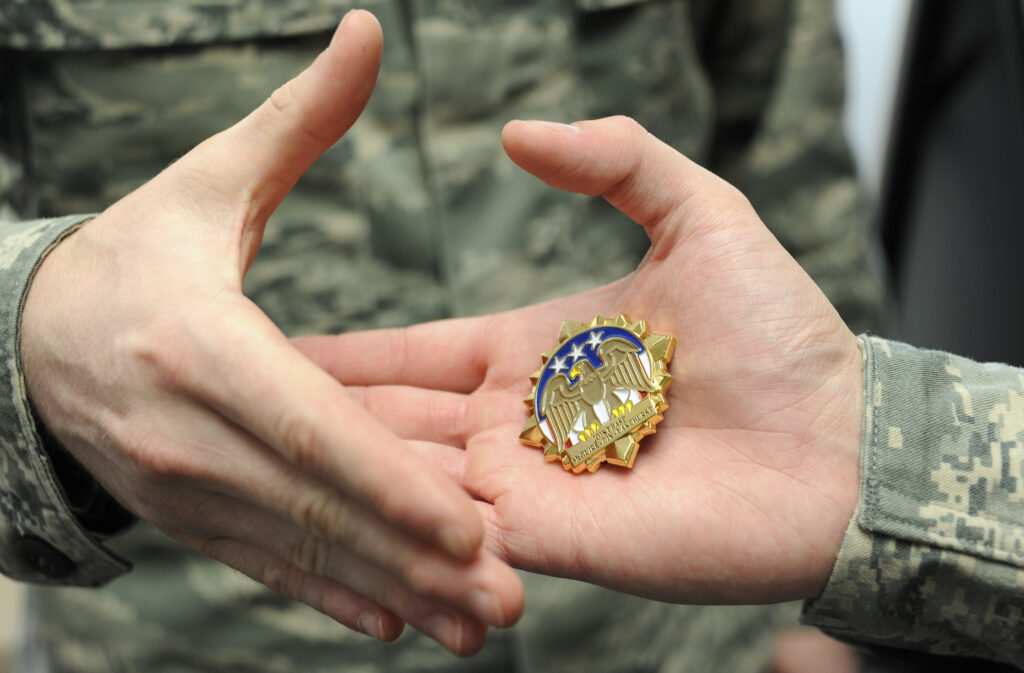 Today, challenge coins are presented by military leaders, government officials, and even some civilians who enjoy the tradition.  Many people believe that they are presented so frequently at this point that they have begun to lose value.  That being said, receiving a coin from a high-ranking official as recognition for accomplishing something important still leaves most people feeling grateful. 
While the origins of presenting a coin are often disputed, the use of the modern challenge coin since World War II and the etiquette that goes along with it is still part of a longstanding tradition honored by service members today.