20-year-old racecar driver Colin Garrett is set to race at the Xfinity series Ag-Pro 300 race at the Talladega Superspeedway on Saturday and he's taking to the track with the support of several veterans groups.
Garrett Racing, a member of the Sam Hunt Racing team, said Garrett "has been an avid supporter of veteran causes," and his No. 26 Toyota Supra will feature sponsorships from veteran support groups including the Rosie Network and Racing For Heroes.
"The No. 26 car will also have a place of honor for the late RADM Tom Brown II (SEAL) who will be riding shotgun in spirit on the passenger side of the car," Garrett racing said.
Brown completed Basic Underwater Demolition/SEAL (BUD/S) training with class 125 in 1983 and served with Navy SEAL Team 5, then Team 1 and Team 8 before commanding Naval Special Warfare Unit FOUR. Brown retired from the Navy in 2014 after more than 30 years of military service.
"We Partnered with The Rosie Network and Stephanie Brown at the beginning of 2020, and she told us about her husband and his sacrifices to our country," Garrett said. "It is an incredible honor to be able to carry this hero's name on my car for the Ag-Pro 300 at Talladega."
Brown was also a member of the board of directors for the Rosie Network, a nonprofit founded by military spouses and veteran entrepreneurs to support other active-duty service members, veterans and military spouses with entrepreneurial programs and support services.
The No. 26 car will also feature the Rosie Network's logo on its hood.
Other veterans groups sponsoring the No. 26 car include Racing For Heroes, another nonprofit group dedicated to supporting veterans with post-traumatic stress disorder (PTSD) and traumatic brain injuries (TBIs) through motorsports, health, wellness and employment programs.
Other sponsors on Garrett's racecar include Body Aqua, a skin
support cosmetic beverage developed by retired Army Cpt. Sherman Williams. According to Garret Racing, Williams is the first black-owned, service-disabled veteran-owned sponsor in NASCAR.
Another sponsor is Upshift Uplift, which was started by Army veteran Lou Ramirez and Air Force veteran Fred Lennartz. Upshift Uplift helps connect other veteran-owned businesses with Garrett's racecar in an effort to combat veteran suicide.
Asked about his reasons for promoting veterans and veteran-owned business on his racecar, Garrett said, "Both of my brothers are active-duty Army, and I'm proud to have in my family veterans of all branches of the military and all major conflicts."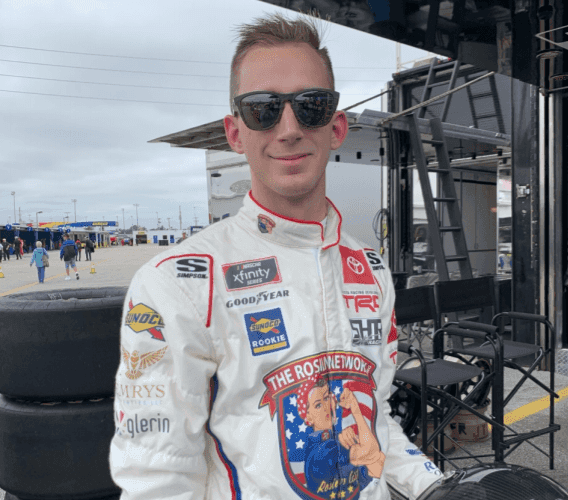 Last year, Garrett and Hunt launched the "Our American Dream Team" car, which took on no corporate sponsors and instead crowdfunded the $200,000 cost to race in the NASCAR Racing Experience 300 at the Daytona International Speedway. In the place of corporate sponsors, the team's car instead promoted veteran-owned businesses.
"I've known Sam since 2016, and we started working together at the latter end of 2017," Garrett said of the race. "This will be my 4th racing season with him, so to me it doesn't feel like we're a newer team. We ran our first Xfinity race together in 2019, and we ran really well. I feel like that showed everyone what the future of this team is. SHR has proven that at every race since then, and I believe it will only get better with the people and equipment that have been acquired since then."
"Our plan is to keep the car in one piece and hopefully land in Victory Lane," Garrett said.