The U.S. Navy successfully destroyed a target ship during a Sunday test of its unmanned sea weapons systems that saw a swarm of unmanned aircraft and sea surface vessels guide a missile to its intended target at sea.
In a Tuesday press release, the Navy disclosed the successful test of its unmanned systems during its Unmanned Integrated Battle Problem (UxS IBP) 21 weapons systems tests that took place on Sunday.
USNI News reported the Navy, using a swarm of both manned and unmanned aircraft and surface vessels, the Navy was able to guide a Standard Missile-6 (SM-6), launched from the Arleigh Burke-class guided-missile destroyer USS John Finn (DDG-113), to strike a target more than 250 miles away. The swarm of manned and unmanned air and seacraft guided the missile without using any active sensors.
The successful drone swarm test could prove crucial to countering Chinese sea operations in the Indo-Pacific region.
"It was really complex… We teamed manned and unmanned vessels together. We also used the fusing capability that we're doing some experimentation on. It was totally passive where we didn't have active sensors on target," Carrier Strike Group 3 commander Rear Adm. James Aiken told USNI News and other reporters. "We also look for space as well to actually identify the target and then once we found the target, we were able to track it because of the [electromagnetic signal] that was coming off the target, develop lines of bearing, then launched the missile."
"The missile shoot was definitely challenging but ultimately incredibly rewarding. We were able to see our team's planning efforts culminate in yesterday's successful shoot," said Lt. Cmdr. Ryan Doyle, UxS IBP 21 lead live-fire planner. "This entire exercise was a great opportunity to get staff exercise planners, program designers and most importantly Sailors to work together and integrate multiple unmanned capabilities that are tactically relevant in many areas of the world today."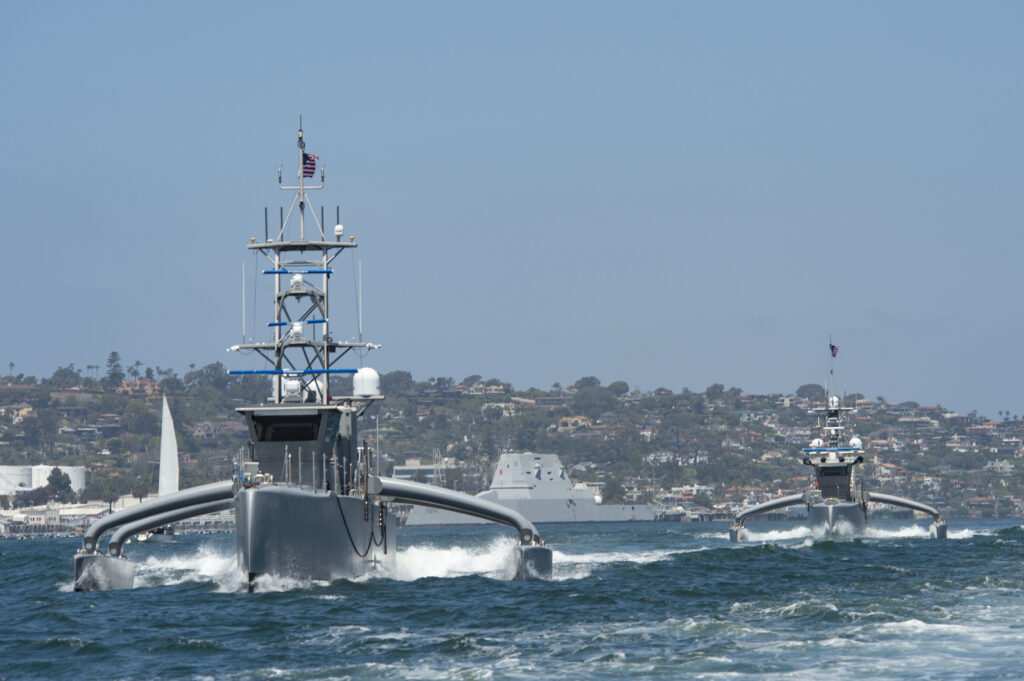 The Navy did not disclose the exact types and numbers of drones used during the drills, though two unmanned sea ships, the Sea Hawk and Sea Hunter, were pictured earlier in the Battle Problem 21 tests. USNI News also reported unmanned aerial vehicles like the MQ-9 Sea Guardian airplane and MQ-8B Fire Scout helicopter were also involved in the tests.
The exercises also saw participation from multiple littoral combat ships, including USS Coronado (LCS-4) and USS Oakland (LCS 24). A land-launched ultra-long flight endurance unmanned aerial vehicle called Vanilla.
Drone swarm concepts, like the one demonstrated this week by the U.S. Navy, are seen as a potential means of countering China's main strategy for seizing control of the Indo-Pacific region, known as the anti-access/area denial (A2AD) strategy. The A2AD strategy is primarily meant to cripple enemy command and control systems and slow the deployment of opposing forces, such as hypothetical U.S. forces from reentering the areas China seeks to control.
According to Scientific Systems (SSCI), drone swarms can find and communicate the precise locations of ground, sea, and air targets, serve as weapons platforms to attack air defense systems from multiple directions and can pass missile targeting data to other systems.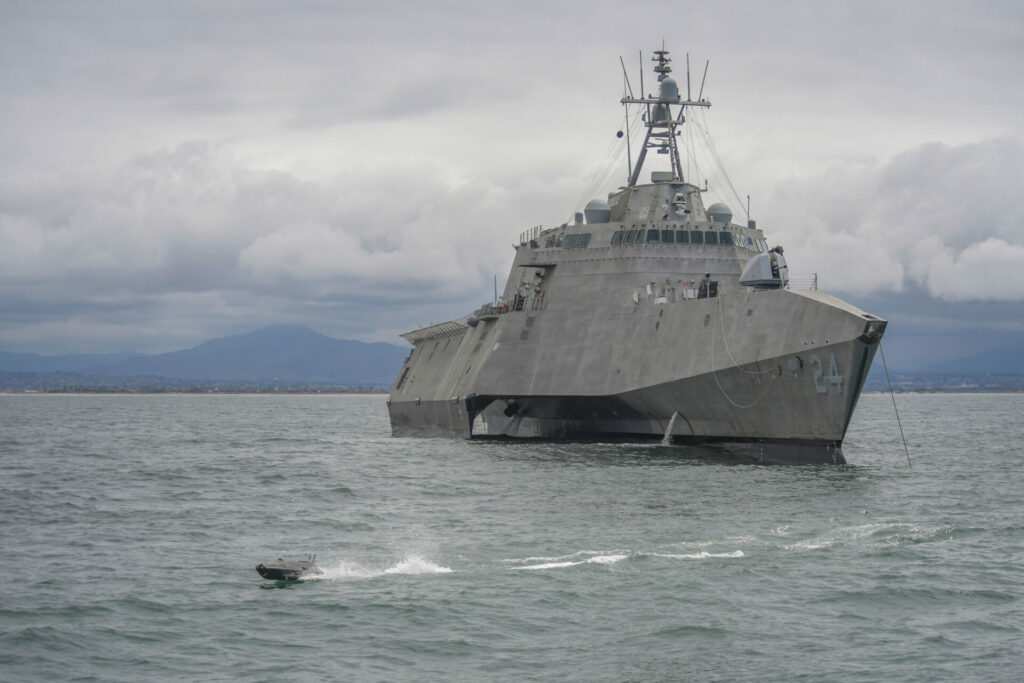 Forbes noted another advantage drone swarms could have against China's A2AD strategy in that they "allow military actions to be taken without risking sailors' lives, or with the danger of escalation that comes with human casualties." Drone swarms can be used to fly around and annoy adversaries, step up the harassment further by jamming and disrupting enemy targeting and navigation systems, attack communications systems or even guide and take part in more destructive strikes, like the missile launch demonstrated this week by the USS John Finn.
"The integrated capabilities demonstrated this week are tactically crucial to improve our warfighting advantage," said Capt. T.J. Zerr, commodore, Destroyer Squadron 21. "Unmanned technologies are being rapidly integrated into the Fleet for use, and our gained advantage is in the integration and collaboration between manned and unmanned capabilities tailored to the particular situation and phase of conflict."