On Saturday, the U.S. Navy announced that a group of Iran's Islamic Revolutionary Guard Corps (IRGC) speedboats swarmed two U.S. Coast Guard vessels on April 2, maneuvering within 70 yards of the U.S. vessels in what the U.S. Navy called "unsafe and unprofessional" maneuvers.
The incident went unreported for nearly a month before U.S. Navy officials disclosed the incident in an April 24 press release, which included photos.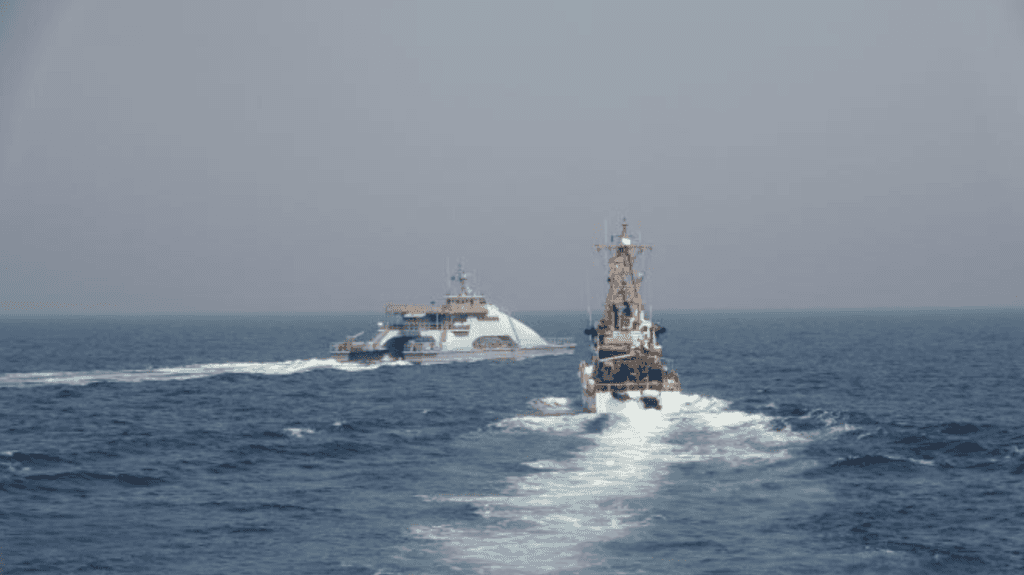 The U.S. Navy officials said three Iranian fast attack crafts and one ship known as Harth 55, a 180-foot twin-hulled support vessel followed the U.S. Coast Guard Island-class patrol cutters USCGC Monomoy (WPB-1326) and USCGC Wrangell (WPB-1332) as they patrolled international waters in the Persian Gulf.
Cmdr. Rebecca Rebarich, a spokeswoman for the Navy's Fifth Fleet said the Coast Guard vessels issued warnings for three hours as the Iranian speed boats buzzed past them and repeatedly crossed in front of their bows.
"After approximately three hours of the U.S. issuing warnings and conducting defensive maneuvers, the IRGCN vessels maneuvered away from the U.S. ships and opened distance between them," Rebarich told the Wall Street Journal in a statement on Monday.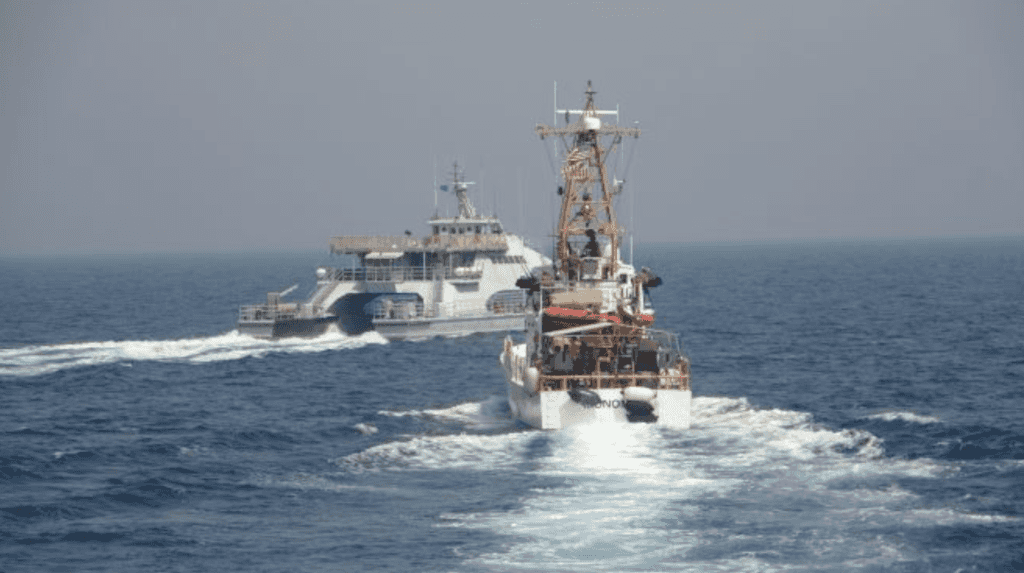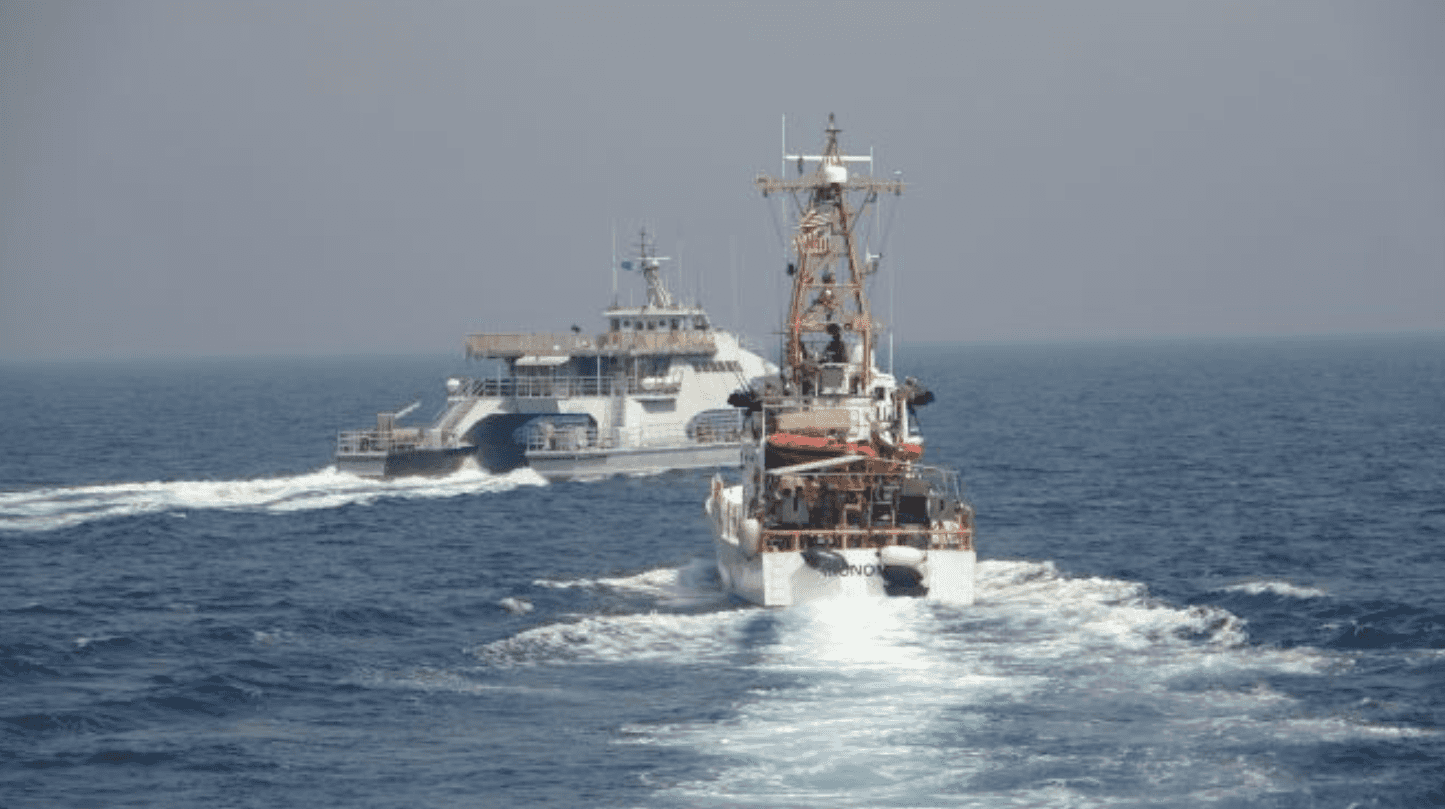 Iran has used similar swarm boat methods in the past to harass U.S. ships. In April of 2020, after 11 Iranian gunboats swarmed around six U.S. warships, then-President Donald Trump said he had instructed the U.S. Navy to fire on Iranian gunboats "if they harass our ships at sea." Following Trump's warnings, Iran unveiled 112 more weaponized speedboats and vowed to continue to make U.S. warships "sense us even more."
This latest incident was the first time Iran's Harth 55 vessel was used as part of the swarm boat tactics. Past incidents have only seen Iran's smaller speedboats taking part in the harassing maneuvers around U.S. ships. The Harth 55 is a high-speed catamaran-like vessel the U.S. Office of Naval Intelligence has classed as a support ship. According to Iran's Fars News, the vessel can carry up to 100 troops and has room on its deck for a helicopter landing pad.
"U.S. naval forces continue to remain vigilant and are trained to act in a professional manner, while our commanding officers retain the inherent right to act in self-defense," Rebarich told the Wall Street Journal.
The USCGC Monomoy and the USCGC Wrangell are deployed in the Persian Gulf as part of U.S. Naval Forces Central Command's Task Force 55, which is comprised of both U.S. Navy and U.S. Coast Guard patrol vessels.
The April 2 incident came on the same day President Joe Biden's administration announced it would begin indirect talks with Iran regarding returning the U.S. to the 2015 Iran nuclear agreement.