Soldiers hugged family one last time before heading overseas on Sunday.
The Oregon Army National Guard held a mobilization ceremony at West Albany High School's football field for 120 soldiers who are taking part in a NATO enhanced forward presence mission in Poland.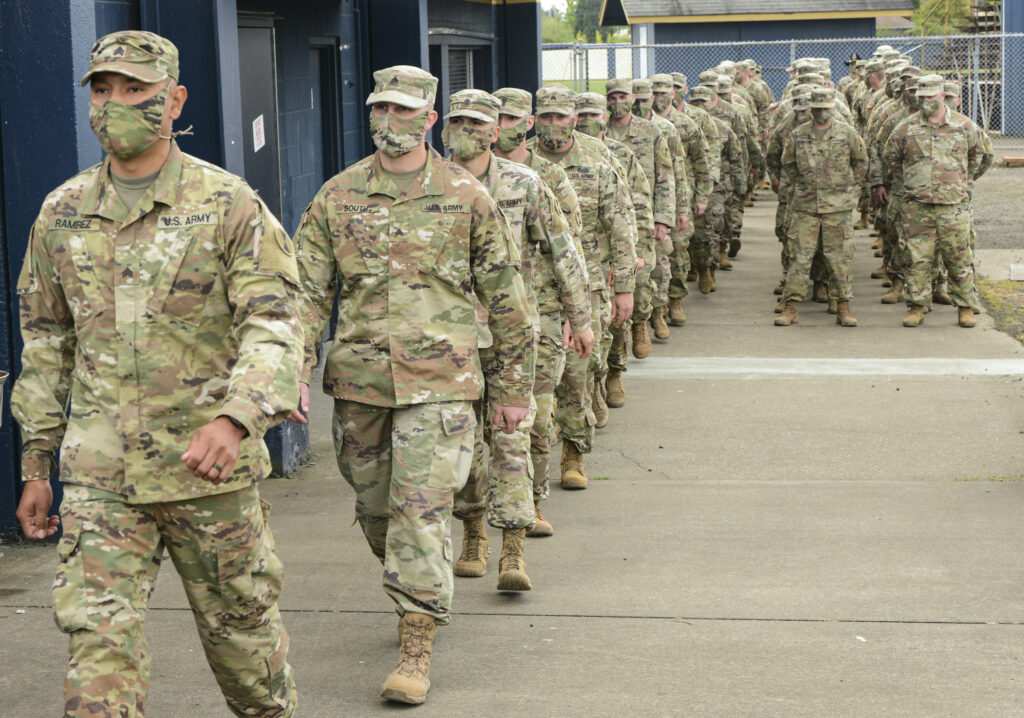 "We'll be over there for about a year," said Capt. Cody Comerford of Albany-based Alpha Troop, which is part of the 1st Squadron, 82nd Cavalry.
Oregon soldiers will have a rare opportunity to train with troops from Poland, the United Kingdom, Croatia and Romania, Comerford said. They'll seek to serve as a deterrent to aggression in Eastern Europe, as well as to provide stability to the region.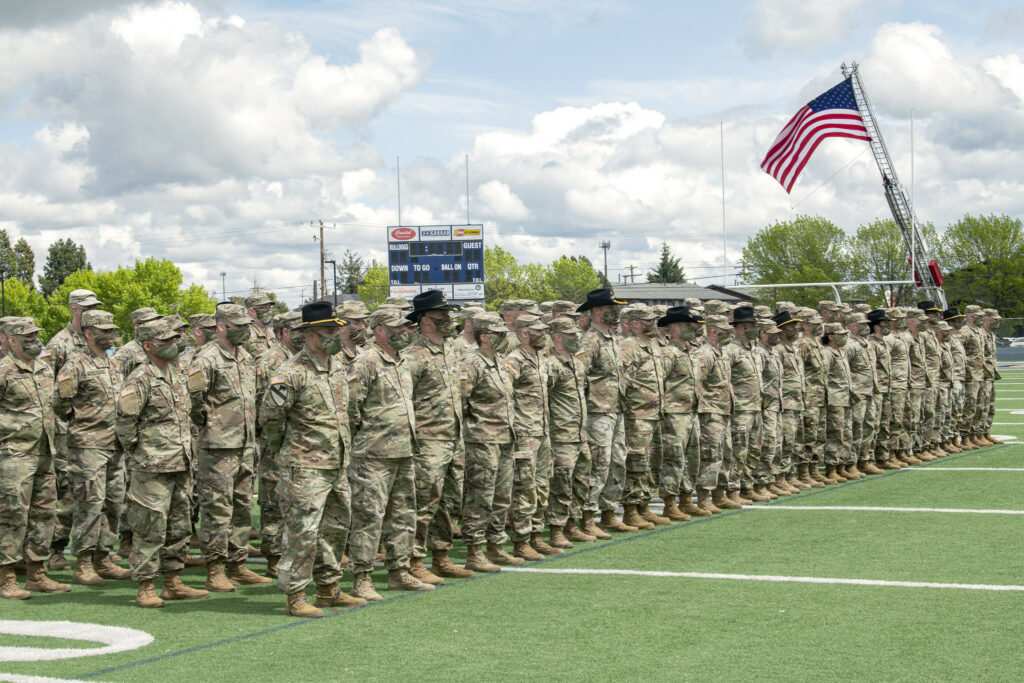 "We're going to be doing some training exercises, some live fire training exercises and mounted maneuvering exercises, as well as practicing individual soldier skills," Comerford said. Alpha Troop is a mounted reconnaissance group that uses armored vehicles.
About 95 of the soldiers being deployed are part of Alpha Troop. Comerford, a Turner resident, estimated that half of Alpha Troop is from Linn, Benton and Marion counties.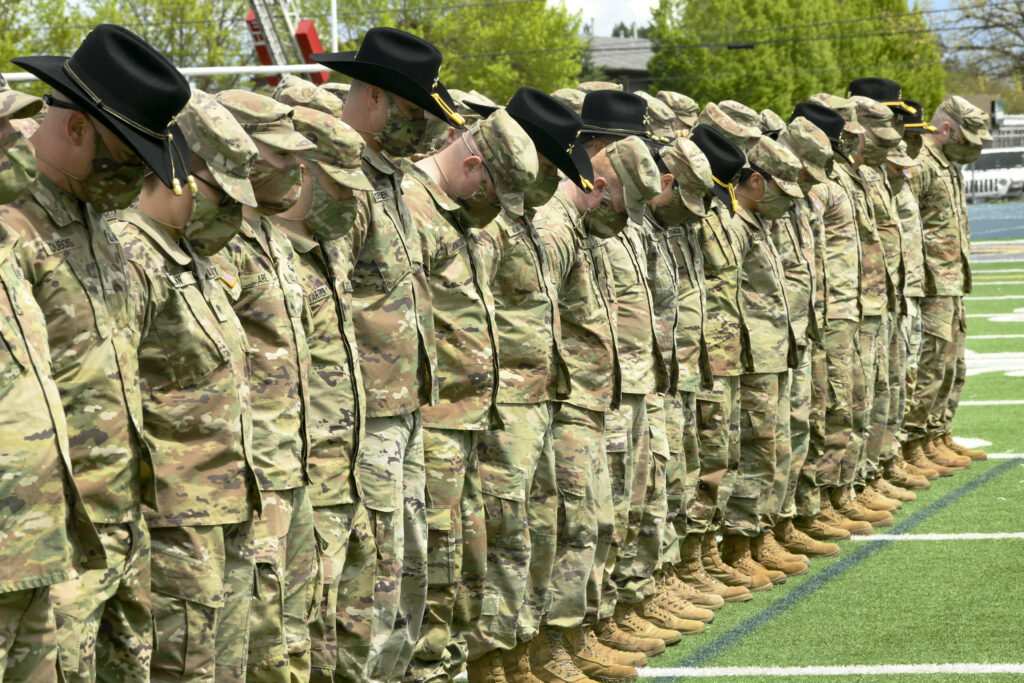 Soldiers also are coming from the 1-82nd's Delta Troop out of The Dalles, from Delta Company out of Prineville and from the medic section in Bend.
A few hundred residents watched the mobilization ceremony from the bleachers at the football stadium. Comerford said that the crowd was smaller than usual due to COVID-19, but the event also was livestreamed for families.
A giant United States flag was flown from an Albany Fire Department ladder truck.
Brigade Commander Col. Stephen Schmidt, one of the speakers at the ceremony, noted Alpha Troop's long history of service.
In 2005 soldiers were sent to Iraq from what was then known as F Troop out of Lebanon. The unit was sent to Iraq again in 2009, and to Afghanistan in 2014, Schmidt said.
More recently, Alpha Troop has helped with support for the eclipse, wildfires and COVID-19 vaccination efforts in Oregon, he said.
Schmidt added that the mobilization ceremony was a way to give thanks for the support of families, communities and employers.
Lt. Colonel Brian Dukes, squadron commander, also noted the service and sacrifices weren't made just by soldiers. "The real strength of our organization is with our families. … You are our real heroes," Dukes said.
Dukes added that the Oregon Army National Guard was ready to help families if they experienced difficulties during the deployment.
After the ceremony, soldiers and their loved ones connected for a few minutes.
Private First Class Abraham Arroyo, 23, posed for photos with family members, and said it will be interesting to work with military members from other nations and cultures.
"As much as they'll learn from us, we'll learn from them," Arroyo added.
Siblings Tanner Kleinschmit, 22, and Alexis Kleinschmit, 19, as well as cousin Dillon Kleinschmit, 21, all grew up together in Lacomb, all joined the National Guard together, and are all deploying together. The trio acknowledged that the family farm might be a little short-handed this summer.
"This will be a really good experience for us," Dillon Kleinschmit said.
Private First Class Briley Culver, 19, of Salem, also said he was excited about serving overseas. "The experience is definitely going to be one-of-a-kind," he said.
But Culver, who wore a promise ring, added that it would be tough to be away from his girlfriend, Callie Taylor, 18, of Boring. Moments later, they were embracing and saying their goodbyes.
___
(c) 2021 Albany Democrat-Herald
Distributed by Tribune Content Agency, LLC.