Two Minnesota National Guard members activated in Minneapolis were injured after being shot at during a drive-by shooting while sitting inside a military Humvee on Sunday morning.
The Minnesota National Guard said Guardsmen and a Minneapolis Police Department were fired upon near Penn Avenue and Broadway in Minneapolis at around 4:20 a.m.
A photo released by the Minnesota National Guard shows at least one bullet hole through the windshield of a Humvee military vehicle. Minnesota National Guard Cmdr. Sgt. Maj. Robert Harris told CBS 4 Minnesota, "One of the bullets penetrated the Humvee with soldiers inside of it."
"Two @MNNationalGuard members did sustain minor injuries from the incident," the Guard tweeted. "One Guardsman sustained an injury from shattered glass requiring additional care and was taken to a local hospital to receive treatment. The other Guardsman received only superficial injuries."
"I am relieved to know none of our Guardsmen were seriously injured," Maj. Gen. Shawn Manke, the Minnesota National Guard adjutant general said. "This event highlights the volatility and tension in our communities right now. I ask for peace as we work through this difficult time."
A Guard spokesman told Military.com the injured Guardsmen have since returned to duty.
The Guard identified the suspect vehicle was a light-colored SUV.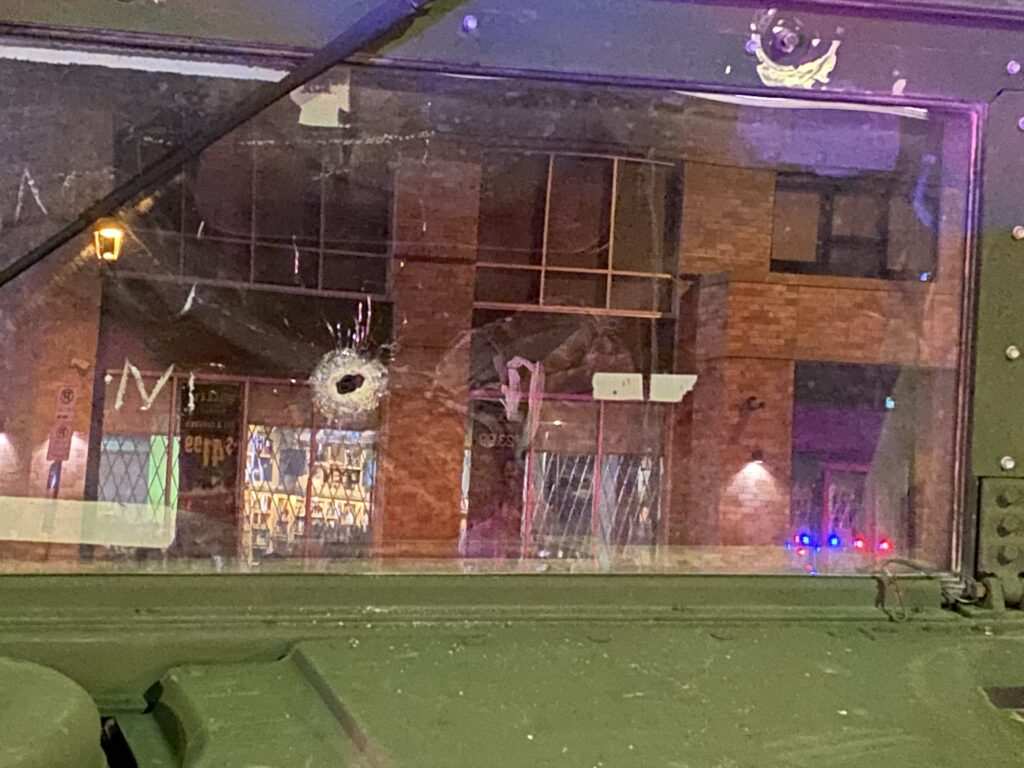 The shooting takes place as the Minnesota National Guard is activated alongside the Minneapolis Police Department, Hennepin County Sheriff's Office, and Minnesota state and local law enforcement as part of Operation Safety Net. The joint National Guard and law enforcement operation is meant to maintain public safety amid civil unrest surrounding the ongoing trial of former police officer Derek Chauvin, who is accused of murdering George Floyd.
There have also been increased instances of rioting and looting after an officer-involved shooting of a black man, Duante Wright, on April 11.
About 3,000 National Guard troops are currently deployed in the Minneapolis area amid the trial and ongoing civil unrest, according to CBS 4 Minnesota.
On Saturday night, hours before the drive-by shooting at Minnesota National Guardsmen, Rep. Maxine Waters (D-CA) called on demonstrators to "get more confrontational" if Chauvin is not found guilty after the trial.
"If nothing does not happen, then we know, that we've got to not only stay in the street, but we've got to fight for justice, but I am very hopeful and I hope that we're going to get a verdict that will say guilty, guilty, guilty. And if we don't, we cannot go away," Waters said during a protest in Brooklyn Center on Saturday.
Following Waters' comments and the shooting incident, Rep. Marjorie Taylor Greene (R-GA) tweeted, "@RepMaxineWaters you don't live in Minnesota. You crossed state lines and incited riots, violence against police, shootings at the MN NG, and threatened a jury as a sitting US Congresswoman. @SpeakerPelosi surely you will expel this criminal from Congress and uphold the law!"