An hour before sunrise Friday, four astronauts launched from Florida for SpaceX's third crewed mission to the International Space Station. The rocket's trail glowed in the pitch-black sky as much of the Space Coast was still asleep.
NASA astronauts Shane Kimbrough and Megan McArthur, joined by France's Thomas Pesquet and Japan's Akihiko Hoshide, lifted off from launchpad 39A at Kennedy Space Center on time at 5:49 a.m. They were expected to dock at the ISS in about 24 hours and live aboard the station for six months conducting science experiments.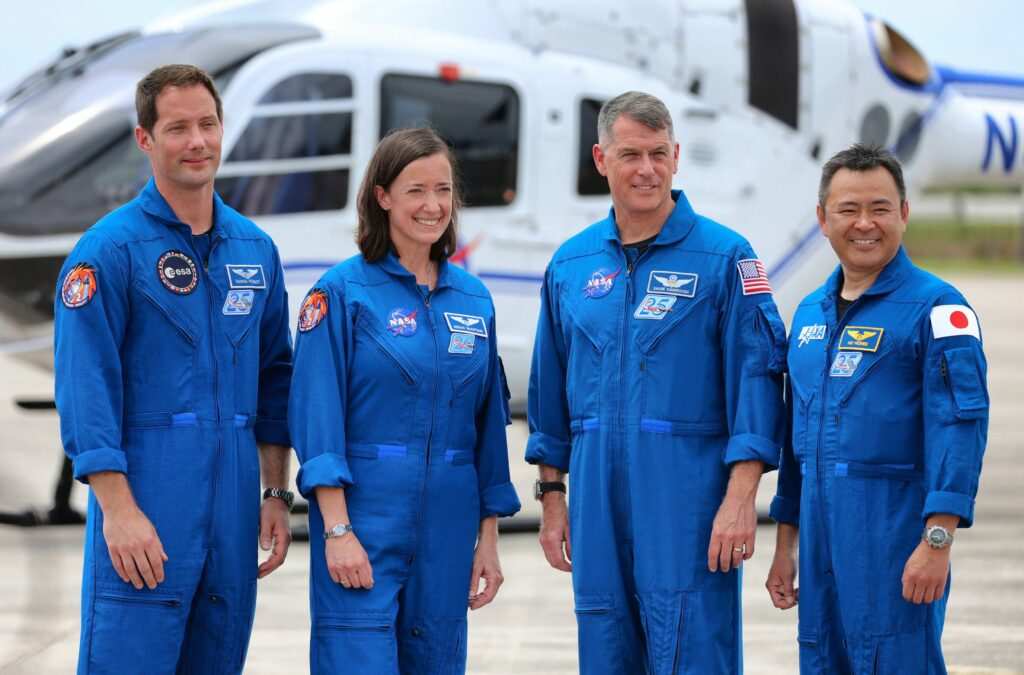 "It's great to be back in space for all of us," Kimbrough told ground teams just after 6 a.m. as the rocket flew at 17,000 mph.
The mission known as Crew-2 is the first time astronauts reached orbit in a refurbished rocket and capsule under NASA's Commercial Crew Program, which largely relies on private companies like Elon Musk's SpaceX. The Falcon 9 rocket is the same one that launched Crew-1 in November, and the Dragon capsule the foursome will ride in also carried Bob Behnken and Doug Hurley.
"Endeavour launches once again," a NASA commentator called out as the rocket ignited. Behnken and Hurley named the capsule in recognition of the "incredible endeavor" SpaceX and NASA took on to revive a domestic human spaceflight program. Both of them also flew on their first missions to space aboard the Space Shuttle Endeavour.
About eight minutes after launch, the separated first stage of the rocket landed on SpaceX's "Of Course I Still Love You" drone ship in the Atlantic Ocean, with its descent visible as far inland as Orlando. At least for cargo missions, SpaceX's rockets are designed to be used up to 10 times. The capsule can be used for as many as five launches.
Reusing rocket parts is what SpaceX is known for, but until now, the company has only used "flight-proven" equipment for cargo missions.
"The thing that's really important to revolutionize space is a rapidly reusable rocket that is reliable, too," Musk told reporters after the launch. "It's been 19 years since starting SpaceX and there's been a lot of adventures along the way, tough times and a lot of good times. I'd say it's only recently, though, that I think full and rapid reusability can be accomplished. I wasn't sure for a long time, but I am sure now."
Last week, SpaceX won a $2.89 billion NASA contract to continue developing its reusable Starship rocket into a lunar lander for America's Artemis program, which aims to take astronauts back to the moon in 2024. For that mission, NASA will use its massive Space Launch System rocket and an Orion capsule built by Lockheed Martin.
Friday's launch technically wasn't a test flight, but NASA and SpaceX leaders said they still treated it like one, putting it through rigorous testing and flight readiness reviews.
"Particular in my heart, I know there's a little boy out there whose mom is flying, and this is something that we pay a lot of attention to," said Benji Reed, SpaceX's director of crew mission management, referring to McArthur. "We ask ourselves all the time, 'Would we be willing to fly our families on these vehicles?'"
Musk said with each successful crewed launch "it does get a little bit easier, but it's still extremely intense" and admitted he usually can't sleep the night before.
"It's hard to believe that we're here doing this, quite frankly," Musk said. "Feels like a dream."
When Crew-2 arrives at the ISS, they'll join seven other astronauts already on board, representing space travelers from the United States, Russia, France and Japan. Eleven astronauts on the ISS isn't a record, but it's close to it. In 2009, there were 13 crew members crowded into the station.
On board now are the astronauts from Crew-1 — Americans Mike Hopkins, Victor Glover and Shannon Walker and Japan's Soichi Noguchi. Russian cosmonauts Mark Vande Hei, Oleg Novitskiy and Pyotr Dubrov arrived earlier this month.
NASA spokesman Kyle Herring said there are six sleep stations on the ISS, so some crew members will likely use sleeping bags. There is also some space to sleep in the Dragon capsules. Hopkins, the Crew-1 commander, has been sleeping inside his mission's capsule that's currently docked.
Crew-1 is due to come home as soon as next week. That crew will splash down off the coast of Florida inside the capsule — same as Behnken and Hurley before them and Crew-2 later on.
During their six-month stay, Crew-2 will work on hundreds of science experiments, including research into microgravity's effect on the immune system, lung disease, musculoskeletal disease, kidney function and muscle loss. They will also install updated solar rays on the outside of the Space Station.
The mission seeks to build on the success of SpaceX's other crewed launches. In May, the company launched Behnken and Hurley, ending a nine-year drought without human launches from American soil since the shuttle program ended in 2011. They stayed in space for 63 days before splashing down off the coast of Pensacola.
Then in November, SpaceX launched Crew-1.
"Our partnership with SpaceX has been tremendous," said Steve Jurczyk, NASA's acting administrator. "Third launch in less than a year, after almost a 10-year gap in human space flight launching astronauts from American soil on American rockets."
Prior to those launches, the United States was dependent on Russia's Soyuz rocket to reach the space station. One seat on the Soyuz goes for about $80 million.
As early as September, SpaceX will attempt to launch its first all-civilian crew, a mission called Inspiration4. The crew will include Shift4 Payments CEO and fighter jet pilot Jared Isaacman, who's bankrolling the flight, and three others. They'll use the Dragon capsule from Crew-1, which was named Resilience.
The astronauts
All of the Crew-2 astronauts have been to space before.
Kimbrough's first trip was in 2008 aboard the Space Shuttle Endeavour, during which he performed two spacewalks and helped expand the ISS living quarters. He later flew on two expeditions on the Soyuz in 2016 and 2017 and did four more spacewalks. In total, he's logged 189 days in space.
McArthur has never been to the ISS but in 2009 launched on the Space Shuttle Atlantis on a 13-day mission to repair the Hubble Telescope. She's married to fellow astronaut Bob Behnken.
Hoshide, who is from Tokyo, flew on a 2008 mission aboard the Space Shuttle Discovery and has flown on the Soyuz. He's also been deeply involved in the training of other Japanese astronauts. Pesquet, from Rouen, France, first went to space in 2016 on the Soyuz, when he became only the 10th astronaut from France to go to space after a nine-year drought. During that mission, he performed two spacewalks.
—–
©2021 Orlando Sentinel.
Distributed by Tribune Content Agency, LLC.